The size, number of performances, roles, etc. of the most frequent bra that I found by researching 125,000 AVs look like this

ByMr. Color Chuck

A web site containing a detailed profile of directors and performers of 125,000 works to be said as big data of pornographic movies (adult videos)IAFDA report that analyzes various trends based on the contents of the Internet Adult Film Database is posted.

Deep Inside - A Study of 10,000 Porn Stars | Jon Millward - Blog
http://jonmillward.com/blog/studies/deep-inside-a-study-of-10000-porn-stars/

The title is "Deep Inside: Study of 10,000 porn stars and their careers".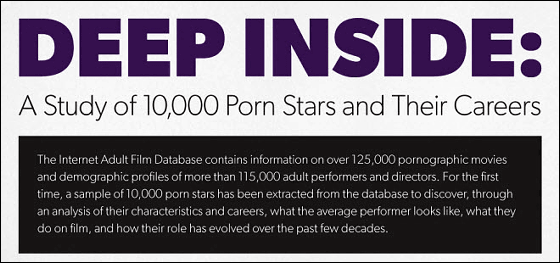 The ratio of men and women in porn stars is 30% for men and 70% for women.




The porn actress is generally said to be a white manCaucasianThe overwhelming majority of women account for 70.5%. The rest is African 14%, Latin 9.3%, Asian 5.2%, others 1%.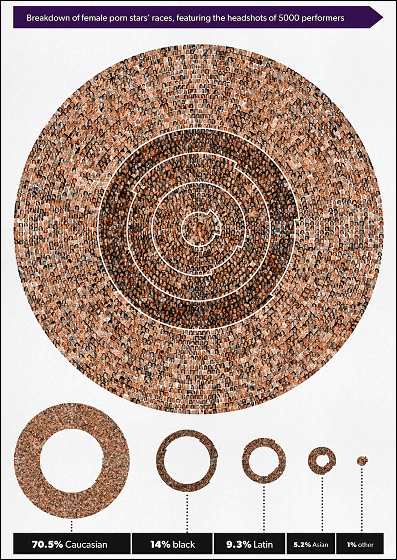 Hair color is brown 39.1% and blonde 32.7%. Black hair is 22.5% and red hair is 5.3%.




The table comparing the weight of the public and the porn actor is as follows. The average of general men is 88.3 kg, while the porn actor is 75.9 and 12 kg as thin as possible. In addition, in the case of women, it is 53 kg with respect to 76 kg of general average and about 21.7 kg is light weight.




The average height of pornographic performers is 177.8 cm for actors and 165.1 cm for actresses.



The size of the most frequent brassieres is 34B (about B75 in Japan, under bust 73 to 77, top bust 89 to 91). The size of the breasts of actresses is said to be likely to tend to think in any country if there is about "E" on average on average in Japan, but in reality there is not such a thing, the 1st place is "B", 2nd place "C", 3rd place "D", "E" was about 4th place.




The rate of putting tattoos is 24.4% for actors and 42% for actresses.



Men are 10 percent and women are 40 percent who are piercing in places other than ears.




The average debut age is that the actor is 24 years old and the actress is 22 years old, which seems there was no difference depending on race.




The distribution of the hometown of the porn actress is as follows. Best 3 by country is 1st in the USA, 2nd in Hungary, 3rd in the Czech Republic. In the United States, California is No. 1, Florida is No. 2, Texas is No. 3.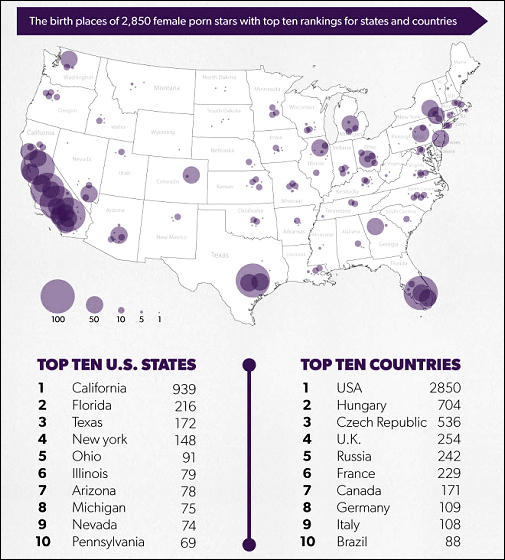 The average of the work period in this industry has been 4 years for actors and 3 years for actresses since the 2000s. In the 1970s, since the actor was 12 years and the actress was 9 years, the period during which he / she can play an active part in about 40 years has become considerably shorter.




The average number of works in which one person appeared was 16 actors and 19 actresses. When looking a bit more closely, 80% of actresses appeared in multiple works, over 53% of the total has appeared in more than four.




The most actor who has the most performancesTom ByronAnd appeared in 2549 books. The actressNina HartleyAnd has appeared in 938 books.




Teen (teenage girls) is the number one of the most actress roles. Second place is milf, third place is married wife, fourth place is cheerleader, fifth place is nurse, sixth place is daughter, seventh place is female student, eighth place is girlfriend, ninth place isCougar(A woman who aims at young men who are fairly far away from the year), 10th is Sister.




In addition, the best 3 names of actresses most frequently used are Nikki 1st, Jessica 2nd, Lisa 3rd, and in the case of an actor it is David, 1st place Tony, 3rd place John.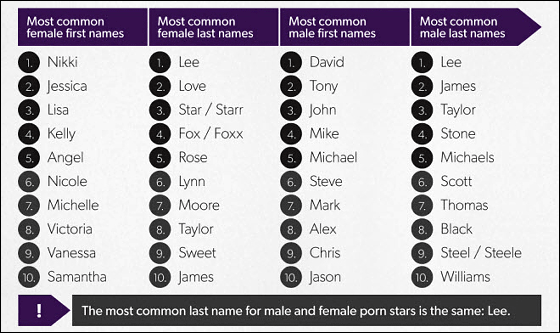 Face of the ten most popular porn actressesMorphingThe image fused at the top right of the picture below. It is characterized by the area where a white woman whose nose has passed through with brown hair makes eye makeup that is clearly made.




In this article, although we explicitly omit the part that contains sexual expressions, we can see more specific content in the original article. Although there are no nude pictures etc. on the link below, please pay attention to browsing because there is a sentence (English sentence) including extreme sexual expression.

Deep Inside - A Study of 10,000 Porn Stars | Jon Millward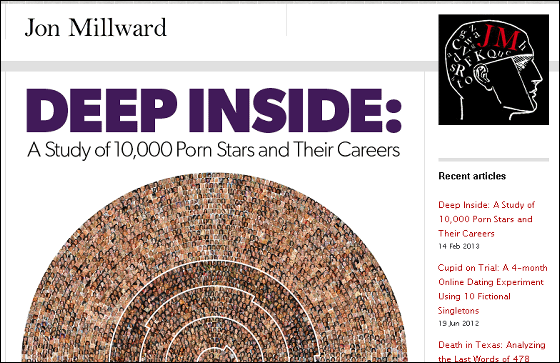 in Note, Posted by darkhorse_log