SCE recommends stopping of illegal software use in PS 3, whether influence of encryption key leakage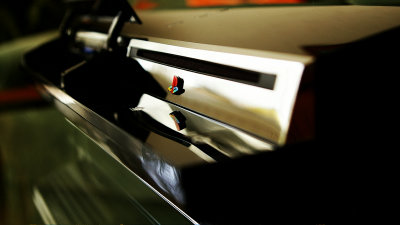 ByCredit_00

SCEJ as "Important Notice"Important notice regarding connection from PlayStation 3 to PlayStationNetwork and Sony Entertainment NetworkWe announced the title document titled. The content is to be careful not to stop using malicious software, and it seems that the effect of PS 3 cryptographic key leaked out in late October is appearing.

Important notice concerning PlayStation® 3 connection to PlayStation®Network and Sony Entertainment Network | PlayStation® Official Site
http://www.jp.playstation.com/info/support/nr_20121113_ps3_psn.html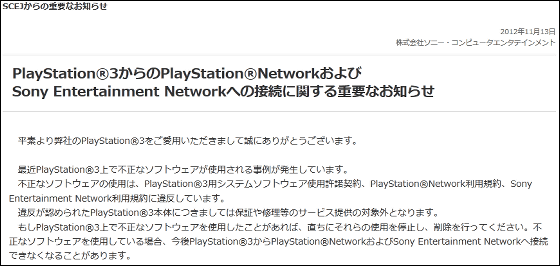 According to the announcement, it is said that "a case where illegal software is used recently on PlayStation 3" has occurred, and because it violates PS3's system license agreement and PSN's terms of use, etc., use it If so, immediately stop using it and call out to delete it.

Although SCEJ has not announced what kind of malicious software it is specifically, about the PS 3, the cryptographic key called "LV 0 decryption keys" leaked in late October 2012, Eurogamer.net "Final Hack" is expressed.

PlayStation 3: The Final Hack? • Blogs • Eurogamer.net
http://www.eurogamer.net/articles/digitalfoundry-ps3-the-final-hack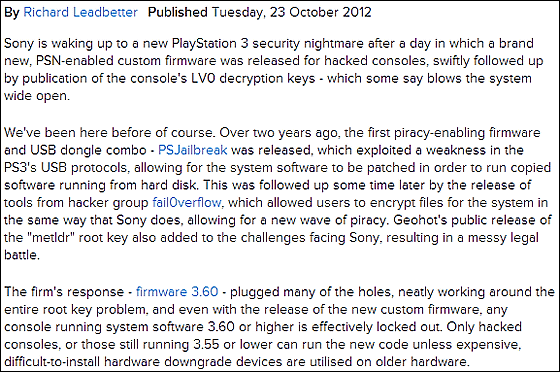 BBC News - PlayStation 'master key' leaked online
http://www.bbc.co.uk/news/technology-20067289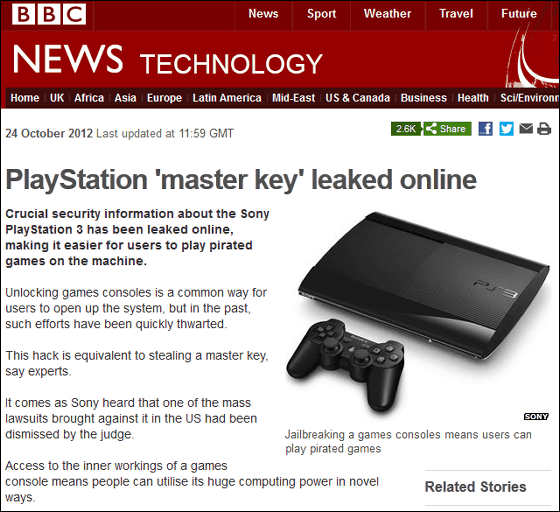 PS3 has also been hacked two years ago, and USB dongle and pirated version become available Firmware (custom firmware) has made it possible to use copy software. At this time, SCE expels many injustices by inputting firmware v 3.60. Pirated version could only be used with some devices that stopped updating with firmware v 3.55.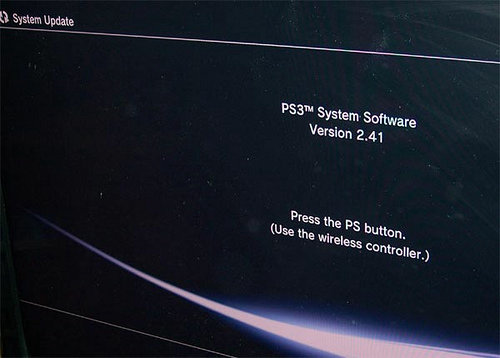 ByMakeyougohmm

"LV 0 decryption keys" which flowed out on the net this time is like a master key of the safe, so to say it can decrypt the encrypted part inside the system. As mentioned above, the SCE has a record of taking countermeasures by updating the firmware, but in the future whatever updating it will be possible to reverse countermeasures by deciphering the system itself.

It was the hacker who claimed The Three Musketeers that sent this encryption key information to the net. Originally I did not mean to disclose the information on the net, but the Chinese hacker group "BlueDiskCFW" tried to make new custom firmware using the information of this key, so I did not do it if I did not do it It seems to be. As a result, within 24 hours from information disclosure, free new custom firmware will come out.

The point of the new custom firmware is that it can connect to PSN from custom firmware which has long been blocked since firmware v 3.60. This also coincides with the part of "This may not be able to connect to PlayStationNetwork and Sony Entertainment Network from PlayStation 3 in the future if you are using malware" in the release announced by SCEJ this time.

Within the release, it is not written that SCE will take some action on the user of the custom firmware, just because the illegal user himself stops using it and calls to delete the software There is also a direction from the existence that SCE does not have countermeasures such as this.

BBC also tells "good news" for such SCE. This occurred in April 2011Personal information for PSN user 69 million people leaked outThe plaintiff's action was dismissed in a trial caused by the user as being inadequate in information protection. Southern California District Court Judge Batalia said that there is no basis for litigation as "there is no such thing as perfect security." The plaintiff has decided an appeal already.