Windows 8 Official Moe Car "Window Yu & Window Side Ai" Limited Pack, Windows 8 Reservation Start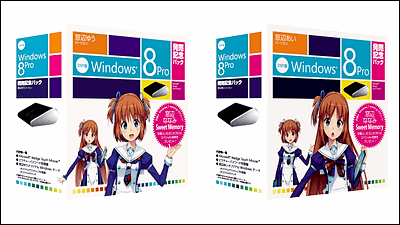 Reservation and sale of 'Windows 8' released on Friday, October 26 from today finally started notice at each shop, but it was an image character of Windows 7Nanami with window sideOn behalf of, newly "Windowside Yu(Voice actor:Nishi Asuka) ""Window side(Voice actor:Nao Tamura) "Image character appears to be appearing.

First off from the official blog of "TSUKUMO" which is pretty detailed image is posted.

Windows 8 reservation reception start! Tsukimotan goods are also gifts on first come first served basis!
http://blog.tsukumo.co.jp/ex/2012/10/windows_8.html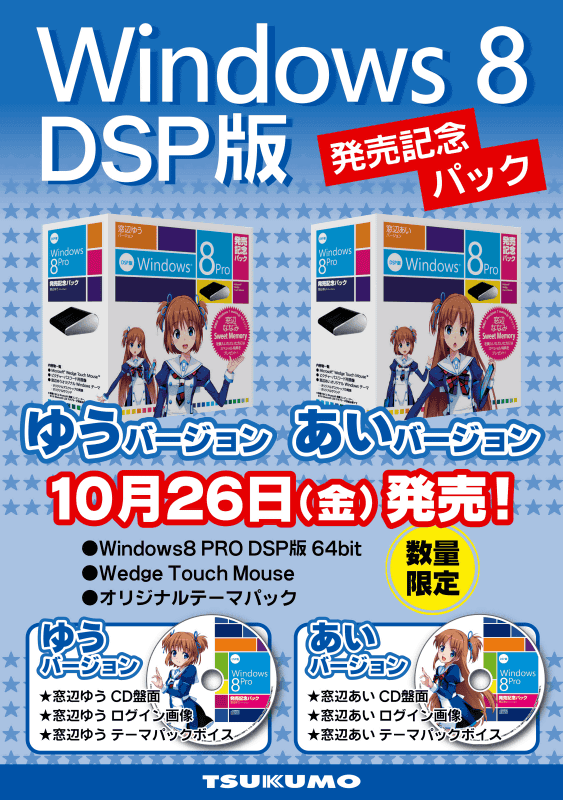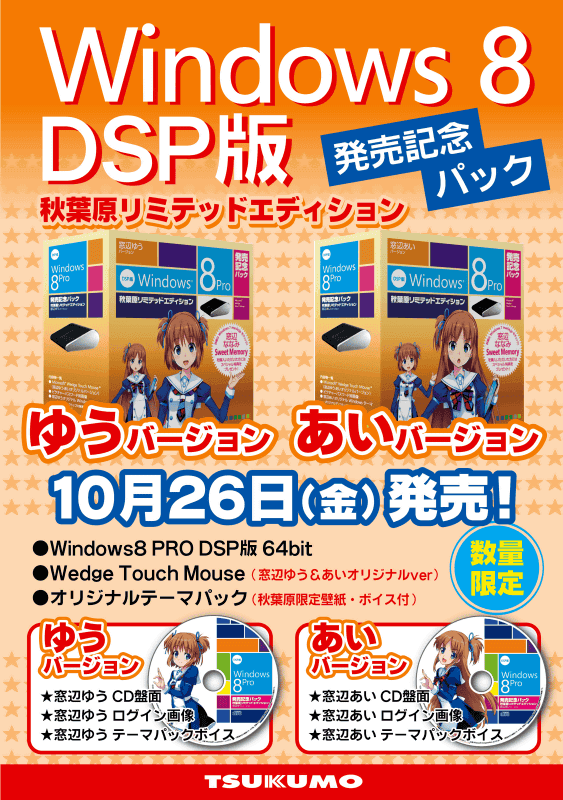 The image character is attached to "DSP version Windows 8 Pro 64 bit version special package" and it is as follows.

◆ Windows 8 Pro 64bit Release Memorial Pack Window Yu Version
Benefits: Microsoft Wedge touch Mouse (Windows 8 logo included), Theme Pack Wallpaper 3 types (2 common types + 1 usual design), window side Yu event sound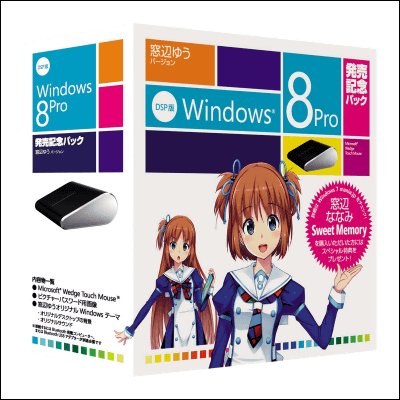 ◆ Windows 8 Pro 64bit Release Memorial Pack Window Yu Version Akihabara Limited Edition
Benefits: Microsoft Wedge touch Mouse (Yuu & Yuu & amp; Windows 8 logo), 3 theme pack wallpapers (2 common types + 1 Akihabara limited edition design), Yuu window side event sound (with Akihabara limited voice)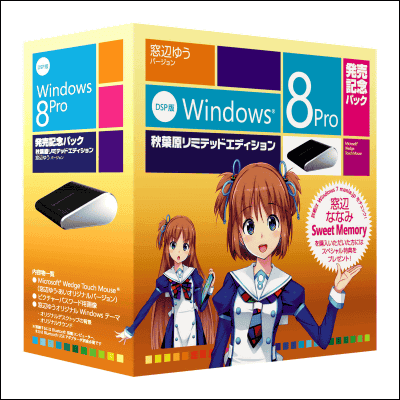 ◆ Windows 8 Pro 64bit release memorial pack window side version
Benefits: Microsoft Wedge touch Mouse (Windows 8 logo included), Theme Pack Wallpaper 3 types (2 common types plus 1 usual design), window side event sound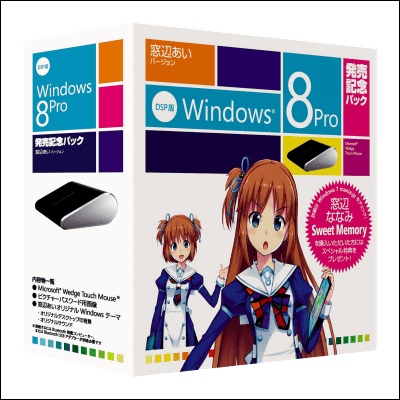 ◆ Windows 8 Pro 64bit release memorial pack window aide version Akihabara limited edition
Benefits: Microsoft Wedge touch Mouse (with window & Yuu & amp; Windows 8 logo), theme pack wallpaper 3 types (2 common types + 1 Akihabara limited edition design), window side event sound (with Akihabara limited voice)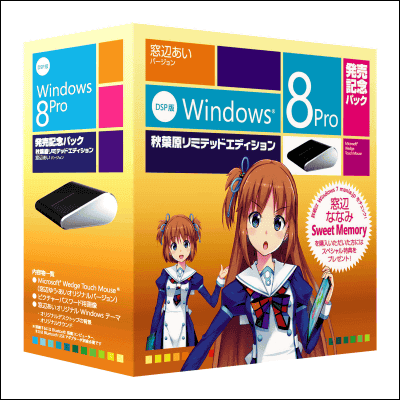 Although prices are unknown on TSUKUMO's blog, prices are posted as "Total 99,990 yen" on the face site, and the name of the voice actor is also displayed.

Windows 8 Special Feature! | Mail order face of BTO personal computer
http://www.faith-go.co.jp/ms/windows8/

Windows 8 Pro release memorial pack (64 bit) 【window side Yu version】: 10,980 yen including tax

Windows 8 Pro release memorial pack (64 bit) 【window side version version】: 10,980 yen including tax

In addition, "Windows 8 Professional upgrade version Japanese version" that can upgrade Windows XP, Windows Vista, Windows 7 to Windows 8 Pro and Windows 8 installed on the latest model PC are "Windows 8 Pro" "Windows 8 ProPack Japanese version" which can be upgraded to 680 yen including tax, are on sale at the site below.

Windows 8 Professional upgrade version Japanese version: 6080 yen including tax



Windows 8 ProPack Japanese version: 6080 yen including tax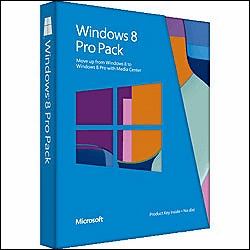 Yodobashi.com - Special information - beautiful, fast, smooth! 'Windows 8' Finally Appears
http://www.yodobashi.com/ec/promotion/feature/detail/50107O111922P_50107O111922C/

Microsoft Windows 8 [Bic camera .com]
http://www.biccamera.com/bicbic/jsp/w/pcsoft/windows8/index.jsp

【PC software】 Reborn Windows. Windows 8 | Sofmap [sofmap]
http://www.sofmap.com/topics/exec/_/id=5079

Windows 8 Feature TW TOP
http://www.twotop.co.jp/win8_contents/?contId=win8index

The long-awaited Windows 8 appeared! - Yamada Denki WEB.COM -
http://www.yamada-denkiweb.com/contents.php/special/pi066/

In addition, the DSP version for the new installation is normal Windows 8 is 10800 yen including tax, Windows 8 Pro is 15,800 yen, the difference between each version is as follows.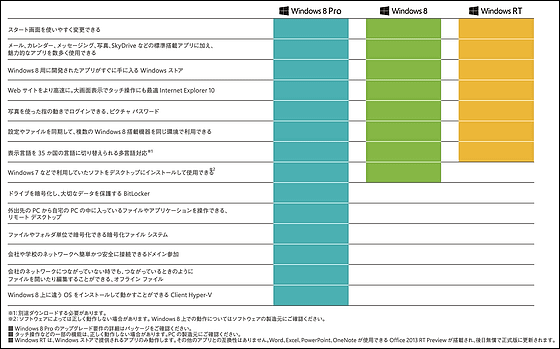 · Bonus
Family family tree diagram * Upgraded Permitted Photo - akiba ten_M | Lockerz