Caramel waffle that covers the coffee and softens it with steam and sells it from Lawson, actually tried to eat it while it matters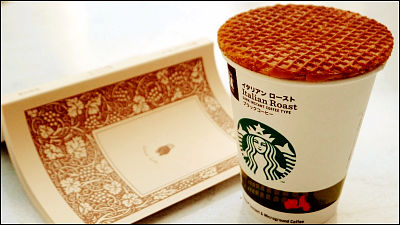 Caramel waffle (105 yen including tax) was launched from LAWSON MACHI café baked confectionery series developing "concept of cafe time anytime, anywhere." I put waffles on a lid to coffee cup and eat softened places, so it is more tasty, so I actually tried eating with coffee on the spot.

New proposal from "MACHI cafe baked confectionery"! | News Releases | Corporate Information | Lawson
http://www.lawson.co.jp/company/news/066696/

Arrived at the store.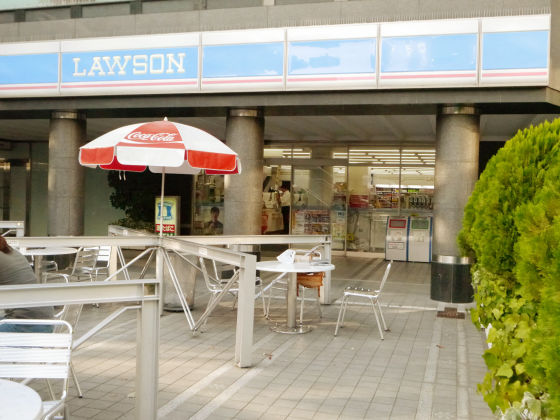 Since the table is set up in front of the shop, you can eat what you bought on the spot. When the weather is nice it feels like a little open cafe.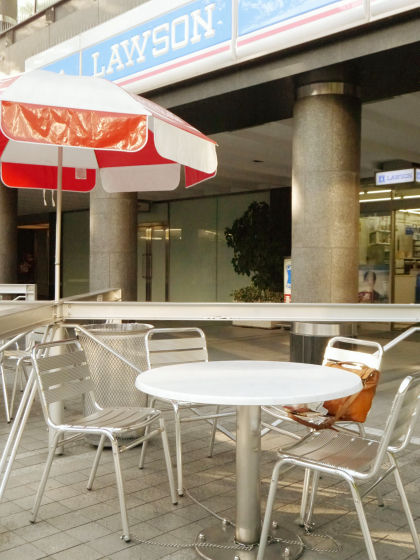 That's why I search for caramel waffle ......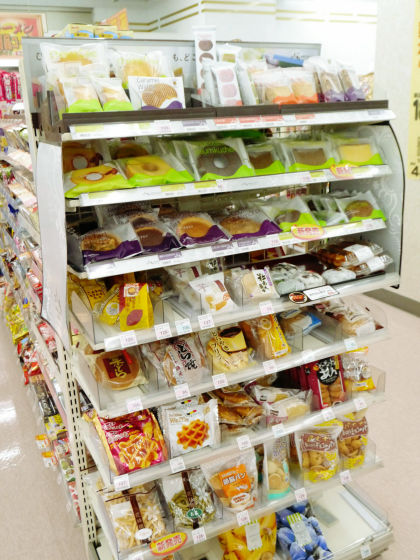 I was able to purchase the last one.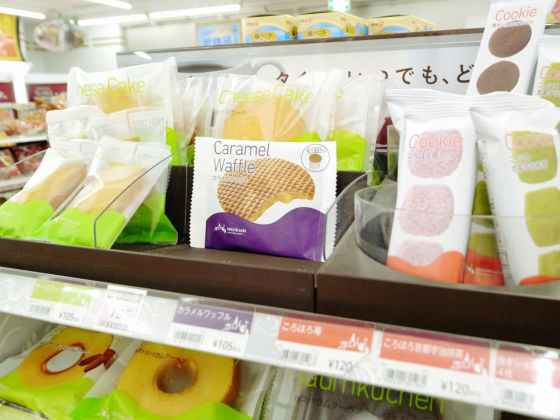 To be eaten with caramel waffle, it was released on October 2ndStarbucks Italian roastBuy a cup type together.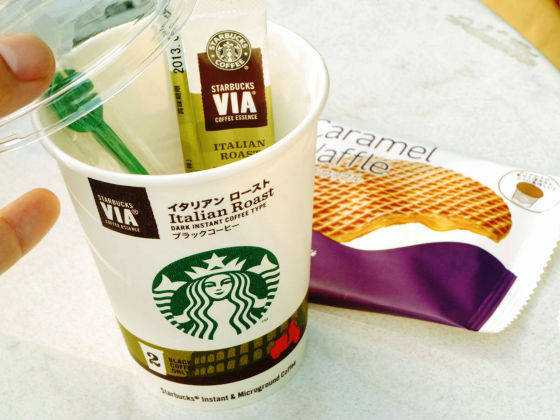 In the package of caramel waffle "MACHI cafe" letters.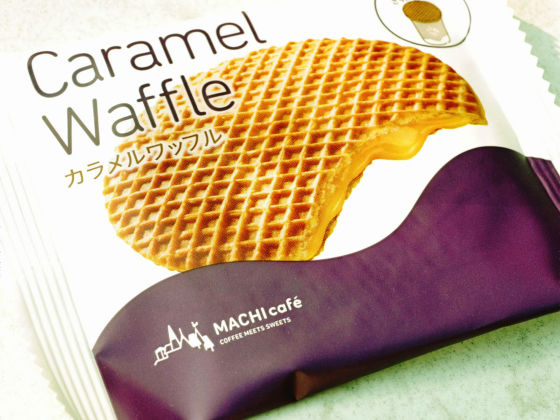 "It will be more delicious if you put it on the cup and warm it up!"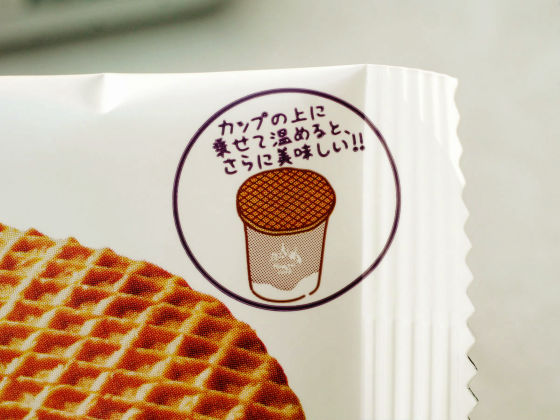 Caramel waffle was originally a traditional sweet of the Netherlands, and it seems that it is also importing directly from the Netherlands.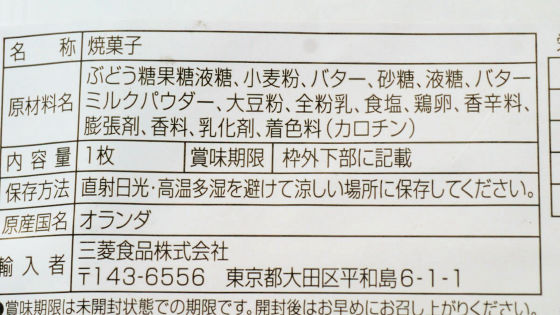 One calorie is 143 kcal.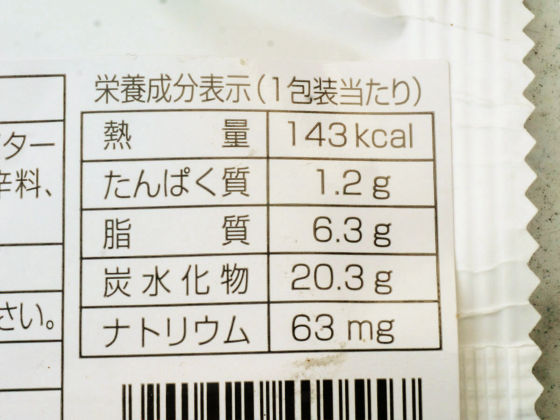 There is a pot in the store, so we decided to put coffee here.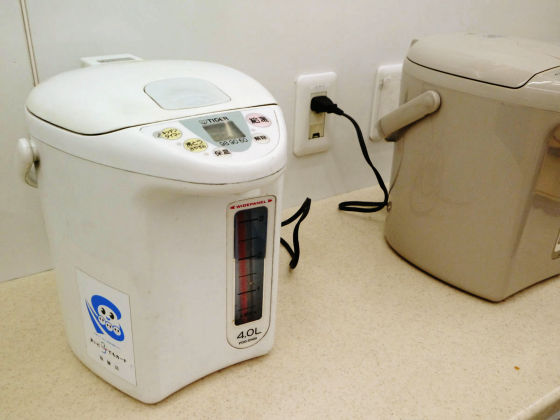 It is passionate.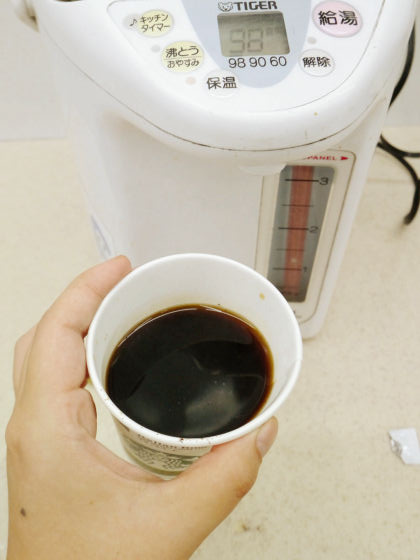 When you are ready, open the caramel waffle immediately.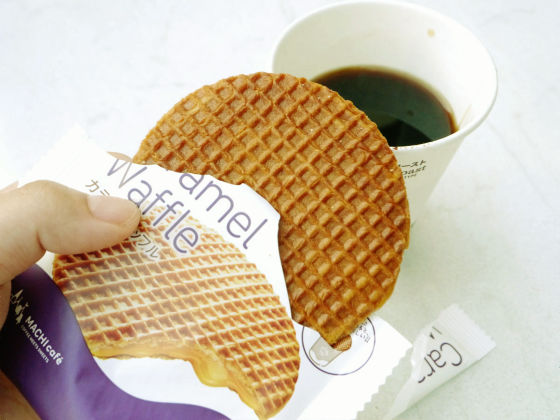 Although waffle has a fluffy image like Belgian waffle, here is a sweet like a flat cookie hard-baked.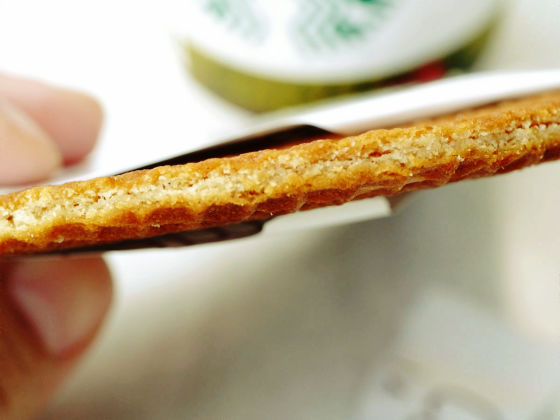 Caramel is protruding from the edge.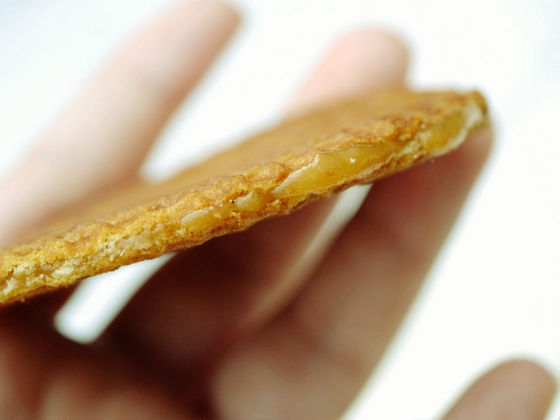 But the surface is firmly attached with a lattice pattern.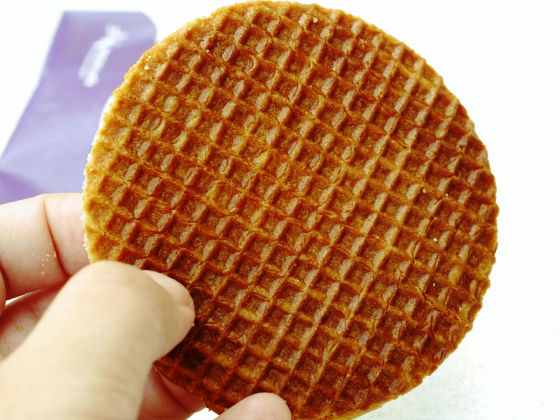 Put this on top of the coffee you just added ......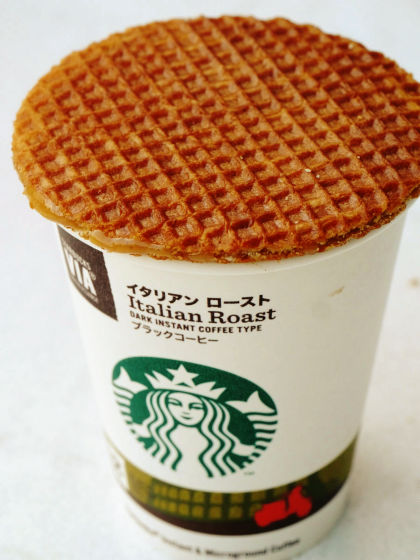 I will wait for a while. While reading a book it is perfect.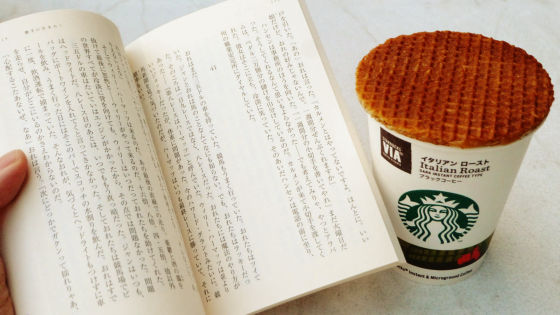 Is it OK for now? If I took off the waffle from the cup ... ...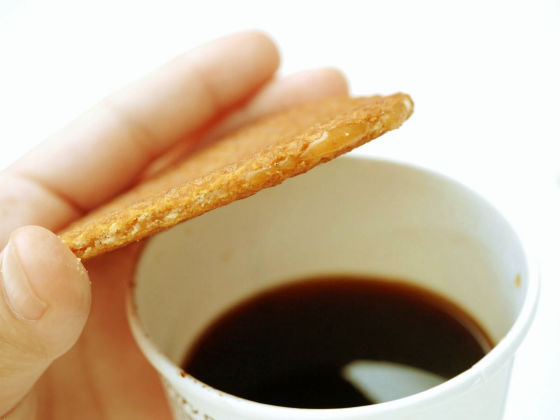 The side steaming coffee was slightly damp and soft.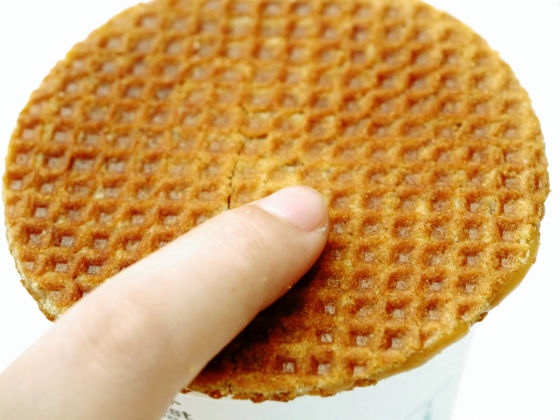 I will divide it into two.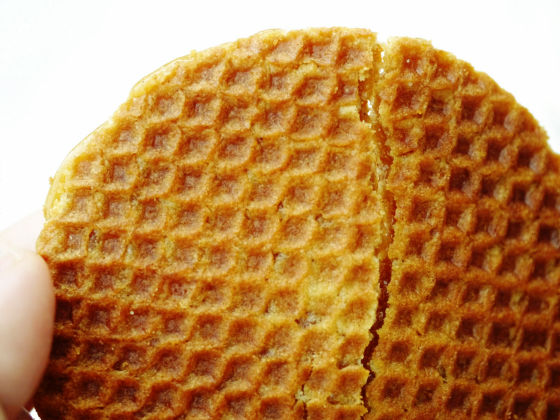 Then, the softened caramel draws thread between waffles.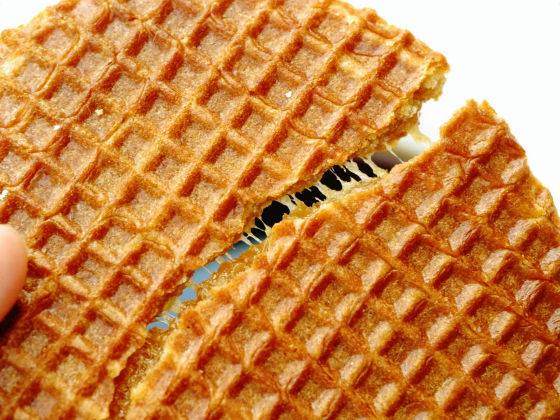 On the side where steaming was applied, the fabric was soft and the other side felt a shaky feel. Although caramel tends to "stick to the tooth and not leave!", Thanks to the fabric and soft caramel, it can be eaten without a hard fight. People who like a bit more soft people may wish to steam the other side. As you advance on eating, the scent of faint cinnamon spreads, but I feel that it is a bit too sweet to eat alone.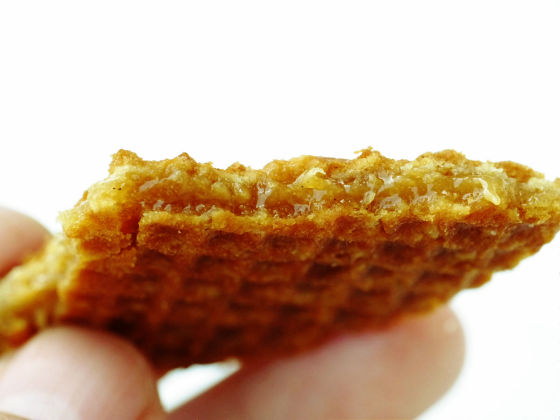 ... ... and black coffee in just the right place. In the endless loop of sweet, bitter, sweet, bitter, a little bit, but I can continue to eat steadily.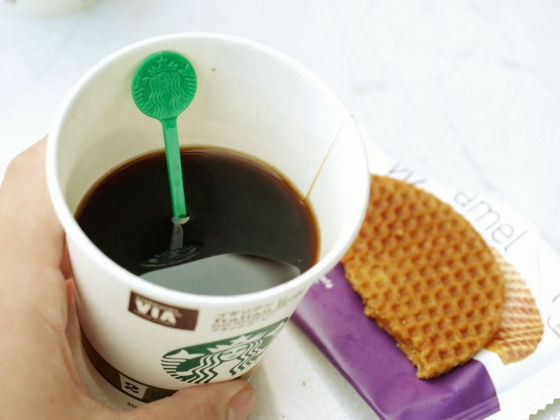 When the waffle cooled down, the caramel solidified and when it broke it started drawing more fine thread.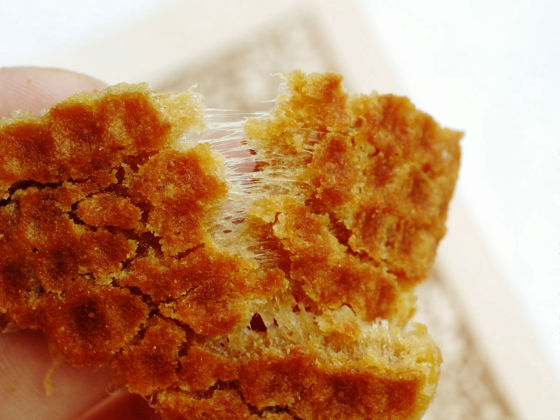 Because it is a thin sweet, I feel that there is not much satisfaction, there is a sweetness of caramel and it is better than it looks with crunchy. Autumn of reading, autumn of appetite, it is recommended for accompanying when breathing a bit.