Reason for refusing to use public bicycle parking space for advertisement space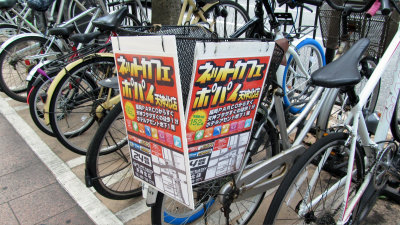 When I was walking down Tenjin, Fukuoka's downtown area, I noticed the advertisement of the Internet cafe on the public bicycle parking lot. There are not only one but a similar number of similar advertising bicycles in the vicinity. Gradually, I felt doubtful that this was wrong. Public bicycle parking space is not advertising space. Public bicycle parking spill with advertisement when companies to follow up appear. It is a matter of manner. I told that to the Internet cafe where advertising bicycles are placed, but nothing has changed.

Hello,Takuya Sudo @ circle around the world bicycle @ Charridermanis. I also worried because I also run ads on my bicycle.

Fukuoka city which is the biggest downtown area in Kyushu cityTenjinThere are lots of Mitsukoshi, Daimaru, Iwataya, Loft, Parco, Bic camera, Best Electric Appliance, Junkudo Bookstore and many big shops, and it is crowded with many people. It was not so long ago, but recentlyBicycle parking lot is enrichedI did it. For example, the parking lot for bicycle parking under the Kaido Park is 1,500. A bicycle parking lot is also built beside the sidewalk, and many bicycles are always stopped. Bicycle parking beside this sidewalk became the advertising space of the Internet cafe.

Bicycle parking in Tenjin.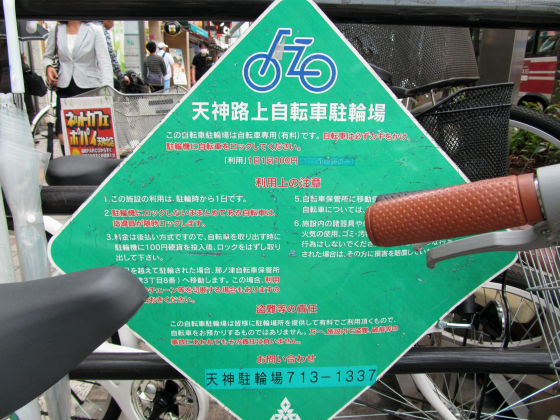 The bicycle hanging advertisements on the loading platform is stopped. The first one.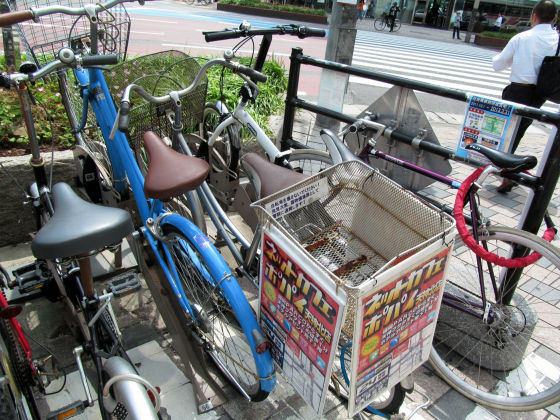 Meiji Avenue. I found a second car where the Fukuoka Bank can be seen.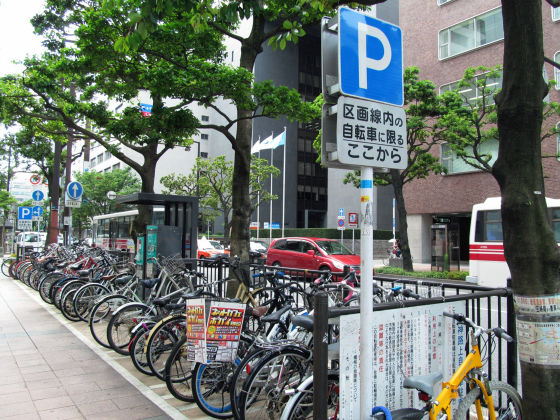 Advertisements are affixed to the 3 sides of the basket.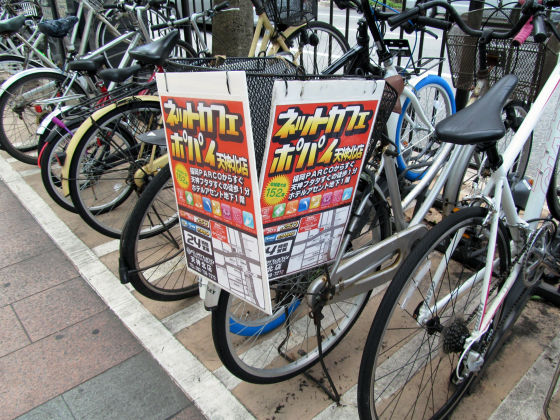 Third to a place not far from the second one. You can see the signboard of Saga Bank on the left.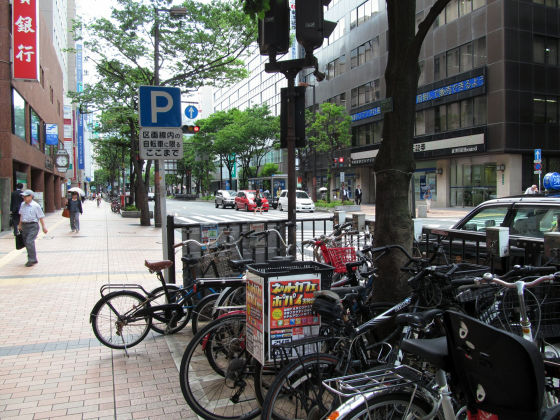 It is a plastic basket.



It is the 4th on the sidewalk opposite the 2nd, 3rd. Parco is reflected to the right.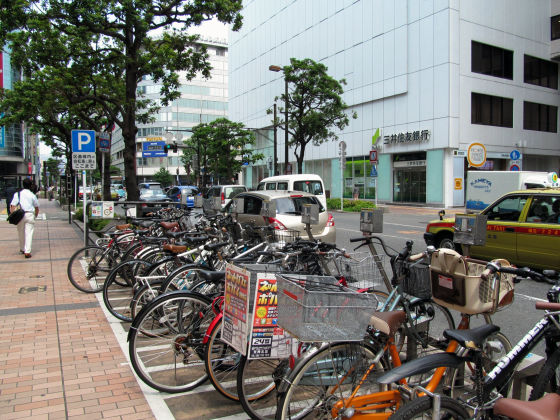 It is an ordinary mama Chari.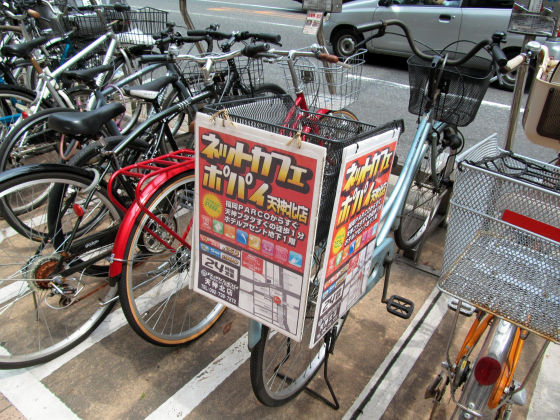 Watanabe street, the fifth machine directly across from Daiei Shoppers Fukuoka store.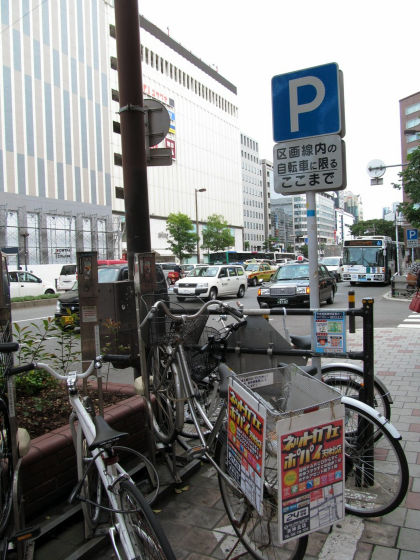 From the display "Location", I clearly parked for advertisement purposes.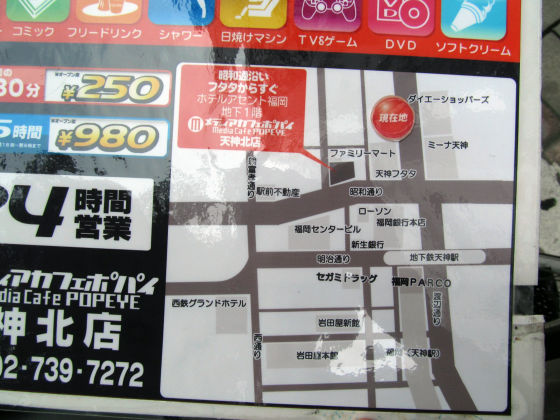 "Please do not break the bike! As soon as we discover, we will inform the police as a crime of destruction!" Somehow it is scary.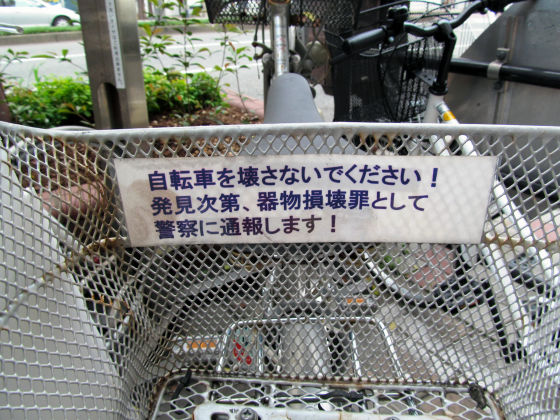 On 20th June 2012 I found an advertisement bicycle at five places. Since it is not helpful only by this, I tried to observe it in Tenjin also on another day.

On June 22 we found one.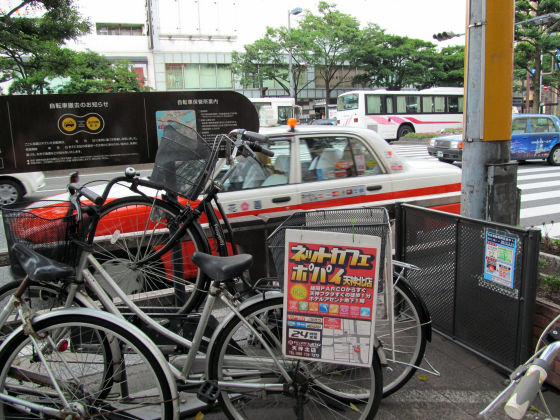 It is not another five places on June 20, another place.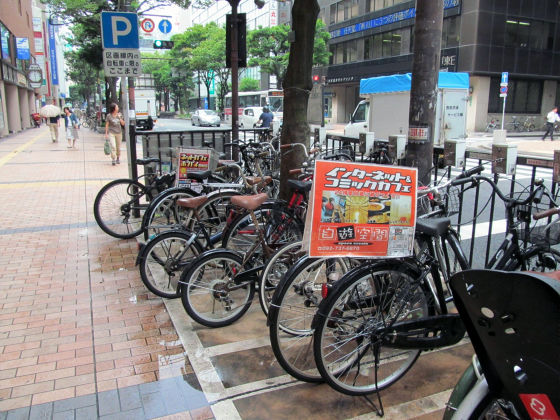 Advertisement bicycles found on June 29 had advertisements folded. I do not know whether I stopped voluntarily or was folded by someone.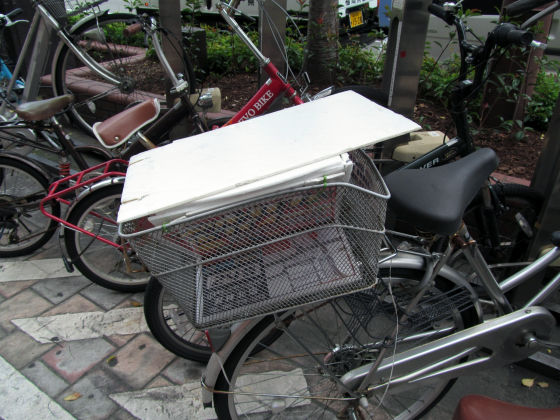 I felt doubtful about the act of privatizing the public parking lot, so I tried visiting the advertisement bicycle store.Media Cafe Popeye Tenjinboku Store. In the vicinityTenjin storeThere is also, I am not watching this advertising bicycle. I also wanted to write an article because there are few stories, but first I gave my opinion. If this can be solved, there is nothing wrong.

Media Cafe Popeye Tenjinboku Store is here.

View Larger Map

Media Cafe Popeye Tenjin North shop. It is the same building as Hotel Ascent.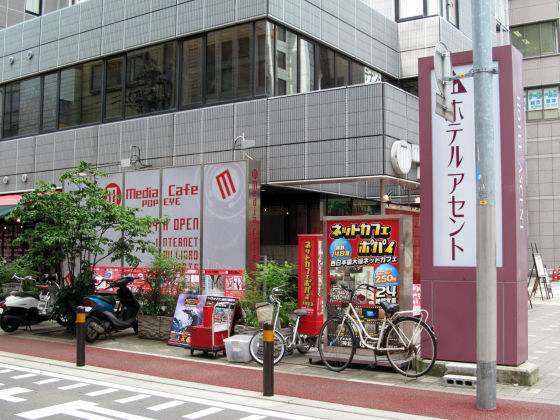 A lot of advertisements attract attention around the store.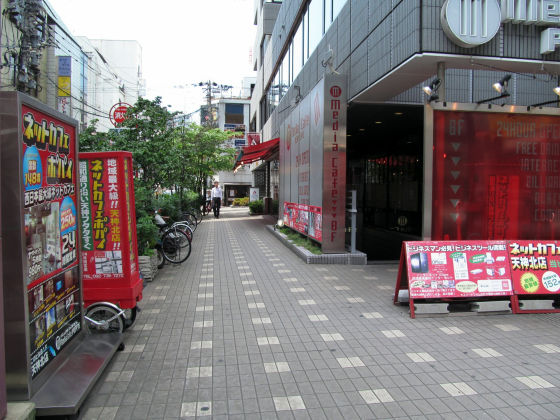 Store entrance.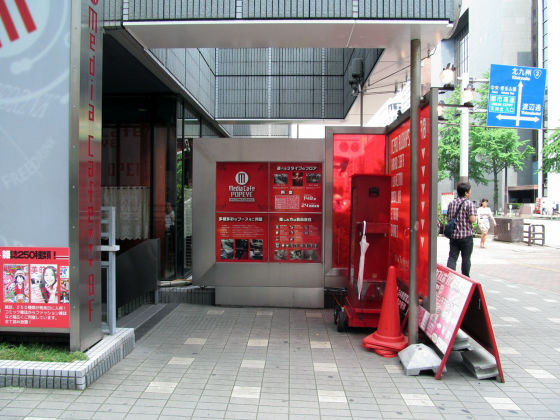 The basement was a store.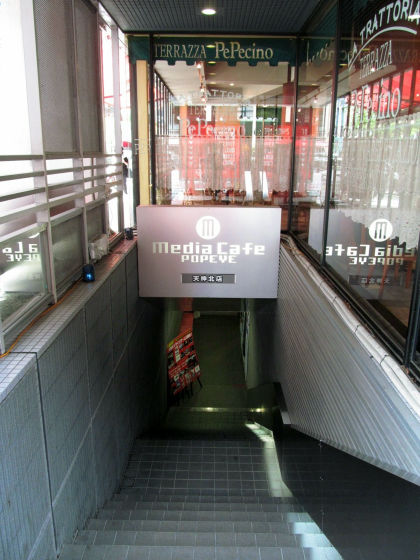 But in September the situation has not changed at all.

Watanabe street, one in front of Tenjin core.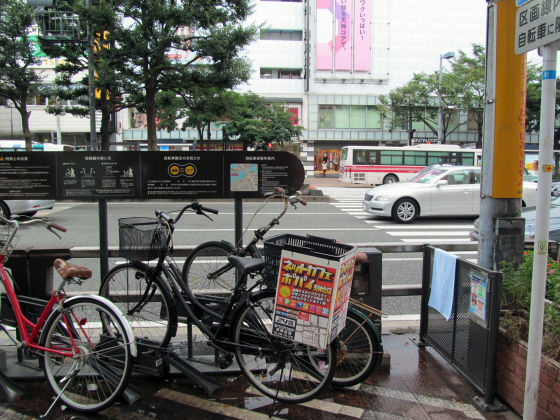 However, the "current location" mark has disappeared.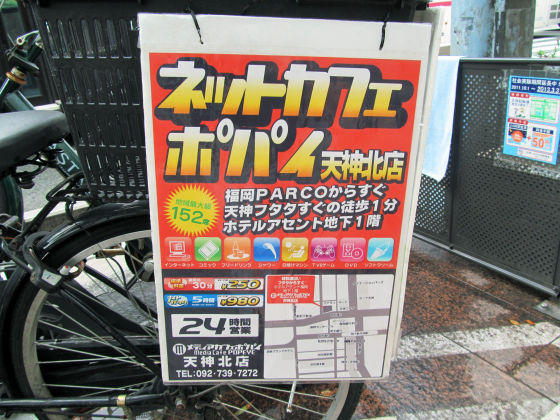 Advertising bicycle parked.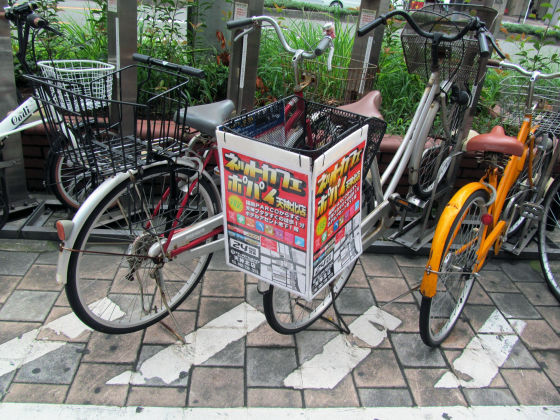 Men 's clothes Futata, Mina Intersection of Tenjinbashi mouth with Tenjin.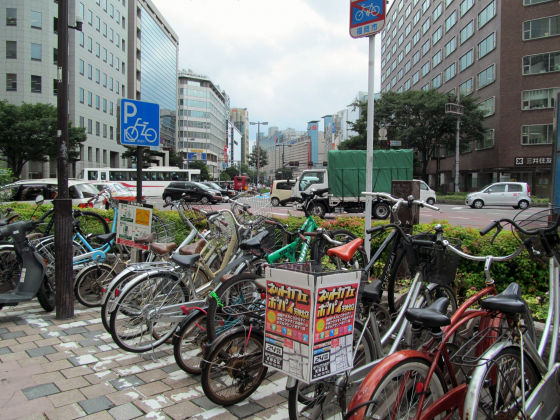 There was also an advertisement bicycle on the southern side of Shintencho which I did not see in June.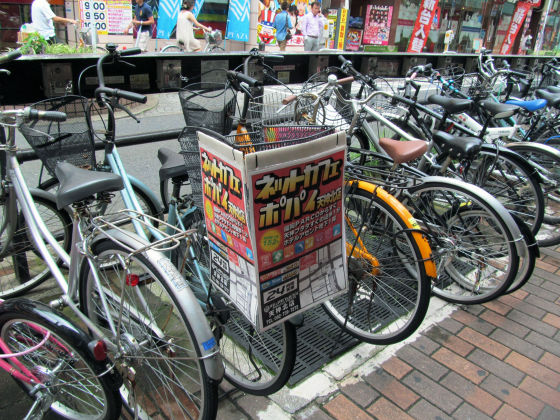 On September 14, I found an advertisement bicycle for five media cafe Popeai Tenjyuku shops. Just Internet cafe ads are not limited to advertising bicycles.

Advertisement of station building. This is a Tenjin store.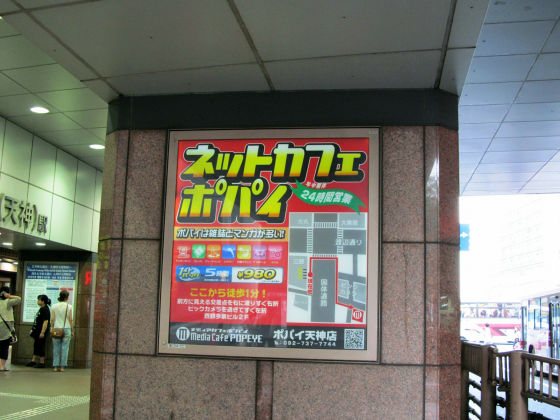 The Tenjin North shop also placed advertisements on the lights.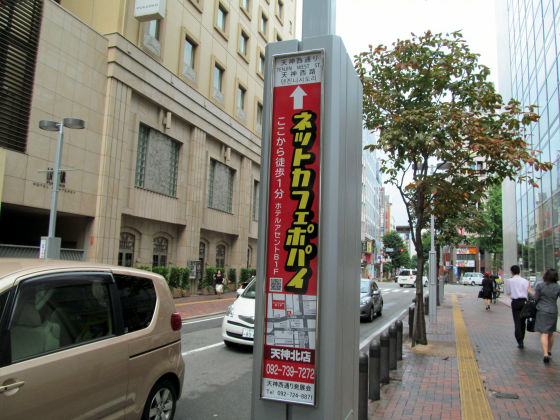 People raising placards are calling in by the road.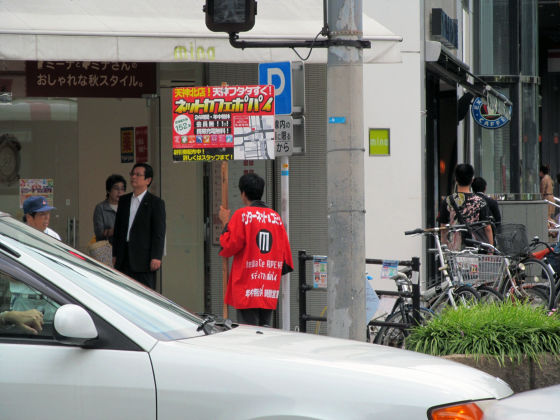 Advertisements for station buildings and electric lights will cost a publication fee. People who listed placards need personnel expenses. However, an advertisement bicycle costs 100 yen per day. You can advertise in downtown area of ​​Tenjin at 3000 yen per month. On the same September 14 another Internet cafeSelf-affiliated Tenjin Southern Street StoreAlso did advertising bicycle. I was surprised because I did not see it in June.

Self-entertainment Tenjin Southern Street shop is here.

View Larger Map

I put two ads on the loading platform.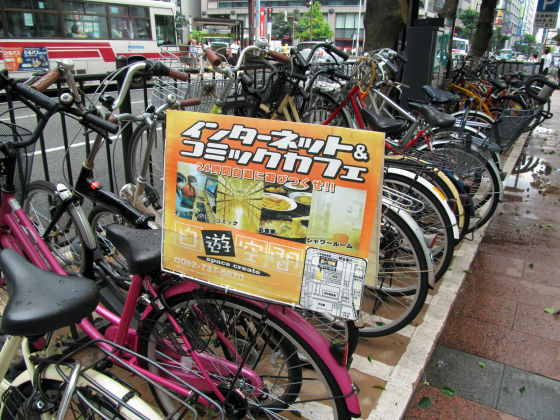 You can see big advertisements.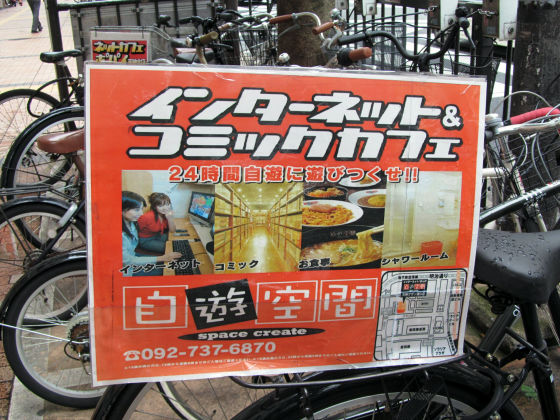 Also in front of Showa Dori, Sunkus.



The first one in Tenjin Southern Avenue, which is full of pubs, game centers, bowling alleys, movie theaters, etc.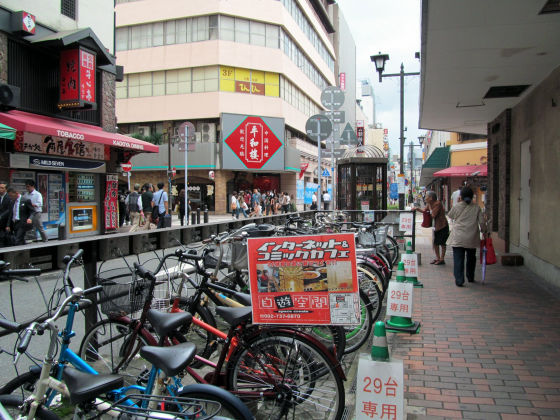 Going down Tenjin Southern Street, I found the second one. One minute on foot.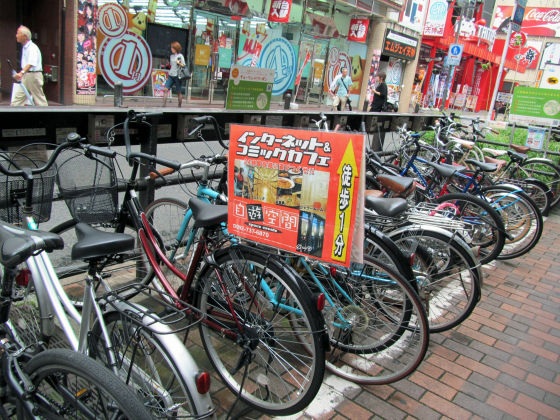 And the third one in Tenjin Southern Street. 30 seconds on foot.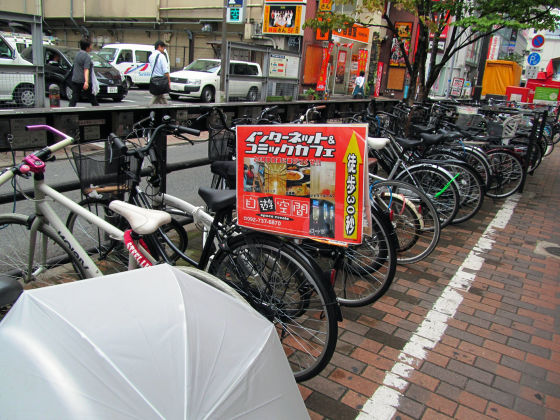 There is an Internet cafe on the 5th floor of this commercial building in Tenjin Southern Avenue.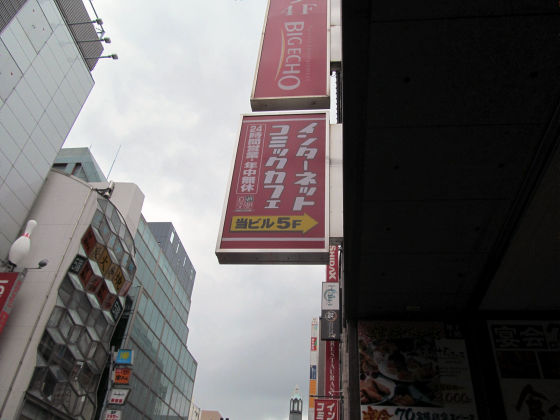 Signs for price information.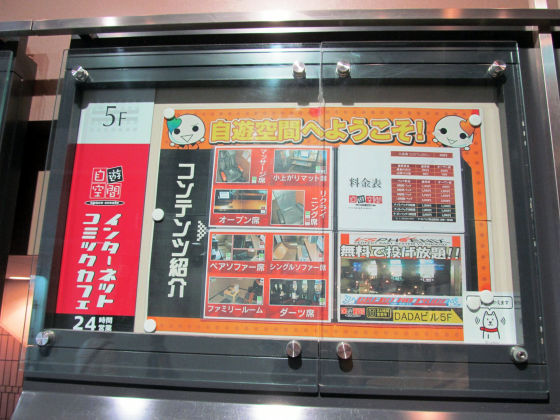 Store entrance on the 5th floor.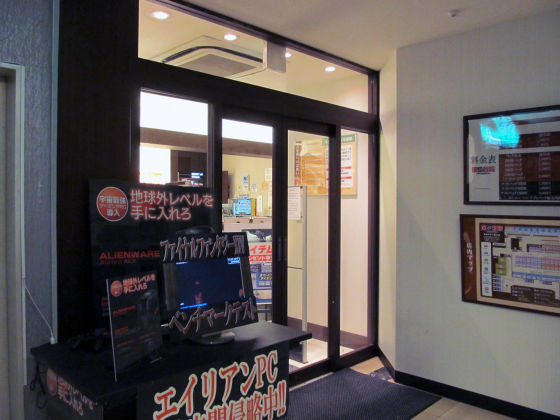 Even this free space Tenjin Southern Road shop talked about the act of privatizing the public parking lot.

My opinion is that public bicycle parking space is not a company's advertising space. There were 5 advertising bicycles on September 14 at Media Cafe Popeai Tenjinboku Store and a total of 12 advertising bicycles with 7 on the Self-Defense Tenjin Southern Street Store. If the advertisement bicycle race continues like this, the public bicycle park of Tenjin may be filled with advertisement bicycle.

Two advertising bicycles in the same parking lot at Media Cafe Popeai Tenjinboku Store and Free Space Tenjin Southern Street Store.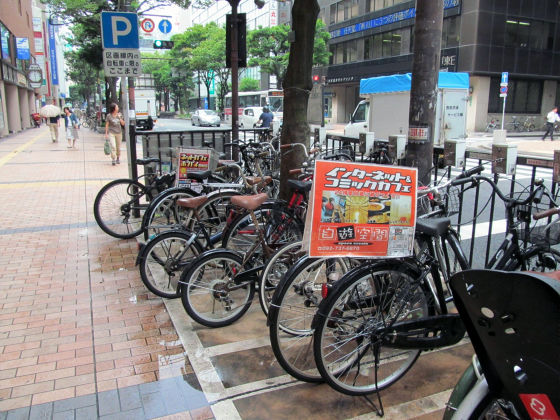 I do not think ad bicycles are in violation of laws and ordinances. However, I feel doubt as a manner. If it is a privately-held parking lot, the same thing can not be done, the advertisement price will be a reasonable price. There is no public parking lot for a specific company.

I would like to finish here, but Charlerman decided to run overseas hanging advertisements as a business. If so, your ad may have problems as well. However, we do not stop bicycles at public bicycle parking for advertising purposes. I promise to run overseas with a bicycle and take pictures of advertisements and the local scenery. Why do you think that it is different to put an advertisement on a bicycle and stop the bicycle for advertisement?

From Scandinavia to North Africa "Zakkapot'S advertisement was posted.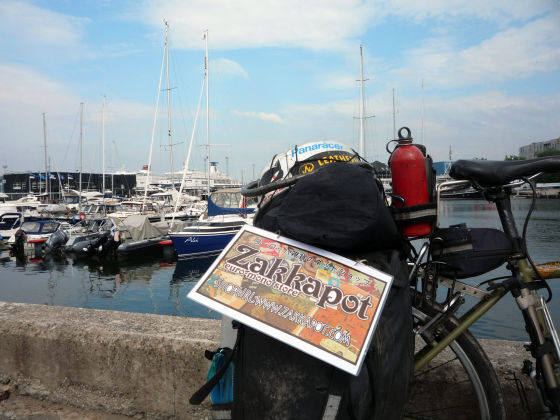 I took pictures at sightseeing spots etc. and was sending it.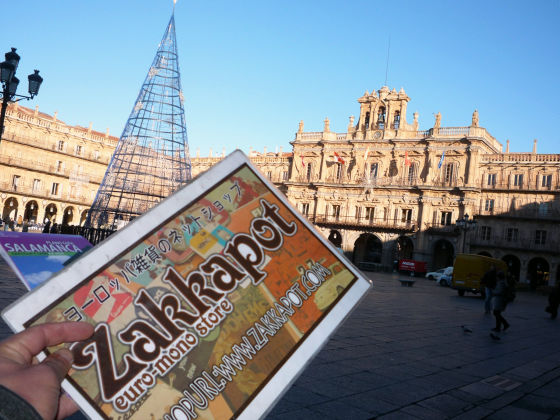 From North America, a Japanese company in Thailand "MIWCOMI like to run advertisements like.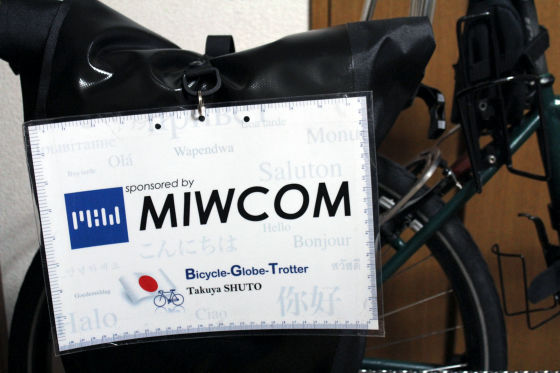 This time I felt doubt that the Internet cafe privatized the public parking lot so we raised a problem. Where is your advertising bicycle an opinion of your opinion whether it is affirmed with a new advertising style or denied by a manner violation? How is it going in places other than Fukuoka?

(Sentence / photo: Takuya S. Narou Charriderman
Cycling around the world for a bicyclehttp://shuutak.com)