Google's fully automated driving car succeeded in driving less than 500,000 km with no accident


Already almost completed at the stage of March this yearGoogle's self-driving car (automatic driving car)Thereafter, there was a report that succeeded in 300,000 miles (about 480,000 km) running with no accident.

The self-driving car logs more miles on new wheels | Official Google Blog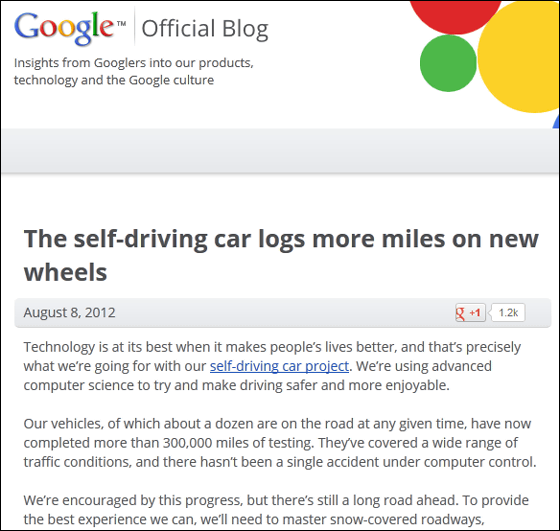 Google's automated driving car development team has continued to incorporate progressive computer science to make driving safer and more enjoyable. As a result, the total distance traveled by 12 automatic driving cars exceeded 300,000 miles (about 480,000 km). Already, this automatic driving car was moving with grasping a wide range of traffic conditions, and never encountered a traffic accident even during these test runs.

But this 300 thousand miles is a single point of arrival, and the long way to go is still long before, says Chris Urmson, a technical adviser in the development team, on the blog.

In the future, in order to provide the best possible experience, we need to respond to many tricky situations that drivers will encounter, such as signs and signals provisionally installed for snowy roads and construction work .

Currently, I am checking the situation by riding in pairs at the time of test driving, but as a next step, I will use the crew as one person to commute and I will bring it as close to us as possible for all commuters It will be.

In conducting this next test, new vehicles will be addedLexus RX 450 hIt is said that it will be added.

in Note, Posted by logc_nt