Anime attention rankings starting in the spring of 2012 are close by "Saki - Achiga Hen" top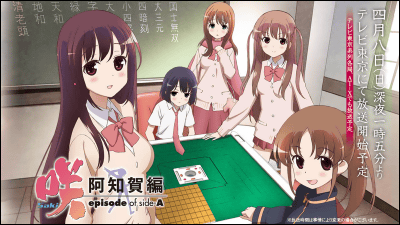 The result of the "2012 Spring Season Broadcast Animation Attention Ranking" that Animation One of animation video distribution site was targeted for users was announced. Due to the large number of works of interest this time, it was a battle that was a little different from cruelty, just 6 votes from 1st place to 4th place. This fierce battle was controlled by "Saki - Achiga Hen episode of side - A"was.

Spring 2012 Broadcast Animation Attention Ranking Results Announcement | Animation One

◆ First place:Saki - Achiga Hen episode of side - A(655 votes)
The top spot was the spin-off work of Mahjong Manga "Saki - Saki-" Saki - Achiga ed. Episode of side-A "for girls high school students fighting on inter-high victories. Hara Kimura who was experienced in intermediate middle school in the main character of main volume and has experience of intermeal winning is set in the Atsuga girls' school which had been enrolled before the transfer, and old friends who saw the success of the sum in Inter Middle will battle the sum once again It is a story aiming for a national competition for.

◆ 2nd place:Frozen dessert(652 votes)
The 2nd place of the 1st place and 3 votes is the latest work of Kyoto animation "Frozen Fish", a popular animation production company that has worked on works such as "K-ON!" And "Lucky Star" "CLANNAD". A studio ghibli is representative when it is said that it is expected only by giving out a name, but a company expected in the same way in TV animation etc. is rare. The original is Yosawa Hosobu's same name novel, a rather old work that has been published in 2001.

◆ 3rd place:Fate / Zero 2nd season(651 votes)
"Fate / Zero 2nd season" entered 3rd place which was only 1 vote with 2nd place. As the title, the continuation of the TV animation "Fate / Zero" broadcasted from October 2011 to December 2011 (broadcasting a work with two courses divided by one course). I draw a battle between seven magicians (master) and seven servants called by the master over the "Holy Grail" that any wish can be fulfilled if it gets it.

◆ 4th place:Secret society Hawk nail NEO(649 votes)
From that there continued two more votes by "secret society hawk nails NEO". A secret society that everyone should not be able to spend a couple of years The false nail of a hawk is a gag animation that aims to conquer the world in an inevitable manner while being hindered by a friendly ally deluxe fighter, characters jumped out of this work and before the movie screening of TOHO Cinemas It is active in flowing manner movies and travel agency HIS CM etc. The new seriesIt was also announced in the special information videoAs you can see, the attention has gathered that it is broadcasting on Noh no NHK.

◆ 5th place:Is this a zombie? Of the dead(444 votes)
The second phase of the animation of the light novel series with the nickname of "this zon". From January to March 2011, the first period "This is Zombie" is broadcasting. While the style is love comed, the main character is a zombie, so even if it is torn down, how much it is played without death, often subjected to fatal injuries.

◆ 6th place:Medaka Box(401 votes)
Works animated cartoon of the Weekly Shonen Jump Tutorial series. A popular novelist, Nishio Ishin, is in charge of young people, such as the 'stories' series such as 'Bakemonogatari' and 'Koibumi' series, etc., and Nishio Ishin is in charge of the original and original idea of ​​manga, Nishio Restlessness is scattered around. Although it is a place that should be expressed as "a long-awaited animation" in terms of popular work, the early part of the series also has a part with pretty likes and dislikes divided, and it is not impossible to imagine the level that is expected quite easily Because of that, the voices of anxiety are also whispered.

◆ 7th place:Accel World(369 votes)
Light novel of Kawahara gravel which received the electric shock fiction novel prize was original. Originally published at the novels posting site, Mr. Kawahara also serialized "Sword Art · Online", and the background that the Dengeki Bunko editorial department who found this was supposed to publish with a voice there is. Although the hero of animation is often drawn in a well-formured appearance, Haruyuki who is the hero of this work is a bullying bully who is overweight, as a result of considering whether to make it look good as animation, as it is, go It was said that it was the conclusion.

◆ 8th place:Eureka Seven AO(333 votes)
A sequel to the animation "Symphonic Psalm Eureka Seven" broadcasted for 1 year from 2006 to 2007. While working time is also connected, it seems that it is making making it possible to enjoy even without knowing the previous work.According to Takeda Yoshida Producer, The content has become quite a painting work, it is said that broadcasting at this time when the world situation is tense is right.

◆ 9th place:Apollon of slope(285 votes)
Set in 1966, she is depicting a youth pattern of adolescent high school students who have gone to jazz. Original manga won the 57th Shogakkan cartoon award general category. Animation staff is a combination of "Watanabe Shinichiro" and "Kawabi bebop", whose music is Yoko Kanno. Expectation gathers what fashion music will color the work.

◆ 10th place:Creepy! Nyaruko(251 votes)
"I want to have a name, animated cartoon" motif with Crot's myth of Lovecraft. Heroines' silver hair beautiful girls are gathered together with "disturbing chaos" Nyaruratoto (abbreviated Nyaruko), "living flame" Kutugua (Cucumber), "name disappearing" Husuta (Hasuta), evil spirits and something. It is expressed as a love (craft) comedy by love craft.
in Anime, Posted by logc_nt