Docomo announces the schedule of 18 models on version upgrade to "Android 4.0"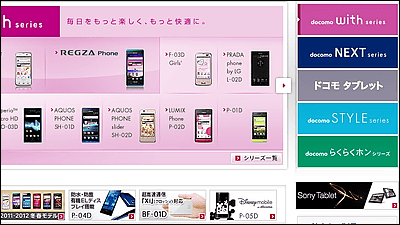 "We will inform you about the products that are scheduled to be upgraded to Android 4.0 and the time to start upgrading" on the product currently on sale on March 26, 2012 (Monday) 2012 "and" docomo Upcoming upgrade schedule of all 18 models including series with docomo NEXT series and docomo tablet was announced.

Notice from docomo: About upgrading "docomo with series", "docomo NEXT series", "docomo tablet" (18 models) to Android 4.0 | Notice | NTT DoCoMo
http://www.nttdocomo.co.jp/info/notice/page/120326_01_m.html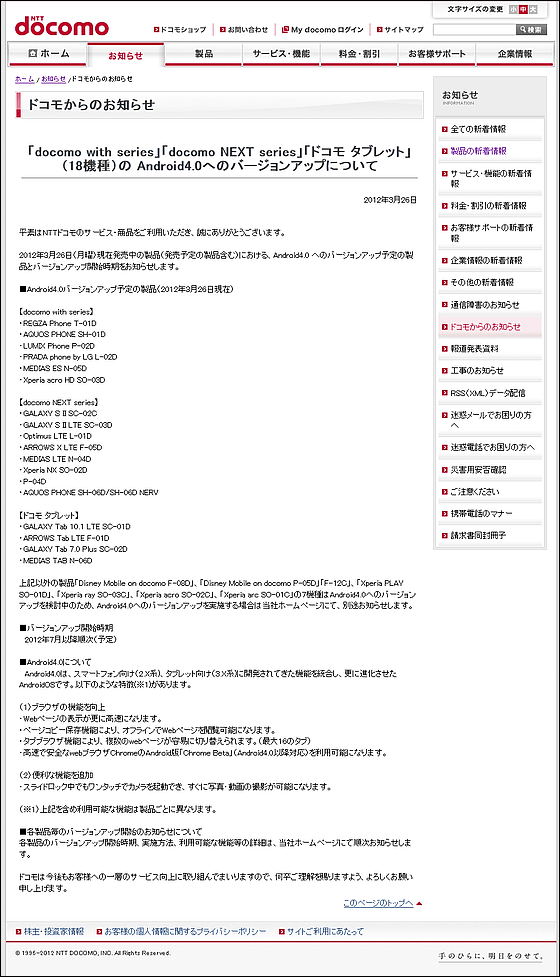 The product list scheduled to be upgraded is as follows.

【Docomo with series】
· REGZA Phone T-01D
· AQUOS PHONE SH-01D
· LUMIX Phone P-02D
· PRADA phone by LG L-02D
· MEDIAS ES N-05D
· Xperia acro HD SO-03D

【Docomo NEXT series】
· GALAXY S II SC-02C
· GALAXY S II LTE SC-03D
· Optimus LTE L-01D
· ARROWS X LTE F-05D
· MEDIAS LTE N-04D
· Xperia NX SO-02D
· P-04D
· AQUOS PHONE SH - 06D / SH - 06D NERV

【Docomo tablet】
· GALAXY Tab 10.1 LTE SC-01D
· ARROWS Tab LTE F-01D
· GALAXY Tab 7.0 Plus SC-02D
· MEDIAS TAB N-06D

In addition, the products other than the above "Disney Mobile on docomo F - 08 D", "Disney Mobile on docomo P - 05 D" "F - 12 C", ​​"Xperia PLAY SO - 01 D", "Xperia ray SO - 03 C", "Xperia acro SO-02C "and" Xperia arc SO-01C "are currently under consideration for upgrading to Android 4.0, we will inform you separately on NTT Docomo's page when upgrading to Android 4.0 ,apparently.

The version upgrade start timing is "Sequentially after July 2012 (planned)"By becoming Android 4.0, the following functions are improved.

(1) Improve browser function
· Web page display becomes faster.
· The page copy saving function makes it possible to view web pages offline.
· Tab browser function makes it easy to switch multiple web pages. (Up to 16 tabs)
· Fast and secure web browser Chrome's Android version "Chrome Beta" (available for Android 4.0 or later) will be available.

(2) Added convenient function
· You can start the camera with a single touch even during slide lock, so you can take pictures and movies immediately.
in Mobile, Posted by darkhorse