Smart bike embodying the near future "Tron Lightcycle"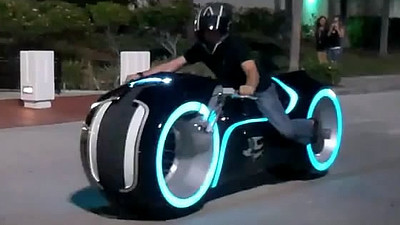 A movie released in 1982TRON", And a movie released in 2010"TRON: LegacySpeaking of an exciting scene, it is a race battle in the light cycle that will be the wall where the running locus glows. In particular, the race at Toron in 1982 had a strong impact on many fans,Snake game keep running running longer than opponentMany things were made.

However, instead of a game, Tsuwamono who actually made a motorcycle appeared. As expected there is no trace left, but the motorcycle of the movie "TRON: Legacy" is almost completely reproduced.

First of all, the movie "TRON: Legacy". Because it is a normal trailer, since there are few bike scenes, I brought a teaser trailer consisting of the bike scene center.

Official Tron Legacy Trailer - YouTube


Lightcycle appearing in the movie is like this.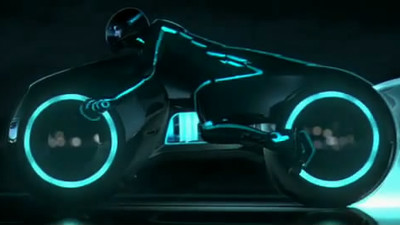 The trajectory turns into a light wall, and when the wall is blocked by this wall, it will crash.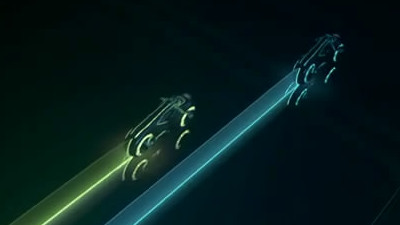 And here is the site of Parker Brothers who actually made this lightcycle.

Parker Brothers Choppers, If you can dream it, "We can build it!"
http://www.parkerbrotherschoppers.com/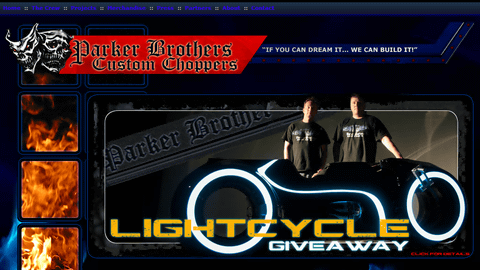 This is "Tron Lightcycle" made by Parker Brothers.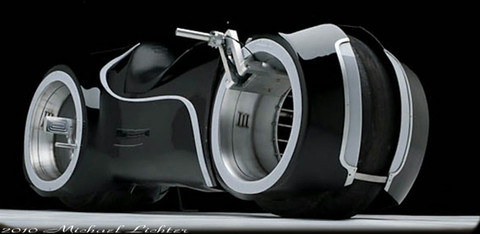 You can move the motorcycle properly and you can see the way you are cycling on YouTube.

New Full Scale Electric Tron Lightcycle Parker Brothers Choppers - YouTube


The impression of about "It's a bit strange motorcycle" in the daytime.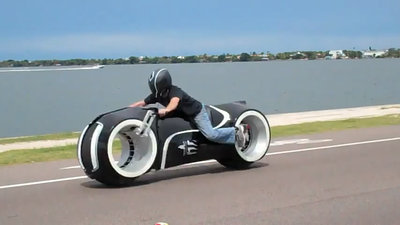 But as the sun goes down ...



It turns into a smart motorcycle where the tire surroundings and body shimmer blue.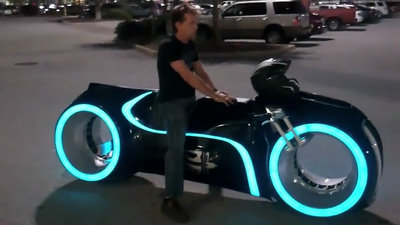 People are gathering in somewhere.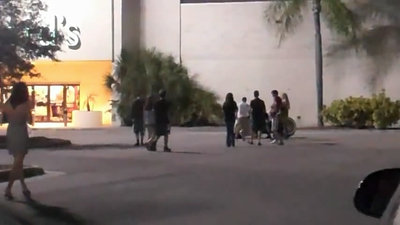 This bike was handmade from the frame.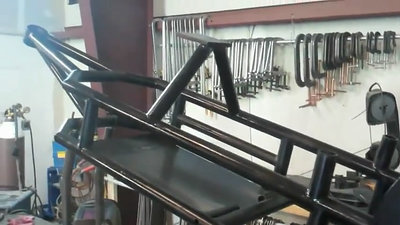 Excuse me for high reproducibility.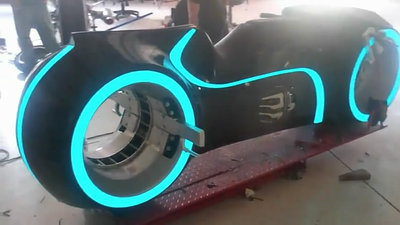 By the way this brother, "Batman" is also making a bat pod to appear.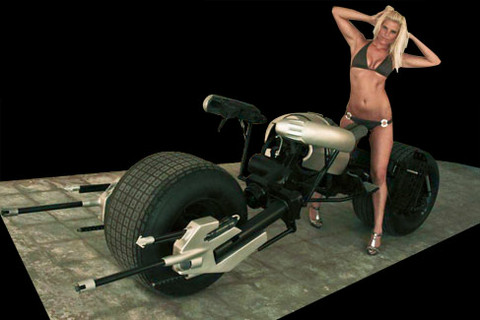 The phrase "If you can dream it," "We can build it!" "In the title of the official site"I want to make a robot that can rideThere is something common with Mr. Karuo Kurata, an iron artist who made Scope Dog by herself. Kurata now,Iron robot with a total length of 4 mI am also making Parker Brothers like to make something like contemporary technology has come so far, right?