Started deployment of new advertising media to commercial melody of railroad CM song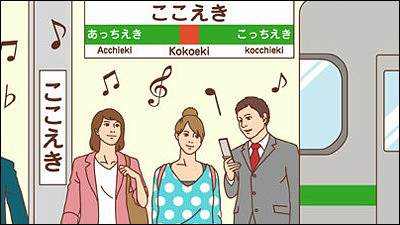 Activities to use music departure melodies flowing when the train is departed to advertise and initiate activities such as music flowing in the commercial starts.

~ New style of traffic advertisement ~
Jointly develop "departure melody de Promo" to enterprise CM familiar with departure melody

An effort to use CM music of a company flowing on television and the like as a station departure melody was announced. It is said that using the system called "departure melody de Promo" jointly developed by Zenrin Promo and Switch, we will change the departure melody. Under the guarantee of passengers' notice function, we are summarizing the processing methods, applications, etc concerning copyright management and station sound system, and it is patent pending.

Some stations are shedding a special departure melody that employs music with a border to the place. Since Takadanobaba Station is the location of the Ministry of Science where Atom was created, and the location of Tezuka Production is also Takadanobaba, the melody of "Astro Boy" flows.

Yamanote Line Takadanobaba Station - YouTube


There was a Sapporo Beer Ebisu factory near Ebisu station (now it is Ebisu Garden Place). Even so, there is a commercial song of Sapporo Beer 's flag issue "EBISU". This light music is also the theme song of the movie "The Third Man".

Yamanote Line Ebisu Station - YouTube


Every time we departed at Kamata station "Kamata march"Will be played.

Kamata station departure melody - YouTube


About this announcement I asked a spokesman for Zenrin Promo. The release of "departure melody de promo" is not only the meaning of announcing the system, but it is already planning to change the melody of the two stations.

Both of them are railway companies in the Kanto region, and it is said that around February, the departure melody of the station near the Kanto region is changing with the setup to change it to CM music of a company. Introduction on large-scale routes such as JR and Tokyo Metro is also considered, but it is still in the process of creating a framework. Therefore, it seems that early development will center mainly on private railway.

This departure melody advertisement is being planned on the premise that the changed melody will be used for a long time, keeping in mind the "creating distinctive features of the station loved by the community". for that reason,Acquisition of Yokohama BaystarsIt is not expected that a momentous company suddenly enters like us, and it is expected that the use of melodies of long-established companies will increase.
in Ride, Posted by darkhorse_log