Orchestras called this world orchestra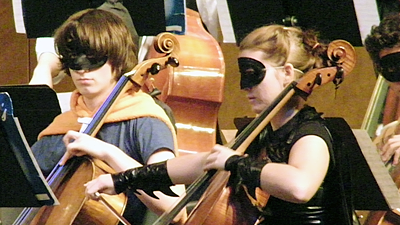 By cseeman

There are many bands and bands called orchestras such as gamelan and gagaku in the world, although it is easy to think that a group of dozens of classical musicians gathers and plays is an "orchestra". Unlike western orchestra I think this is also really an orchestra. What is the boundary between the orchestra and what is not so?

The etymology of the orchestra is a circular ballroom "Orchestra" for the choir singing and dancing at an ancient Greek theater. In the Baroque period, San Cassiano of the opera theater was built in Venice, and the space for the instrument player who accompanied the opera was called Orquestra. It eventually came to point to the orchestra playing in this place, and it reaches the present.

That is, the word "orchestra" has no clear definition. For that reason one big orchestra began to be called an orchestra, and in some cases he began to name himself an orchestra.

In such a position, there are various forms of orchestras in the world. Below, we will look at the orchestra called orchestra.

JapaneseGagaku. Sometimes it is called the world's oldest orchestra in existence.

Gagaku Etenraku - YouTube


Chinese traditional instrument orchestra. The grand granularity reminiscent of the Western orchestra.

Traditional chinese Orchestra - YouTube


IndonesianGamelan. The word "passion" is well matched.

Gamelan gong kebyar - YouTube


Percussion Orchestra in South India. It is playing at the temple.

Pandimelam, chenda, drum, percussion, traditional, orchestra, Kerala, India - YouTube


Contemporary orchestra using Arab instrument. The song is Arabic style.

Bassam Saba & The New York Arabic Orchestra - YouTube


I play African folk music in an orchestra style

Pan African Orchestra plays Fela - YouTube


Europe is the home of the orchestra. It is a concert of the Vienna Philharmonic Orchestra.

The Vienna Philharmonic New Year's Concert 2011 - Johann Strauss - Waltzer HD - YouTube


Traditional orchestra does not mean to only play classical music. This is an orchestra version of Trans Music.

Paul van Dyk - For an angel (Symphony Orchestra) - YouTube


Penguin · Cafe · Orchestra. It is a group that composes and plays music that incorporates classical music and contemporary music.

Music For A Found Harmonium - YouTube


Orchestra using only the synthesizer "Uppsala Analogue Synthesizer Symphonic Orchestra"

Uppsala Analogue Synthesizer Symphonic Orchestra (UASSO) live at Volt Festival, part 1 of 2 - YouTube


Diversity enough to say that there is no longer anything. After all, what is the last question to ask is "What kind of good music will you play?"
in Video, Posted by darkhorse_log