Release date of "Second Super Robot Big Battle OG" changed from September 29 to undecided


It was scheduled to be released on Thursday, September 29, 2011 "Second Super Robot Taisen OG'S release date is'TBD"Has been changed to. According to the announcement of NAMCO BANDAI Games, this postponement apparently seems to accompany quality improvement "It is said that the release date will be undecided to be content that can satisfy the users'." I will.

Second Super Robot Taisen OG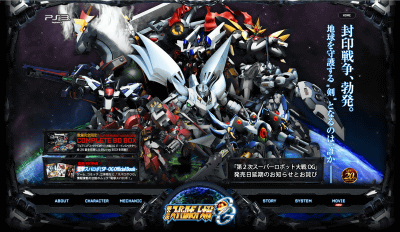 PS3 "PlayStation 3" software "Second Super Robot Big Battle OG" Notice of the postponement of release date and apology

This time we are planning to release on September 29, 2011, PS 3 "PlayStation 3" software "Second Super Robot Big Battle OG", to be content that you can satisfy users, The release date will be decided to be undecided.
Regarding the new release date, we will guide you again.
We sincerely apologize for the inconvenience caused to various customers such as customers who have already made reservations, dealership, everyone related to the press, kindly thank you for your understanding Thank you.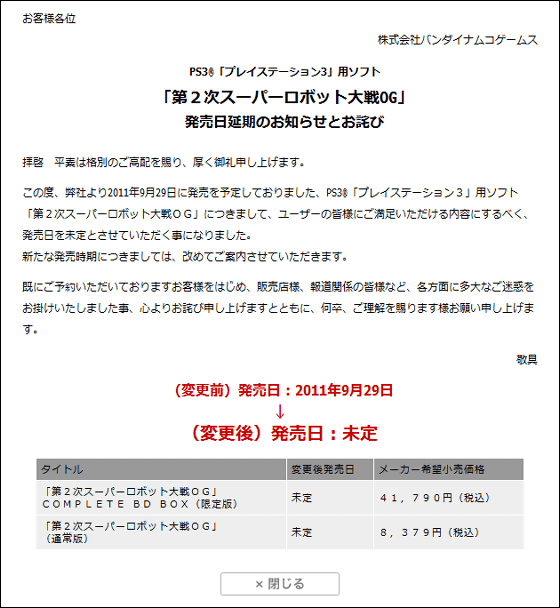 The software is a normal version of the game (8379 yen), an animation "Super Robot Taisen OG The InspectorThere are COMPLETE BD BOX (limited edition, 4 ten thousand yen) with BD-BOX of all 26 episodes, but both have been changed to undecided release.

The content of COMPLETE BD BOX seems to be like this.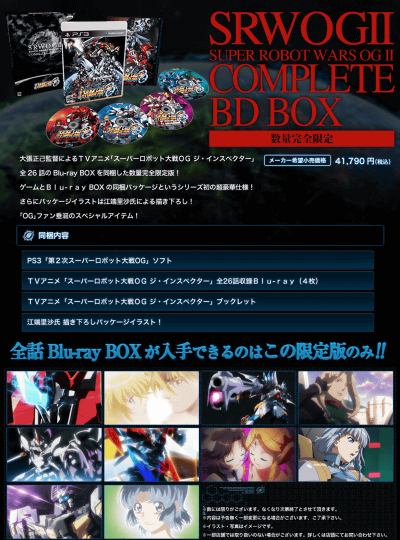 By the way, postponement of the release of SPAROVO in the past is like this.

·Super Robot Big Battle F (& F Conclusion)
Software for Super Nintendo released in 1995 "4th Super Robot Battle" was transplanted as "4th Super Robot Battle S" for PlayStation in 1996. Even for Sega Saturn, the transplant was decided as "The 4th Super Robot Battle Plus", but as a result of volume expansion due to the addition of a new character, it will be produced as a new work rather than just a remake "Super Robot Big Battle F Production will be held under the name of "Production.

The sequel production of "New Super Robot Battle" and "Major Machine Theater THE LOAD OF ELEMENTAL" released in 1996 was in operation at this time but was canceled due to F production. However, the production of F has been delayed, firstly, on September 25, 1997, "Super Robot Big Battle F" was released and on April 23rd 1998 "Super Robot Big Battle F Conclusion" was released, an unusual form It was taken. In addition, this F, F final version has since been ported for PS.

·Super Robot Taisen α (DC version)
The PlayStation version and the Dreamcast version were simultaneous at the same time, but the PS version was left undefined on the release date even after it was released on May 25, 2000, after all it was released as a sequel to this work α It was August 30, 2001, after the release of Gaiden (PS version only). However, it has been delayed more than a year ago, "Korokoden century G breaker" is added to the entry work, scenario reworking is done, battle animation and facial graphics are strengthened, balance adjustment It was done.

·To the galaxy of the 3rd Super Robot Taisen alpha end
Works corresponding to the "alpha series" completion edition. It was announced as released as July 14, 2005 as software for PS2, but the release was postponed for two weeks in order to improve the quality, and it was released on July 28th.

·Super Robot Taisen OG ORIGINAL GENERATIONS
"Super Robot Battle ORIGINAL GENERATIONS" released for Game Boy Advance "Super Robot Battle ORIGINAL GENERATION 2" was remodeled for PS2,
It was scheduled to be released in 2006 in line with the 15th anniversary of SPAROBO in 2006. However, the schedule extended, it was scheduled to be released on January 25, 2007, it was postponed, and it was temporarily not released yet (finally released on June 28, 2007).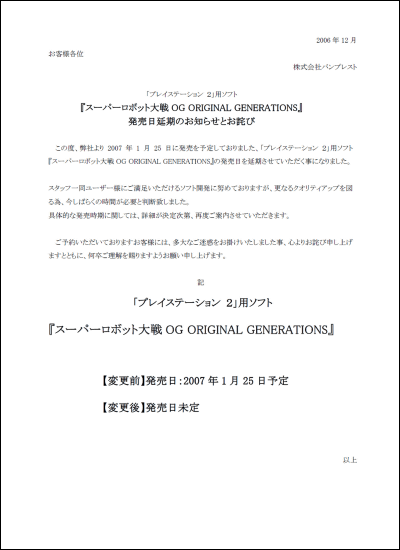 It seems necessary to prepare for postponement of about six months from two months this time as well.
in Game, Posted by logc_nt