A surprisingly small, nearly pony baby, needing expensive surgery to live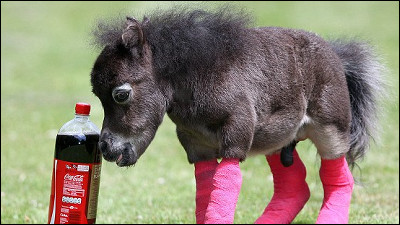 Elegant pupils and tufted hair are pretty cute and toys with horses motifRody (Lodi)Pony baby reminding me. Because we can not survive unless we undergo surgery requiring expensive expenses due to congenital obstruction, the owner is seeking donations to cover surgery costs.

Miniature pony owner launches desperate appeal to raise 6,000 for lifesaving surgery on Falabella's twisted legs | Mail Online

A baby of male pony born about 10 weeks ago at a horse store in Cornwall, United Kingdom · Minxy was premature birth, because my body was not yet solidly formed yet, my legs were fixed in a state of twisting It was.

As soon as I was born, I have to take nutrition every 30 minutes, but because I could not drink my mother's breast milk because my legs were impaired, owner Joanne Morris said that since Min X was born Two weeks, I took care of it 24 hours a day.

Mr. Minor and owner Morris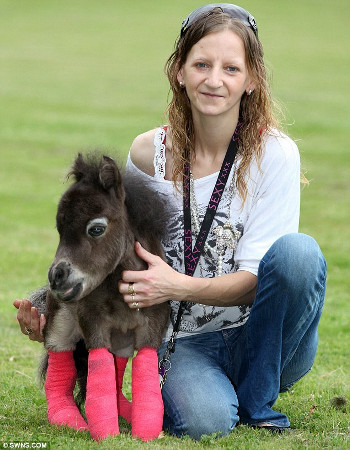 The pink cloth emphasizing the cuteness of Minxy is never a decoration, etc. It corrects it by rolling bandages every day to straighten the distorted feet, and it is 1600 pounds (about 200,000 yen ) It costs as much as it costs. Thanks to the fact that the forefoot seems to be considerably stronger, it is thought that surgery is necessary because there still remains anxiety on the hind legs.

"To cure Mini's feet, we need a further 800 pound body scan and surgery that costs £ 4000, and without him we will not be able to live. Although he could certainly walk by treatment of the clinic, by wrapping the cloth strongly, the affected part will be hurt by friction and the infectious disease originating from it will deprive Minxy's life " , Owner Morris says.

The length of Minxy is 17.6 inches (about 44.7 cm) which is quite small, and it is seen as the smallest male horse in the world.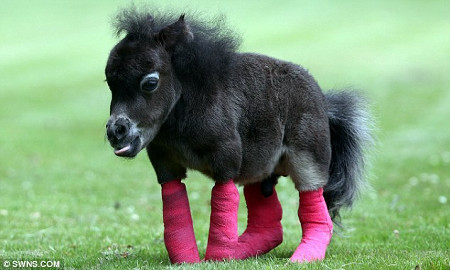 When a disabled horse is born, it seems that it is often euthanized due to a large treatment cost, but Morris somehow managed to donate money to cover Miny's life We are recruiting. The target amount is set to 6000 pounds (about 770,000 yen) which is slightly higher than the above-mentioned expenses, but this may be the price including treatment costs using the cloth currently being done .

Minxy is on good terms with the female Staffordshire, Bull Terrier, Chloe, and Chloe takes care of something that he thinks of him as his son. Mr. Morris seems to expect that the person who saw such a wonderful sight would make a donation for Minxy.