A full length 11.8 meter full-length Tyrannosaurus made from balloons


The performance to make shapes of animals and others using elongated balloons is well known, but it seems that there are balloon artists who have created the real skeleton of Tyrannosaurus using this balloon. The model of Tyrannosaurus made of balloons is huge, as large as 11.8 m in length, and it is formed of as many as 1,400 balloons.

That's some party trick: Model-maker produces life-size replica of Tyrannosaurus Rex in 55 hours, using 1,400 balloons ... and a LOT of hot air | Mail Online

Mark Verge, 16 years of balloon art history, created this Tyrannosaurus. Verge was a balloon model world champion and received the grand prize in Tyrannosaurus.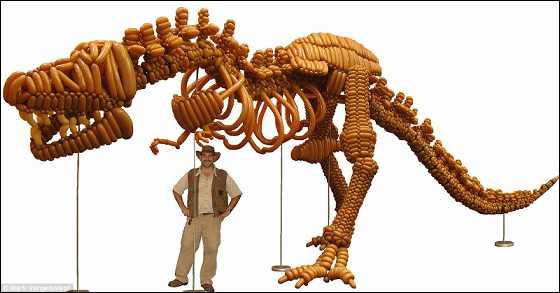 Verge who produces Tyrannosaurus. "I've always liked fossils and I wanted to make a real dinosaur .. To make a huge model a small size dinosaur action figure was helpful, made with 1400 balloons It took about 55 hours, which was too big and it was hard to display as much as making it. "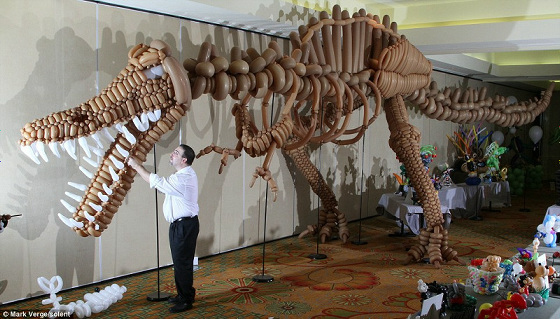 In addition, Verge says that "Although it may seem that skeletons are contained in the spinal part, the spine and the skeleton around it are made of 646 balloons," he said.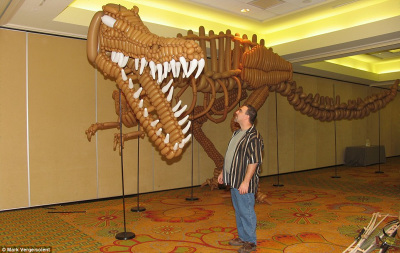 Also made of balloonsStegosaurus. It consists of 700 balloons. Besides this,Triceratops,Spinosaurus,UtaraptorIt seems that etc were made by Verge 's hand.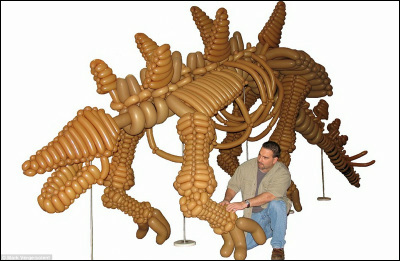 Verge's balloon art goes beyond the performance boundary at children's events, invited by corporate events and a real balloon in balloonsHarley-DavidsonHe also said he was making. "I truly love my work and there are still many ideas for the work I'd like to make in the future," Verge says.
in Art, Posted by darkhorse_log