Using the scene floating on listening to songs as a cartoon, ranking "Lyrics I Want You to Make Cartoon"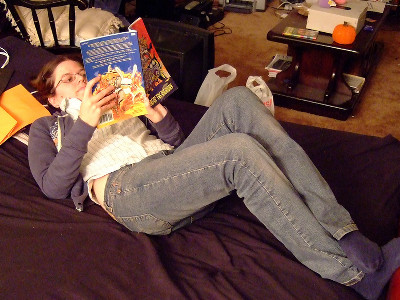 ByLierne

Exiling which operates karaoke "JOYSOUND" was announced the result of the ranking of "lyrics I want you to cartoon" ranked at mobile website.

In the request to read the scene that was imagined from the contents of the lyrics by manga, various popular manga artists such as Mr. Chika Urakino, Hiroshi Arakawa, Mr. Kusuke Urasawa, Ms. Ai Yasuzawa, Masakazu Katsura, Eiichiro Oda etc. On the other hand, songs account for 40% of the artists by some artists, and they show the high affinity with mangaization.

"Lyrics I want you to make into cartoons" ranking top 10 is from the following.Mobile | JOYSOUND.com

Click here for the top 10 ranked list. Below, I will list enumerated comments sent with sequential songs.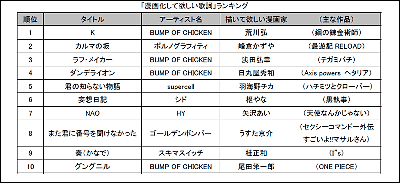 【First place】K/BUMP OF CHICKEN

"I thought from a long while listening to the songs I think that it will become a manga without crying for black cat who works hard to live life! Absolutely!" (22-year-old woman)
"Because the story is just right, tears have overflowed at the moment when I knew the meaning of being in the title K." (21-year-old man)
To the writer who wants you to be cartoonized, "FULLMETAL ALCHEMIST"Hiroshi ArakawaAlthough it is cited, there seems to have been a request that you want Morio Fujiwara of Bump of Chicken vocal to draw manga directly as having understood the world view of the song most.

【2nd place】Karma's slope/Porno Graffitti

"A trashy story and a sad ending are very impressive. From the first time I heard it,
I thought that I wanted to read in manga or novel. "(24-year-old woman)
"It is a firm story and I think that if it is made into cartoons it will be absolutely deep and amazing content!" (20-year-old man)
The lyrics singing a boy and a girl who met in a disadvantageous environment were called "Saiyuki"Mr. Kazuya MinekuraShe said that she wanted to make it cartoonized by hand.

【3rd place】Rough Maker/BUMP OF CHICKEN

"Although it may be a bit depressed, I'd like to be a manga because I can laugh a bit with this song when listening to this song" (21-year-old female)
"Because the reason is absolutely crying and it makes me laugh! The last scene may be somewhat like a cartoon!" (24-year-old man)
"Tegami Bachi" serializing seriesHiroyuki AsadaAsked for this song because the "rough maker" who visits the hero's home of the lyrics reminds me of a mailman somewhere.

【4th】Dandelion/BUMP OF CHICKEN

"It's pretty lovely, but it's an exciting lyrics." (24-year-old woman)
"I cried when I saw this lyric for the first time ... I really understand the feeling that the lion feels dandelion ... It is really a masterpiece" (21-year-old female)
I want you to cartoonize lyrics that talk lonely lions and flowers of dandelion in fairy tales is that of "Axis powers Hetalia"Hinode MaruyaMr. Has it been evaluated that a soft style is suitable for singing?

【5th place】 A story you do not know /Supercell

"I am impressed with unbelieving unrequited love! PV is also impressed but it seems to be more impressed if it is made into cartoons!" (18 year old female)
"I think that I can be more moved if the lyrics are painful and I will be more impressed if I do it! I would like to read it with cartoons!" (18-year-old woman)
This song is familiar with "Honey and Clover"Chika UminoHas been nominated. From the content singing the triangular relationship between men and women, it is thought that it reminded me of the story of Hachikuro's Masan, Mr. Yamada, and Nomiya.

【6th place】Delusion diary/Sid

"It is a scary story of a stalker woman, but I felt like seeing it like a noon dora.
If possible, I'd like to continue with "delusions diary" "delusion diary 2" and continuing (laugh) "(26 year old female)
"I will imagine arbitrarily in my head as I am going up with a delusion diary, a paranoia diary 2. If I become a cartoon I'd love to see it" (15 year old female)
Was it named after having been the theme song of "Kuroshitsuji" in Sid's music where many opinions that want to read the "Delusion Diary" and the sequel's "Delusion Diary 2" in series?PivotalHas been nominated.

【7th place】NAO/HY

"It is a sad tragedy, but I posted it because it is a very nice song!" (16-year-old woman)
"Because I can sympathize with a lascivious poetry lyrics" (21-year-old female)
For songs that sang a loving heart that "loved one was important", "NANA" and many other popular girls' comic books have been launchedAi YazawaHis name is mentioned.

【8th place】I could not even ask you a number/Golden Bomber

"I'd like to see a hero who is not able to listen to a favorite person by address (lol)" (16-year-old woman)
"Because the real feelings are lyrics, it seems to be easy to make into cartoon ♪ By the way comedy hope (lol)" (18 year old female)
I can not approached the favorite person well,Yusuke KyosukeIt seems that there were many voices that Mr. Taste wanted me to make it as a gag cartoon.

【9th place】Playing Kana/Sukima Switch

"I am always listening while deliberately understanding the story.It is warm while it's silent." (26 year old female)
"Because it is a truly farewell song of lovers, I think that it is easy to draw the days that the two of us have walked since the encounter as well," (32-year-old male)
Masakazu Katsura is the manga form nominated for this song. In the meaning of the lyrics of love things are in the ranking table "I'sThe style of "is perfect, but in recent years anime"TIGER & BUNNY (Tiger & Bunny)It is also known that he was responsible for the original draft character, so it seems that some people reminded me of it.

【10th place】Gunung Nil/BUMP OF CHICKEN

"When I listened to this song for the first time, when I read the manga ONE PIECE for the first time I felt that both works had stopped getting stuck." (26-year-old man)
"After all, I want you to draw on Professor Eiichiro Oda of ONE PIECE, the image is a clear pirate." (32-year-old man)
Because the world view of lyrics makes Moro reminisce about pirates, cartoonists who wish to paint are unanimously "ONE PIECE"Eiichiro OdaIt is said that it was.

Four out of the top ten of the rankings were songs of BUMP OF CHICKEN, but since their songs were often used as a subject of Flash animation, in a different approach from mangaization Although there are many songs of BUMP that the scene is easy to imagine, it may be.

Bump FLASH
http://www.geocities.jp/azu0829/
in Note, Posted by darkhorse_log