The latest OS "Windows 8 (Tentative)" will appear in 2012, "Windows Phone" smartphones will be released in the Japanese market within this year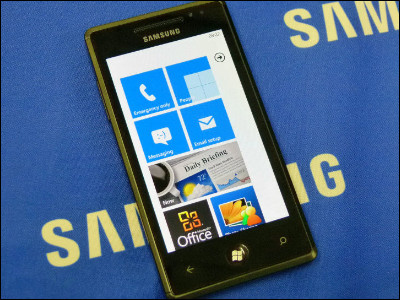 Contrary to "Windows Vista" which was not very good sales, "Windows 7" which is the latest version at the moment is showing steady spread, but next Windows "Windows 8 (provisional)Microsoft's Ballmer CEO made a statement that it will appear in 2012.

In addition, smartphones which adopted "Windows Phone" which appeared last autumn but did not have any sign of being released in Japan will be released within the year.

Please note that the above picture shows Samsung's Windows Phone 7 smartphoneOMNIA 7"is.

Details are as below.
Steve Ballmer: Microsoft Developer Forum

According to developer conference recently by CEO (CEO), Steve Ballmer in Tokyo, the company is very focused on the Windows Phone 7 OS currently available for smartphone is.

"Windows Phone 7" was released last November, but Ballmer intends to release a new version which added 500 new functions, and plans to release the Windows Phone smartphone in the Japanese market within the year as well It is made clear that it is. About carriers and terminal makers to be released in Japan, it will be clarified at the event scheduled to be held soon by Microsoft.

In addition, sales of personal computers equipped with "Windows 7", such as refreshing the user interface to improve customer satisfaction, are strong and we plan to sell at least 350 million units only this year alone. The next OS "Windows 8" is supposed to support various form factors such as a tablet terminal as well as a personal computer.