Dramaticization of the popular comic "Ohran High School Host Department" decision, starting in July at the TBS line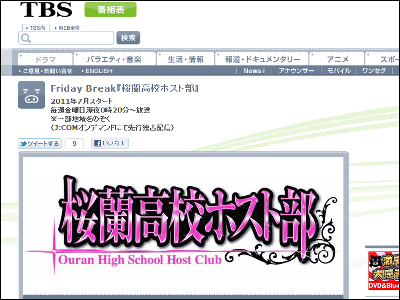 In 2006, it became clear that the popular comic "Ohanoran High School Host Department" which was also animated was dramaized in TBS series from July 2011.

As a dramaization of Shiraiza's girl's cartoon work, this year's second drama conversion was decided "To Hanazakari no Kimitachi ~ Ikumen ☆ Paradise ~"There is no change in titles for" Ouran High School Host Club ". However, many young actors active in recent years have been cast, and seems to be trying to reproduce the host section full of handsome.

Cast of "Ouran High School Host Club" and authors · comments of Hatori Bisco, etc. are from the following.Friday Break "Ouran High School Host Club" | TBS TV

In the midnight drama frame from 0:20 to 0:50 every Friday late night called "Friday Break" started in July 2011, a drama based on the popular comic "Ouran High School Host Department" will be broadcasted Decided.

Fujioka Haruhi role plays Yuuki Miyata with the movie version "If the girls manager of high school baseball read" Drucker's "management"Haruna Kawaguchi, "Den" in the host division and Soushou ring role, also a dramaized work of Hana Hotaru posting manga "To Hanazakari no Kimitachi ~ Ikemen ♂ Paradise ~"Played Kayashima TakakiYamamoto Hironori.

For other host members, Mr. Hakunozuka is Masaya Nakamura, Kuninzuka Kuninaga isYuuto Chiba, Mr. Foley night night roleShunsuke Daito. It is a real twin to the twin bishoung Hitachi-in Hikari / KaoruShinpei Takagi·Mr. TakagiHas been appointed. In addition, as role of Kurosawa Umesa, director of black magicRyukon Cool.

Original author'sHeteroso BiscoI got a comment like the following on the official website.

Although I was thinking that it is not suitable for real life, I am deeply grateful to the hot enthusiasm of the production staff who said that they wanted to work but also the breadth of the bosom. I am looking forward to the new host world unique to live action drama! Thank you very much!

Haruhi's height is higher than the original, the difference in height between Haruhi and Den is reduced to about 14 centimeters, and the high school student who seems to be an elementary school student - Konnukuzuka Kanken (known as Honey Senpai) It seems that there is a part that does not go to Manga street quite often as it was said that the original author thought that it was not suitable for live-viewing, such as that it was never done, It may be possible.