"Amash" Playing on Amazon.co.jp products "Which one do you like?"


movies"Social network"Although an episode took up a site that launched a site which displays pictures of girls enrolled in college side by side and Mark "Which one do you like" before Mark Zuckerberg made Facebook,"Amash"Let's try it with the goods of Amazon.co.jp.

There is no relation to the genre, etc. Anyway, since two items are chosen at random and asked which one you like, depending on the product you choose, you may not understand the meaning, but at the bookstore etc. happen to "a chance encounter" There are also close discoveries, and if you brush up a little more it may become an interesting service.

Details are as below.Amash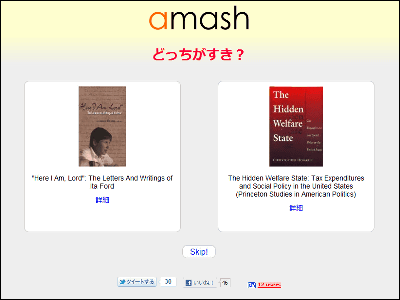 This is Amash's screen. In this way, since the two items are displayed side by side, click on the one you like.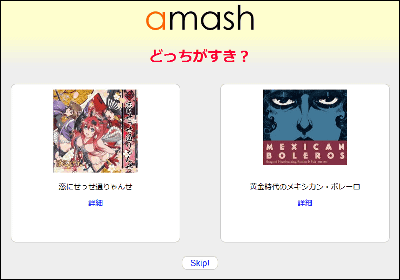 If you click on the person you like, the one who did not click will explode.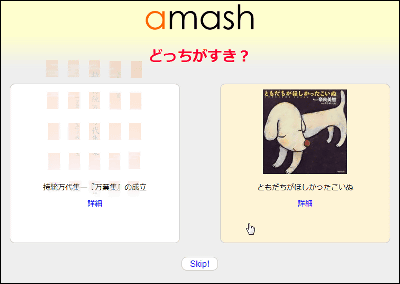 It is not a winning system, but products are replaced both at every time.



Since the genre is jumbled, there are cases where you may be forced to choose items that are extremely far from genres such as "Thunder Writing Lights" and "Casio Watches".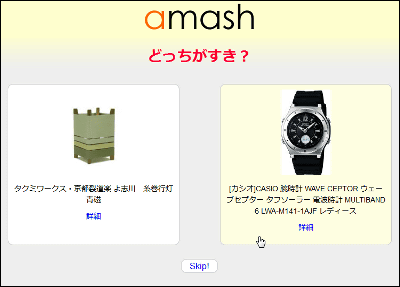 If you want to know more about the product, click "details" under the product image, it will move to the item page of Amazon.co.jp.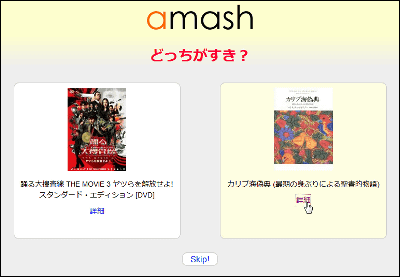 It's kind of a suspicious product name"Caribbean pseudocopy (Biblical story by last gesture)"Is one of France's most prestigious literary awards"Goncourt Award"Awarded writer,Patrick ChamoisauxIt was a long novel, and it was a masterpiece as long as 900 pages. The price is surprising 6930 yen.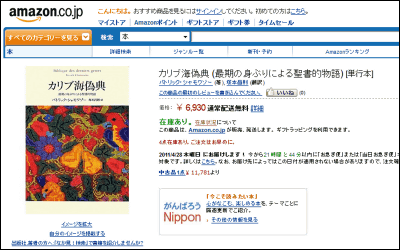 With a simple toiletBemstar. If anything,Recently cute and hot topicIs it Bemstar?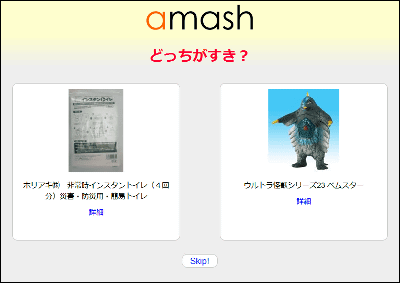 Tchaikovsky's Symphony No. 5It is one of the most popular songs in Tchaikovsky's symphony, and it is one of the best masterpieces in classical history with its easy-to-remember melody and brilliant climax, but the opponent to compare is "(Duty Box) Calbee Mini 4 Pizza Stick" It also chooses confectionery.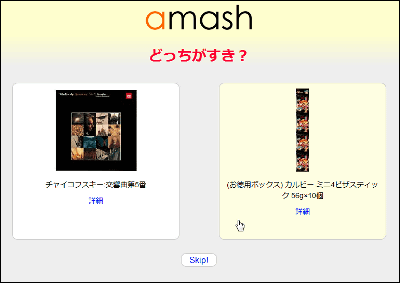 The author isPage introducing "Amash"Then, the following Q & amp; A is published for "Amash".

Q. Did you see social networks?
A. Yes.

Q. What happens after I choose?
A. I just look back and open it on the Amazon.co.jp page, but I hope that you can register and login in the future and put it in the list you want.

Q. Can I save the selected item?
A. I think that I want to make it possible in the future.

Q. Where is the item being taken from the product?
A. I am using data gathered in the previously published Ranqs (now with various circumstances) service.

Q. Just wanted to explode?
A. Yes, yes.
"Amash" has a unique fun mixed with genres, but the comparison narrowed down by category prepared by Amazon.co.jp such as "Japanese literature" and "SF · horror · fantasy" I feel the possibility of being able to turn into a very interesting service depending on the ingenuity, such as making it possible.