Horie Takafumi (Horiemon) sentenced to 2 years and 6 months imprisonment, imprisoned nearby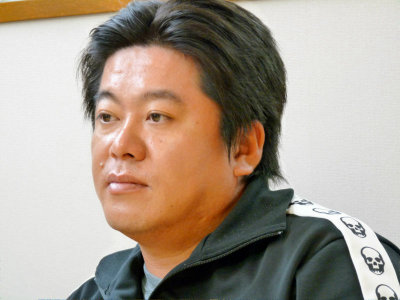 Livedoor caseTakafumi Horie, 38, who was charged with violating the Securities and Exchange Law, dismissed the appeal, and the sentence of imprisonment for 2 years and 6 months was confirmed. It is said that he is imprisoned nearby.

Details are as below.Takafumi Horie's Livedoor case Takafumi Horie sentenced to imprisonment Supreme court appeal dismissed 2 years junior prison fixed - MSN Sankei News

Takafumi Horie former president's prison sentence NHK News

It was revealed that Takafumi Horie 's appeal by Takafumi Horie, who was charged with breach of the Securities and Exchange Law at the Livedoor case, was rejected and he was imprisoned nearby.

About this, the person himself uses the Twitter account as "For the time being, I will file a dispute, probably in about a month. It is roughly two years and four months. . ."It is said.

Twitter / @ Takafumi Horie: I will appeal for the time being, but perhaps a month or so ...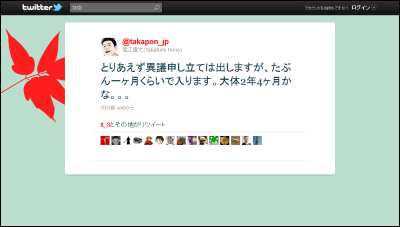 Although the defendant can file an objection within 3 days, it is only when the proper noun, etc. written in the decision sentence is wrong, that the allegation is allowed, and in principle the conclusion will not change It is that.

I was workingSpace rocket developmentAs for "other members will do their best" comment.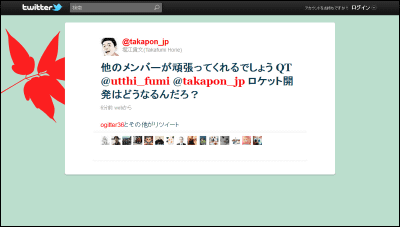 Also, regarding the writing of the e-mail magazine during the series "No, the pace will fall, but I will continue"It seems that it can continue even after imprisonment.

A story I can not say on Horie Takafumi's blog



In addition,Takafumi Horie Official blog "Ameblo former president who worked at Roppongi"Although the schedule of the media appearance is written in May, it seems that there is a possibility that these schedule will be changed by imprisonment.
in Note, Posted by darkhorse_log