Nissin Foods holds the "Last Cup Noodle Revival General Election", the top 3 species resurrect among all 73 species


To celebrate the 40th anniversary of this year's "Cup Noodle", the main product of Nissin Foods, "Successive cup noodle revival general electionWill be held.

Voting acceptance period is from April 26 (Tuesday) until June 30 (Thursday). It is to reprint the top three types chosen by voting among 73 kinds of "Cup noodles" series released in the past, and from the variety of types and namingAKB48It is reminiscent of the general election.

The details of "successive cup noodle revival general election" are from the following.News Details | News Releases | Company Information | Nissin Foods

Nissin Foods announced that "cup noodle revival general election" will be held to celebrate the cup noodle 's 40th anniversary of release on September 18, 2011.

It seems that among the 73 cup noodle series released so far, it will sell products ranging from No. 1 to No. 3, which gathered a large number of votes by electorally selecting items "I would like to eat again" for a limited time as a reprint version . The voting acceptance period is from 11 o'clock on Tuesday, 26th April to 24 o'clock on Thursday, June 30, and the announcement of the voting result is scheduled for around September.

The prize selected by the general election is scheduled to be released on a limited time as a reprinted version with a slight modification of specifications and a modern style arrangement each month from November 2011 to January 2012 each month. In addition, 918 people from the voting are supposed to win "Cup noodle" 1 case (20 meals), the number of winners "918 people" took from the cup noodle's birthday September 18 He said that.

73 special cup noodles are lined up on the special site. Especially the things in the 1970s and '80s look quite novel when you see it now.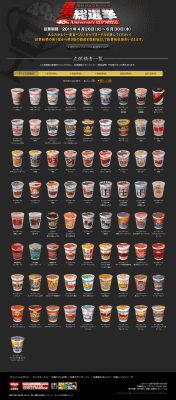 Among them is the "cup noodle sky soba". Although it is written as "legendary article" in commentary, it is definitely a taste development that can not be imagined from modern day with "Donbu".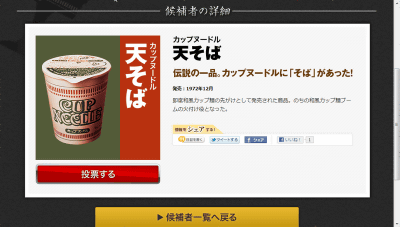 When you vote you will see this screen. Because it seems that the maximum number of votes can be voted per day up to 3 times and the number of votes for the same candidate is limited to once a day, people who taste absolutely want to revive need to visit the site without delay.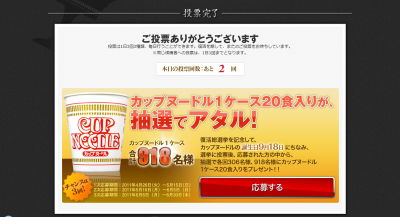 Since the reprint version will be released at the end of the year even though it will be released at the earliest, it seems that it will be a long time ago that the results of the voting will be reflected, but when it has been released so far, it disappears without knowing If you have a favorite taste in a cup noodle of limited edition, try voting.

"Cup Noodle Revival General Election" Campaign Site