Clearly the fact that 10,000 containers fall on the sea floor during shipping and affect the ecosystem every year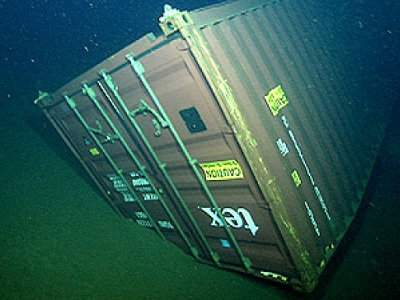 Although it is a container that is often used as a means of transportation when carrying large quantities of luggage with ships, trains, etc., it is speculated that as many as 10,000 containers per year have been sunk into the ocean during transport by ship.

Although the fact that containers are falling in the sea is rarely a topic itself, there seems to be a case in which the responsibility for collecting containers falling to a transport company is not strongly questioned in the background. In addition, according to a survey conducted by a research team, it is found that the possibility that a container that has sunk into the ocean floor may affect the ecology of marine organisms.

Containers sunk to the ocean floor are as follows.News Release - MBARI teams with Monterey Bay National Marine Sanctuary to study effects of shipping containers lost at sea.

Lost, Then Found: Shipping Containers On Seafloor: NPR

It is estimated that 500 to 6 million shipping containers are being transported by cargo ships in the oceans around the world and 10,000 containers are thrown to the sea annually, even if they are estimated a little.

I think that there are a lot of people who have not heard about the case that the container of the shipment falls from the ship, because it is because the shipping company does not have a legal obligation to report that the container itself has fallen. Unless the accident causes someone to injure or the container falls into the marine protected area, the fall of the container itself will not be legally charged for the current situation.

Meanwhile, in April 2011, MBARI, a research team at Monterrey Bay Aquarium, investigated containers sunk in the Monterrey Bay National Marine Nature Reserve 7 years ago using robotic submarines. The state of the container that had sunk to the bottom of the ocean was never seen, but this investigation revealed that the container has become a habitat of a variety of aquatic life at the bottom of the ocean . Creatures that were supposed to have been naturally caught because they could not find a living room seems to have survived and settled there because of containers, and seems to have affected the ecosystem.

Containers that MBARI is investigating were hit by a storm when a cargo ship owned by a transport company, Med Taipei, was carrying a shipment to Los Angeles in 2004 and submerged in the sea floor in a way that it was obstructed by the wind It is a thing. At that time Med Taipei dropped 15 containers to the sea, and 21 containers were damaged. Med Taipei is a container that has been submerged in the ocean, only this one knows where it is located, where the remaining 14 are still not specified.

In the background that the container falls to the bottom of the ocean, although the size of the cargo ship loading containers is large enough to say that it is doubled, the way of loading and weighing the shipment is the same as the previous one MBARI points out that fall accidents are increasing because they can not be dealt with.

The state of the survey reported by the local news can be seen in the following movie.

YouTube - MBARI Explore Sunken Containers In Monterey Bay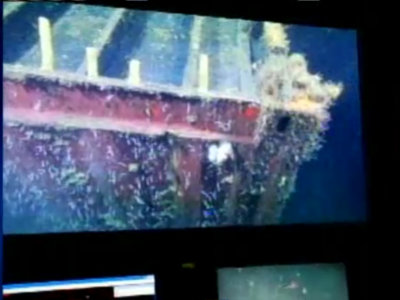 Med Taipei pays compensation of 3.25 million dollars (about 277.44 million yen) as a liability for the container falling to the marine nature reserve, MBARI container survey is being conducted based on the compensation money I will.

Before being loaded on a cargo shipThe weight of the container is measured finely, it is planned based on it and loadedAlthough it is said that container ships are loaded with so many containers, it is considered that a fall accident happened due to encountering a storm.

According to Peter DeVogelaere who investigated the marine protected area, although it is certain that the ecosystem changes are occurring by containers, it is not yet possible to judge whether the change is moving in a bad direction. In any case, it seems certain that human activities have a great influence on the ecosystem of marine organisms.
in Note, Posted by darkhorse_log