Small wrestler who finished the full marathon is certified as Guinness as "the heaviest man who finished the marathon"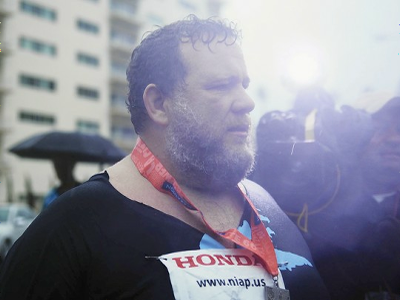 In the marathon tournament held in Los Angeles, the local Smolesler who finished 42.195 km,"The heaviest man who finished the marathon"As Guinness World Record certified.

Even an ordinary person can not finish training without completing a complete marathon, but this man has a weight as high as 180 kg, while walking on the way, he said that he finished perfectly in bad weather and adverse conditions. He accomplished the feat that seems impossible without so much mental power, and proved that I could run even if I was fat

Details are as below.L.A. Marathon: It's official, Kelly Gneiting sets Guinness World Record as heaviest man to finish | The Fabulous Forum | Los Angeles Times

Kelly Gneiting hauls his 430 pounds to LA Marathon finish line | Off the Bench

It was Mr. Kelly Gneiting who was certified as Guinness World Records as the heaviest man who ran the marathon. Mr. SmoWrestler with a weight of about 400 pounds (about 181 kg), finished a 42.195 km full marathon with a record of 9 hours 48 minutes 52 seconds.

When weighing after Mr. Gneiting finished running the marathon, it was weighed to 396.2 pounds (about 180 kg), which is far greater than the record holder's 275 pounds (about 125 kg) Furthermore, the record of the marathon itself was to change 11 hours 52 minutes 11 seconds by the previous record holder for 2 hours as well.

Mr. Gneiting ran the first eight miles (about 13 kilometers), was walking the last 18 miles (about 29 kilometers), and he told it later that he feels turbulence of consciousness at the point of ten miles I heard that I missed the course. His consciousness came back after he found a friend wearing beautiful socks at a point of 15 miles.

Mr. Gneiting finished the marathon day, it has been suffering severely by heavy rain and wind, and in his case, one mile (about 1.6 km) which is a standard that can run before the use of the road is restarted It was a much slower pace than 13 minutes, so it was necessary to walk on the sidewalk in accordance with traffic signals in the majority of the race.

Mr. Gneiting's appearance. The size of the body is quite different with other participants in the surroundings.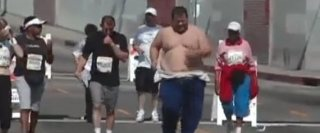 Mr. Gneiting said "Last 5 miles (about 8 km) was really hard, but I told myself that if I could not walk it would crawl, I could tell myself."
in Note, Posted by darkhorse_log