"AC Japan (Former Public Advertising Organization)" posted an apology sentence, protests flooded protests from viewers by CM mass broadcasting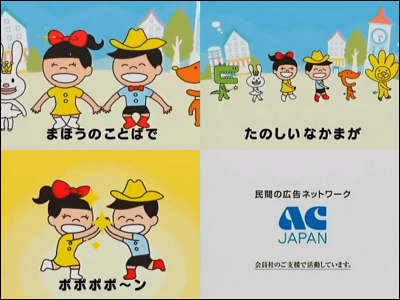 In response to many sponsors refraining from broadcasting CMs, each commercial broadcaster "AC Japan (Former Public Advertising Agency)Although it broadcasts a lot of commercials created by them, it became clear that the group posted an apology statement in response to the rush of protests from viewers.

In addition, there seems to be some misunderstanding among some viewers that "we are buying out the CM frame that was left out due to company self-restraint".

Details are as below.
Foreword in "Tohoku Region Pacific Coast Earthquake"
Apology and announcement about CM Japan's CM broadcast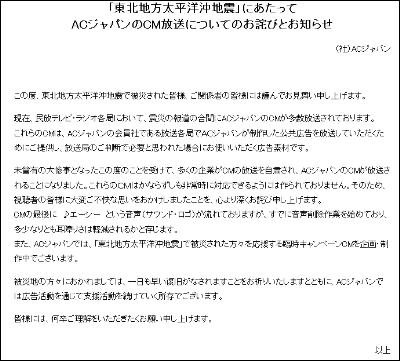 According to the official website of "AC Japan (Former Public Advertising Organization)" celebrating its 40th anniversary this year, it is an organization gathering companies all over the country aiming to contribute to making a living good society, not for commercial purposes, The CM of AC Japan being broadcasted in large quantities at each station seems to be an advertisement material to be broadcast when it seems necessary due to the judgment of broadcasting stations which are members of the same group.

In response to the recent unprecedented catastrophe, many companies have refrained from CM broadcasting, CM of AC Japan is broadcasted, but these CMs are not necessarily made to correspond in emergency It is said that I apologize deeply from my heart for not allowing viewers to feel uncomfortable without thinking.

In order to alleviate the burden on viewers already, we have begun voice deletion work of "ACE" voice (sound / logo) flowing at the end of CM, and temporary support to people who were affected by "Tohoku Region Pacific Coast Earthquake" Planning the campaign CM, making it under construction.

An example of CM currently being broadcast. This is "The Magic of Greeting" edition.

YouTube - AC Japan Japan 's spirit of greetings.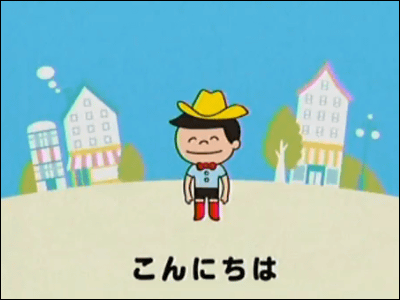 According to reports by Sankei Shimbun, there are many things based on misunderstandings such as "We are buying out the CM border by company self-restraint" in protests given to AC Japan.

【East Japan great earthquake】 AC Japan jamming protests TV stations voluntarily decided on their own judgment CM - MSN Sankei News

The official website of AC Japan is below. As of March 18th at 11:20 am, it is becoming somewhat difficult to connect.

AC Japan