Large capacity external battery that can charge mobile phone, smartphone, laptop computer even at power outage Summary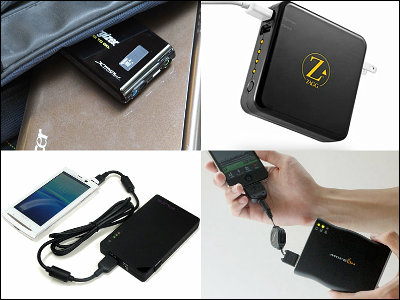 Demand for batteries has been rapidly expanding as a preparation for disasters, due to the planned blackouts implemented from 17 o'clock March 14,Manufacturers are also working on increasing production, I tried collecting large capacity type external batteries that can charge mobile phones and laptop computers even in case of a power outage.

Details are as below.
◆ "PowerBank slim 3.0"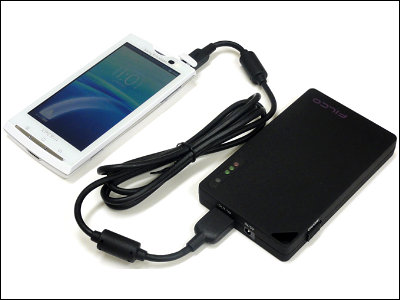 External battery for USB output type smartphone. Capacity is 4400 mAh, adopting lithium polymer battery with longer life and safety than lithium ion. The main body size is 111 mm × 68 mm × 15 mm, and the weight is 145 g. As of March 16, 2011, the main compatible equipment is as follows, it is said that it is not compatible with iPad.

· NTT DoCoMo
REGZA Phone T-01C, LYNX 3D SH-03C, GALAXY S SC-02B, BlackBerryCurve 9300, BlackBerryBold 9700, Xperia SO-01B, LYNX SH-10B

·SoftBank mobile
GALAPAGOS 003 SH, Libero 003 Z, HTC Desire HD 001 HT, Desire X 06 HT, X 06 HTII

Au
IS 03, SIRIUS α IS 06, IS 01, IS 02

·E-Mobile
HTC Aria S31 HT, Pocket WiFi S S 31 HW

· WILLCOM
HYBRID W - ZERO 3 WS 027 SH

· Apple
IPhone 4, 3GS, 3G, iPod touch 1st to 4th, iPod nano 1st to 6th, iPod shuffle 1st to 4th, iPod classic, USB chargeable iPod series

·Sony
Walkman series NW-Sxx, Axx, Exx

◆ "ZAGGsparq 2.0"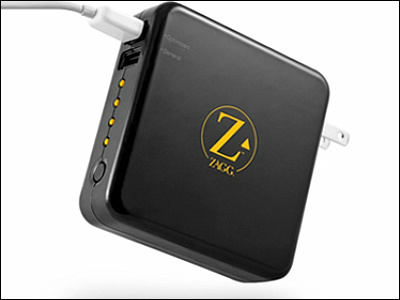 USB output type external battery, supporting iPhone and USB chargeable portable equipment. Capacity is 6000 mAh (3.7 V), iPhone 4 can be fully charged about 4 times. The main body size is 88.9 mm × 88.9 mm × 25.4 mm, and the weight is 245 g. Since it is possible to charge by simply connecting the AC adapter directly to the wall outlet in the main body, it is very easy to carry.

As of March 16, 2011, handling has been terminated in act 2, the selling source in Japan,Overseas 'ZAGG' official websiteWe will purchase from etc.

◆ "PES-8800"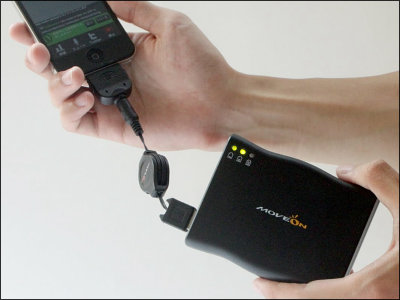 This is also a USB output type external battery. The capacity is 8800 mAh, which is about 6 to 8 times the battery of the iPhone, the main body size is 99 mm × 75 mm × 24.5 mm, the weight is 230 g. Also supports Apple products such as iPhone 4, iPhone 3GS, iPad, Nintendo DS, PSP, Pocket WiFi, various mobile phones, handheld game machines, walkman etc. It is also a big feature that you can increase the number of compatible devices by replacing connectors.

Connector attached to the main unit. Various connectors are also available separately, and it is possible to use Pocket WiFi while charging, for example.



◆ "Energizer"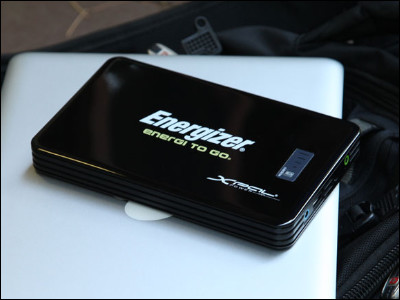 External battery with not only USB output but also 16V to 20V output, 9V to 12V output. The lineup is two models, "Energizer XP 18000" with a battery capacity of 18000 mAh is about 181 × 110 × 20 mm in body size and weighs about 515 g. "Energizer XP 8000" with a capacity of 8000 mAh is approximately 109 x 73.6 x 23 mm and weighs approximately 225 grams.

A wide variety of connectors are attached, and it corresponds to a wide range of equipment.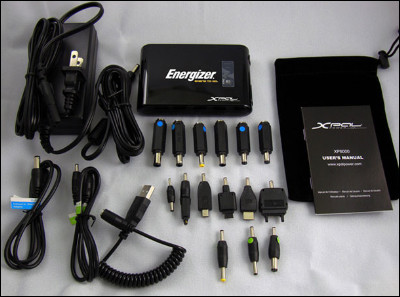 In addition, "Energizer"External Battery "My Battery Book" series which was able to charge Panasonic's "Let'snote" series, iPhone, PSP, Nintendo DS and other devicesSimultaneous charging of laptop computer and mobile phone etc is also possible with the same model as.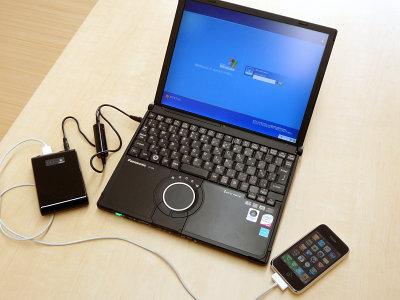 in Mobile, Posted by darkhorse_log