President Tanaka of KDDI responded "No comment" to the introduction of "CDMA 2000 version iPhone"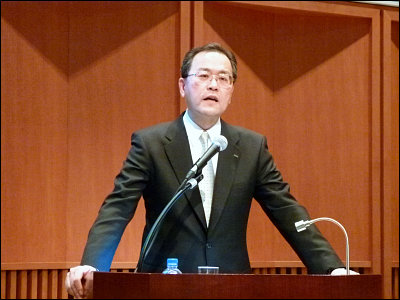 The other day the largest mobile phone company in the USA"Verizon" announced the iPhone 4 which is compatible with the same CDMA 2000 system as KDDIAlthough memory is new, President Tanaka of KDDI received a question about introduction of CDMA 2000 version iPhone 4 at KDDI 's third - quarter earnings announcement today. In response, President Tanaka answered "no comment" and avoided making a statement as to whether or not to introduce it.

Details are as below.
KDDI's third-quarter earnings announcement today held in Q & A, Mr. Takashi Tanaka, president of Verizon's CDMA2000 iPhone 4, asked about "I'm sorry but I would like to say "no comment" about the iPhone"I replied.

I can not carelessly comment as long as the other is an Apple who wishes to pass through a thorough secretive principle ...As I reported earlierHowever, I did not deny or affirmatively answered "no comment", but also after the press conference was held,Obviously no comment"It shows a very worrisome attitude such as speaking.

AlreadyIPhone's exclusive sales agreement ends worldwideAnd since Apple has revealed that it is positive to further increase market share, I would like to watch over the future trends.