A free service "beautiful weather" that beauties inform the weather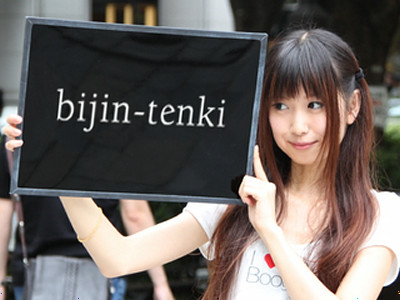 A web site where beautiful beauty girls let you know the time every minuteBeautiful watchFollowing "Weather" and "beautiful woman" combined service "beautiful weather" mobile website and iPhone application started.

Speaking of "weather forecast" is one of the frequently used services on the web. If beautiful people tell it, there are also people who want to use more.

Details of the service are as follows.
Bijin-tenki beautiful weather
http://bijintenki.jp/

"Beauty Weather" is a service that beautiful people let us know the weather as its name suggests. There are mobile phone version and iPhone application version, both of which are available for free.

The main functions are the mobile phone version is "Today's weather" "Weather of the weather" "Weather forecast" "Weather nationwide" "Stress index" "Contact moisture index" "Twitter weather forecast contribution" "Today's beauty", iPhone application The version is "Weather for 1 Week", "Weather Information Push Notification", "Twitter Weather Forecast Post", "Today's Beauty".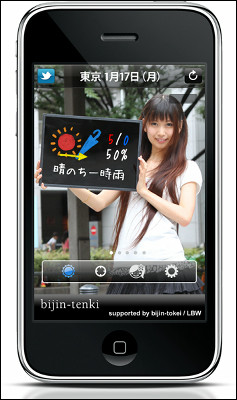 If there are beautiful men who are worried about the beauty who appears in "beautiful weather", you can know "beauty profiles" such as their beauty's name, birthday, blood type. Also, "Today's beauty" introduces recommended beautiful person one person a day.

By the way, "January 17th" Beauty of the Day "is a popular dancer, Iku Torora with Nico Nico Douga.