Requesting presents as ransom and witches, the legend of Santa Claus in various countries of the world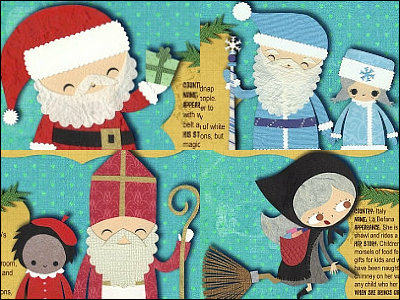 The legend of Santa Claus from Eastern Europe to Western Europe was introduced with cute illustrations.

A legend that Greek priest Nicolas had been giving poor people in the 4th century spreading all over the world, a similar story was made in various places during the process, and different Santa Claus statues were made by each country It is that. Santa Claus, well-known in Japan, with a good white beard is known in America, and there are more variations in other countries.

Santa Claus, well-known in Japan, is a gentleman who gifts gifts to children, but as I look at the legend of each country, in some cases I request a gift as a ransom after scaring a child, I watch a witch There is a legend of Santa who fly around with a broom, and it is quite interesting.

Santa Claus from around the world is from the following.A Look at Santas from Around the World | OnlyInfographic

1: Santa Claus (USA)

Keep it cheerful and full of bloom, keep white beard, wear dressed in red and white hat and clothes, and tighten the black belt ... ... And if there are a lot of people reminiscent of familiar Santa Claus in Japan as well. This Santa Claus statue is one that is widely penetrated mainly in the United States.

Santa Claus lives in the North Pole with his wife's Miss Close and fairies that magically produce toys, and nine flying reindeers. Santa has a list of good girls and every year when Christmas is on the eve, it goes through the corner and enters into the house, so that a gift for a good baby gifts, a coal for a bad child's bedside is.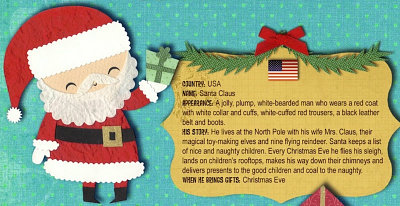 2: Sinterklass and Black Peter (Netherlands)

It is the image of Santa Claus of the Netherlands that is wearing a traditional white priest robe with a slim man and wearing a red bishop crown.

Santa Claus has a helping Black Perter, and in his bag there is a broom for cleaning candies and chimneys for good girls, this broom is trying to tap on obnoxious children Also used. On 5th December Santa Claus comes on a white horse and Black Peter goes through the chimney and delivers gifts. Children draw carrots on shoes for Santa Claus horses. In another legend, Black Peter also took off especially bad girls, leaving them in Spain as punishment, penalties for children worse than major legends in Japan are quite heavy.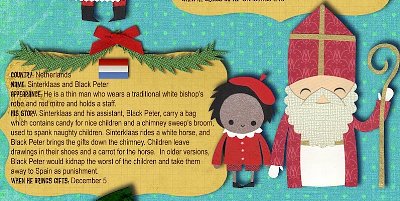 3: Father Cristmas (All EU)

Santa Claus, which is believed in all over Europe, is also a masculinized white whisker, but the main difference is that he is wearing a long green lobe.

Father Christmas lives in Mount Korvatunturi of Lapland, Finland. He also goes through the chimney at Christmas Eve and enters the house, like the Santa Claus who we have introduced so far, and places gifts in the children's socks. Children leave Mins pie, milk, or brandy for him who comes to deliver gifts.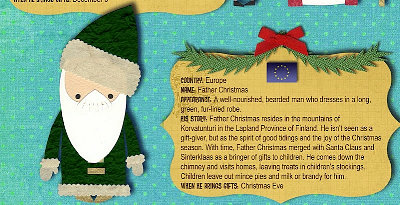 4: Ded Moroz (Grandfather Frost) and Snow Maiden (Russia)

Ded Moroz, believed in Russia and its surrounding countries, is wearing a long coat with fur with bright colors.

Ded Moroz was a bad mage used to kidnap a child and request a gift as a ransom. He also used magic to freeze people. But as time went by, he reformed and gave presents to children for the sake of former crime. His grandson, Snow Maiden, also accompanies him on his journey by getting on a Troika with a white horse.

Today Ded Moroz has become involved in New Year 's celebration, but before 1917 it was a legend that appeared only at Christmas celebrations.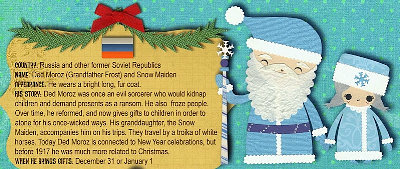 5: Joulupukki (Yule Buck) (Finland)

It is the same as those of Santa Claus so far as being an old male with white whiskers, but Joulupukki is characteristic of wearing a goat costume. However today it seems that appearances are similar to American Santa Claus almost.

Joulupukki is a monster like a goat, feared by people. He did not give gifts to children and demanded only good action for them. The heretics were carrying out a festival to interfere with Joulupukki, but gradually Joulupukki became mild. He lives with Dwarf, who helps, on Korvatunturi mountain in Lapland, Finland, as well as Fater Christmas # 3.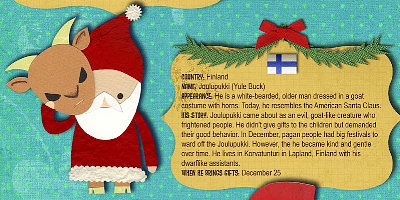 6: St. Nicholas and Le Pere Fouettard (The Whipping Father) (France)

St. Nicholas looks very similar to Santa Claus in America.

St. Nicholas is on a journey with a reindeer named Gui and travels with a fellow Pere Fouettard as if he reflected his bad part. Pere Fouettard will kick bad kids with rusty chains with a broom. St. Nicholas will put small gifts and candy in the children's shoes that took the lights of the candle.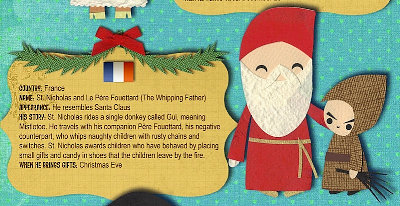 8: La Befana (Italy)

She is different from Santa Claus so far, she is an elderly woman like a fancy witch, wearing a black shawl, holding a bag with a gift, fly over the broom across the sky.

On January 5 children have a glass of wine for La Befana and a little glass of delicious food on the plate. She enters the house from the chimney, placing a gift for a good child and placing coal or ash on a bad child. She is also known for sweeping the floor around the passageway and the throat, which means that any child whom she sneaks behind her is blown off by a broom.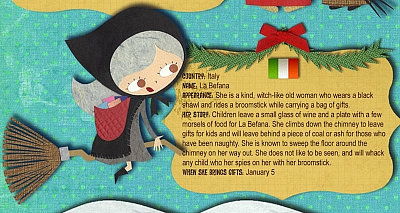 in Note, Posted by darkhorse_log