Willcom officially decides to start the nationwide service of "anyone with fixed amount"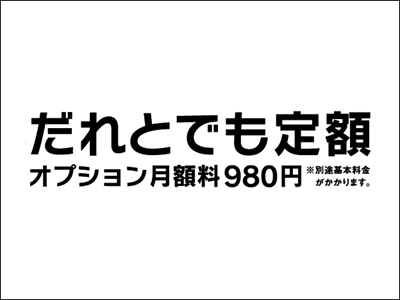 WILLCOM introduces in Okinawa Prefecture as a region-limited examination service this spring, and in SeptemberHokkaido, Miyagi prefecture, Hiroshima prefecture had expanded the scope of the test, Announced that it will start a fixed-rate call plan "anyone with a flat rate" like a dream that anyone can make free calls throughout the country.

In the "WILLCOM Fixed Price Plan" where WILLCOM users already have free calls, sending and receiving of e-mail is free regardless of the other party, but both calls and e-mails become free with the introduction of "fixed amount of everyone" It will be.

* We have added the application conditions of W - SIM compatible equipment user.

Details are as below.
WILLCOM | About setting up a new optional service "fixed price with anyone" - Free domestic calls to other cellular phones, subscribed phones, IP phones ~

According to Wilcom 's press release, the company will start offering a new option service "Everywhere Fixed Price" from 3rd December 2010 (Friday).

"Fixed by anyone" is a free phone call for up to 500 times a month for domestic calls within 10 minutes to mobile phones other than WILLCOM, general subscriber phones, IP phones, free of charge that was limited only to WILLCOM By eliminating the restrictions of the callee, we realize more comfortable and comfortable communication.

Details of call charges. Optional fee is 980 yen per month, subject to "New WILLCOM Fixed Price Plan" and "New WILLCOM Fixed Price Plan S" subscribers. Unfortunately basically users of W-SIM compliant models can not join, but users who have contracted W-SIM compatible models before November 30, 2010 can be subscribed for a limited time until February 28, 2011 I will. Also, it can not be combined with the option "New call pack".




Also, in commemoration of the commencement of the optional service "fixed rate with anyone", during the campaign period from December 3 (Fri) 2010 to January 10 (Monday) 2011, On the other hand, "Phone number campaign that you can choose" that you can choose your favorite phone number (the last 4 digits) will also be implemented.

Combined with the "New WILLCOM Fixed Price Plan S" of 1450 yen per month, "Whoever is fixed price" will be able to use calls and mail for free at 2430 yen per month, will it be the key to the rebirth of the new-born WILLCOM? I think that it is also a big point whether how much voice terminal will be improved in the future.

· December 2nd 10:27 Addendum
WILLCOM'S ONLINE SHOP "WILLCOM STORE"As of December 2nd at 10:27, on the introduction page of" fixed rate with anyone "It is written in red in "We can not apply with communication equipment compatible with W-SIM"However, when I contacted WILLCOM, I can not apply to only the users who contracted W - SIM compatible equipment after December 1st, joining users who had signed W - SIM compatible equipment by November 30 I hear that the application will start from tomorrow.
in Mobile, Posted by darkhorse_log