Sony to officially announce exclusive title for PS3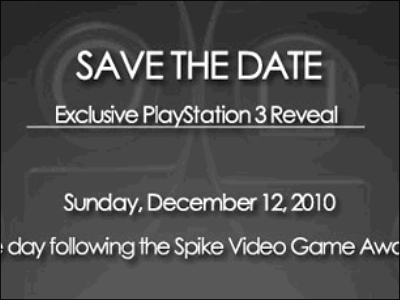 It became clear that Sony plans to officially announce the exclusive title for PS3.

Speaking of the exclusive title for PS3, it is finally released on November 25 "Gran Turismo 5"In the next-generation aircraft it is said to be proud of the top image beauty and sound, and got a number of awards given to excellent games"Uncharted Golden Sword and the Missing Fleet"What kind of titles will be announced?

Details are as below.
PlayStation LifeStyle >> Sony Announcing New PlayStation 3 Exclusive December 12

Sony revealing new PS3 exclusive Dec. 12 | Joystiq

According to these articles, Sony is planning to announce an exclusive title for PS3 on December 12 (Sunday) at 2 pm in the United States.

Announcement from Sony. By the way, from the time difference, it will be announced at 7:00 am Monday, December 13th in Japan time.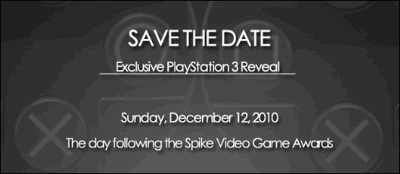 In addition, on December 11, which is the day before the presentation, Spike who elected the "Uncharted Golden Sword and the Fleet that disappeared" as the best game of the year "Game of the Year" in 2009 was the year 2010 It is supposed to be the day to elect Game of the Year, so maybe it may be a clue to know the titles to be announced.
in Game, Posted by darkhorse_log