FD, CD, DVD, Blu-ray, HDD, History of evolution of recording medium becoming increasingly large capacity "Evolution of Storage"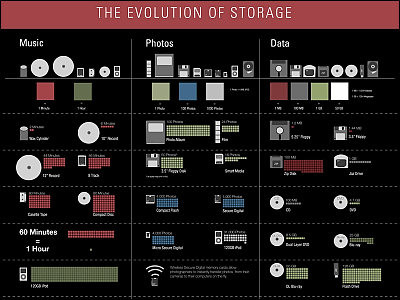 Long agofloppy diskHas evolved from the endStorage medium, Its history as one figure, so-calledInfographicsIt is what I tried summarized.

It is good to indulge in feeling, "You came here at last ...", as well as seeing things of long ago as "nostalgic" and feeling "You have not had so much capacity in the past, how do you do with your computer It is a feeling that it is good also to wonder whether it was "?"

Browsing is from the following.
Evolution of Storage Version 4.0 | Flickr - Photo Sharing!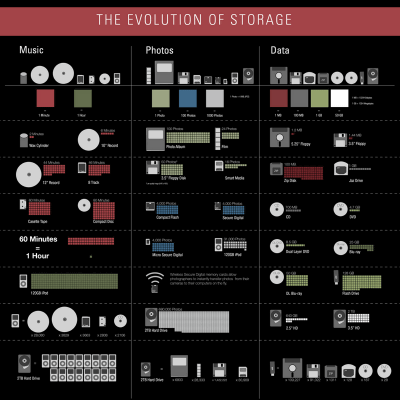 ByCurtiss Spontelli

Firstly from music relations. Red indicates 1 minute, green indicates 1 hour.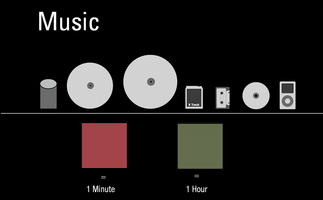 Early media. Original record of analog records,Wax cylinderFirst thing, it is a cardboard cylinder with a diameter of 1 cm and a length of 6 inches plus wax. It is a mechanism that inscribes the sound on the surface of the wax by a needle, which leads to a later record. Recording time is only 2 minutes. This will be the next 10 inch record, the recording time will increase to 6 minutes.




Recording time is 44 minutes when it is 12 inch record. The next8 track / cartridge tapeIt will be 46 minutes.




Then the cassette tape appeared and the recording time became 60 minutes (some types can also record more than 2 hours) and the recording time is 80 minutes by the appearance of CD.



In this trend, an MP3 player has appeared, and attention is paid to the iPod among them, and in the case of the capacity 120 GB, it arrives at a recording time which is unprecedented anyhow anyhow at a stroke. If it is 10 inch record, it is 20,880 pieces, 12 inch record 3829 pieces, 8 track / cartridge tape 3663 pieces, cassette tape 2808 pieces, CD if 2106 pieces. As so many songs can be recorded, it becomes unrealistic to listen in order, so it is up to Apple to propose the style "shuffle" on the iPod. Until then it seems that it was normal to listen in the order that I liked.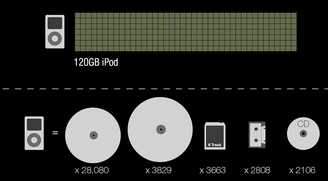 If you save these on 2 TB hard disk, it will be 17 iPods. You can see that you have come to an era where you can save a tremendous amount of music.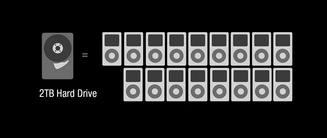 Next is photography relation. Green is one photo, blue is 100 photos, white is 1000 photos. It is a calculation of 4 MB in JPEG format per piece.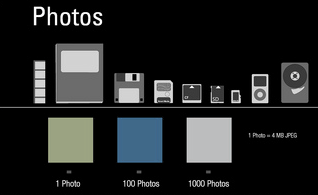 If it is a photo album 100 photos and one film 24 photos.




If it is a 3.5-inch floppy disk, 50 sheets (Although it seems to be various kinds of gargoes, the letter is small and it is unreadable, probably "HiFDIt seems that it is converting to 200 MB by the)Smart mediaIf 16 sheets. It gradually becomes smaller and lighter.




Compact FlashIf it is 4000 pieces, even smallerSD memory cardAlso 4000 sheets. 4000 smaller miniSD cards as well, 31,000 if 120GB iPod.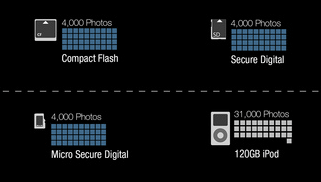 Furthermore, the photographic recording medium has evolved,Eye-FiIf you connect the digital camera wirelessly, you can save it directly to the online service on the Internet, or you can transfer it to the hard disk of the computer, reaching a level that is not an exaggeration to say the storage capacity is unlimited.




If you save to 2 TB hard disk using Eye-Fi, you can save 680 thousand copies.




If you convert it to the recording medium that has appeared so far so far, it is equivalent to 6800 volumes for photo albums, 28,333 for film cartridges, 142 for floppy disks (1.44 MB) It is 22,222 pieces, and for SmartMedia it is 30,909 sheets.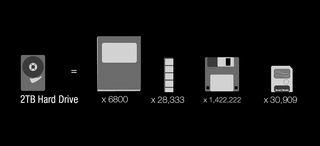 The last is purely stored as digital data. Red is 1 MB, ash is 100 MB, green is 1 GB, white is 50 GB. Calculated with 1024 KB for 1 MB and 1024 MB for 1 GB.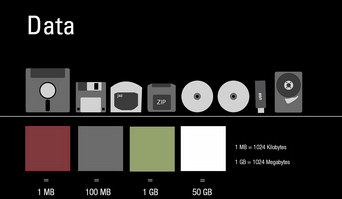 1.2 MB for a 5.25-inch floppy disk, 1.44 MB for a 3.5-inch floppy disk,ZIPIs 100 MB,JazIs 1 GB. Or, I have touched the computer from the 5.25 inch floppy era, but I have never seen a person using ZIP and Jaz ....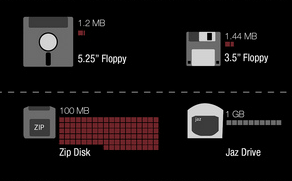 CD is 700 MB, DVD is 4.7 GB, DVD-DL (2 layers DVD) is 8.5 GB, Blu-ray is 25 GB, 2 layers Blu-ray is 50 GB (100 GB for 3 layers), USB memory is 128 GB (2010 As of October, the maximum available capacity on the market isDataTraveler 310256 GB), 2.5 inch HDD is 640 GB (As of October 2010, the maximum capacity that is commercially available isWD 10 TPVTWhenMK 1059 GSM1 TB of 3.5 Taiwan HDD) 2 TB (As of October 2010, the maximum capacity which is commercially available isWD30EZRSDTLOf 3 TB).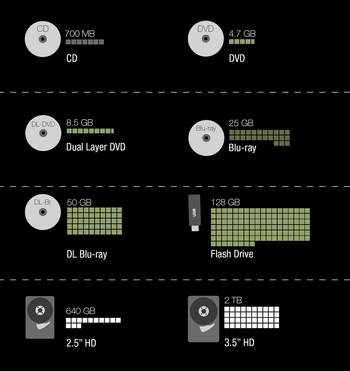 By converting the 128 GB USB memory with past recording media so far, it is possible to convert 5,25 inch floppy disks by 10,22,27, 3.5 inch floppy disks by 90,221, ZIP by 1311, Jaz by 128 , 187 for CD and 28 for DVD. It became able to carry with much compactly ... ....