"College entrance examination center examination" to study in the direction to be divided into two types, the "full entrance" state of the university becomes more conspicuous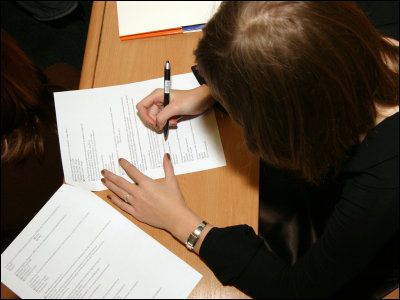 In place of the "primary university common primary examination" (common primary) targeted at national university applicants for admission, "1990" has been implemented since 1990University Admissions Office ExaminationIt has been clarified that studies are being conducted in two directions depending on difficulty level.

Also, due to the declining birthrate and the increase in the number of universities, the university was concerned about whether the university would be "in full" state, but its tendency is prominent compared with 20 years ago.

Details are as below.
Asahi.com (Asahi Shimbun): examining introduction of 2 types for 16 years by center entrance examination, difficulty level - Society

According to the Asahi Shimbun news report, the independent administrative corporation 'University Entry Examination Center' will begin studying examination of the University Entry Examination Center by difficulty level.

Part of this is being implemented in elementary and junior high schools nationwide since this yearNew course of studyAiming to be implemented from January 2016 which the third grade of the high school studied in (current junior high school first grade) takes. At present, two types of examination, which are mainly divided into those for national public university (including some private universities) and those for basic subjects for private universities, are under consideration, and each university has two I choose to choose which one to adopt.

In addition, in both tests, the same amount is given to the same problem, and each point is converted into a mechanism that can convert scores and paper test is not imposedAO (Admissions Office) entrance examinationIt is expected to consider whether to introduce tests to grasp the academic ability of the high school stage separately from the center examination for candidates who are recommended and entrance exams.

In addition, as a reason for dividing the center examination into two types, there are some subjects whose graphs of the distribution distribution are in the upper and lower two peaks, for example, signs that students' academic discrepancy spreads have emerged, and emphasis is placed on individuals According to education, the proportion of compulsory subjects in the graduation unit of ordinary departmental high school has decreased and the number of students studying common subjects has decreased, making it difficult to grasp academic ability in one type of exam

By the way it is about the "totalization" of the university which is concerned about the declining birth rate and the influence of the university's capacity increase, but the 18-year-old population will decrease from 2.5 million in 1992 to 1.2 million, while the university capacity will increase As a result of AO and recommended entrance examinations occupying more than half of the entrance capacity of private universities, the ratio of the number of enrollees to the number of applicants increased from 60% in 1990 to 90%, " All entrance "is approaching in front of you.

It is expected that examination to grasp the academic ability at the high school level will be considered for not only the review of the center exam but also the examinees of the AO entrance examination and the recommendation entrance examination, but as it is likely to lead to a decrease in academic abilityVoice of review also risesInside, AO entrance examination and recommendation entrance examination are universities with management difficulties that secured students even a little by a declining birthrateSome universities want to keep high deviation value by narrowing the general entry examination frameIt is also a fact that there is an aspect of an important system for institutions and it is a concern what kind of response the universities desperately want to survive in introducing such tests.
in Note, Posted by darkhorse_log