"Next Generation iPad" with ultra high definition liquid crystal, large capacity SSD, USB port etc.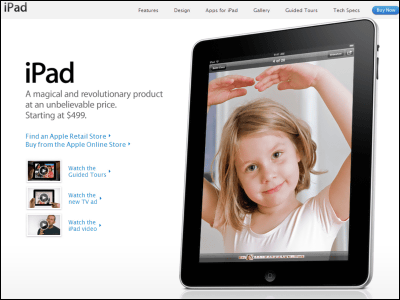 Although it is announced in January this year, Apple's tablet terminal "iPad" has recorded strong sales in the world, next year it will appear next year The next-generation model features ultra high definition LCD, large capacity SSD, USB port etc It became clear that there was the possibility of becoming it.

Although it is not definite information to the last, Apple already adopted the 960 × 640 3.5-inch high-definition liquid crystal "Retina Display" on the "iPhone 4", so it seems that it is not totally impossible story.

Details are as below.
AppleInsider | Next-gen 7-inch iPad to have Retina Display, 128GB storage - rumor

Brian White, an analyst at American securities company "Ticonderoga Securities", said Taiwanese parts makers from Taiwanese parts manufacturers reported that Apple will release new iPads in the first quarter of 2011, according to reports from AppleInsider, a major website dealing with Apple's internal information, It seems told that it intends to release.

In addition to adopting the 7-inch model of the super high-definition liquid crystal "Retina Display" adopted for the iPhone 4 by the new type iPad, the parts maker reveals that it will become the one which loaded the SSD, micro or miniUSB port of the maximum 128 GB.

As for the installation of the USB port on the iPad, Goldman Sachs also mentioned in September, and as a background in June last yearThe European Union (EU) to commonize mobile phone charger interface with microUSBIt is cited that Apple approved the resolution when resolving.

Incidentally, iPad sales around the world, but manufacturers of iPad parts ship more than 6 million iPad parts in the third quarter of 2010, shipping in the fourth quarter of 2010 including the year-end shopping season The number will reach 7 million vehicles.

For someone who says the current model is slightly bigger, the appearance of a somewhat compact 7 inch model seems to be a great judgment material in purchasing the iPad, but the possibility that the new iPad will have cameras like the iPhone and iPod touch Is it there ...?