Rice oil on one grade is the key, Roiho's "domestic beef roast steak", "triple grill" tasting review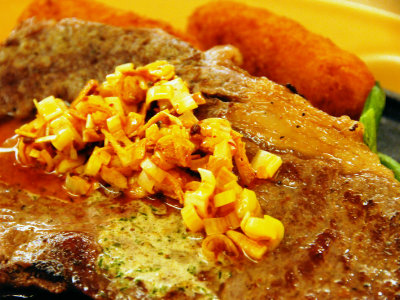 Royal host period / area limited menu, eat with lunch oil to eat "Domestic beef roast steak"Triple grillI tried it.

Since we can not eat in Hokkaido, Niigata, Tohoku, Kanto (except Kutsuda shop) because it is a region limited release, we have visited Royal host in Tokyo. Larry oil and steak are quite different combinations, but are there miracles that delicious items will be more delicious by combining delicious things?

Details are as below.【Period / Area Limited】 Steak menu with lunch oil to eat

Arrived at the Royal host. It was quite a hungry state, so the signboard appeared bright and shining.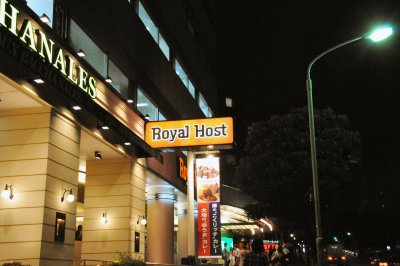 The menu looks something like this.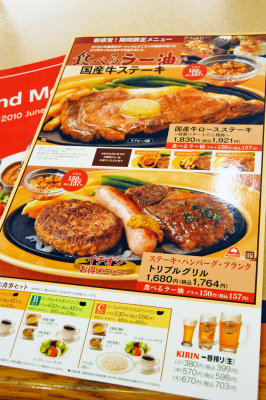 "Domestic beef steak with lunch oil to eat"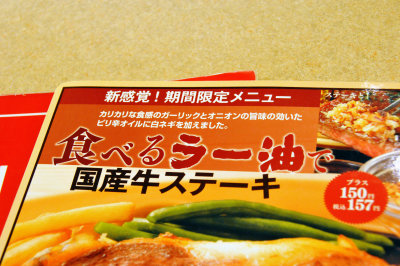 You can set the oil to be eaten at 157 yen including tax. It can be said that it is the original oiler oilMomoya's "Spicy a little spicy rice oil"Like rice, it seems to be seasoned to match.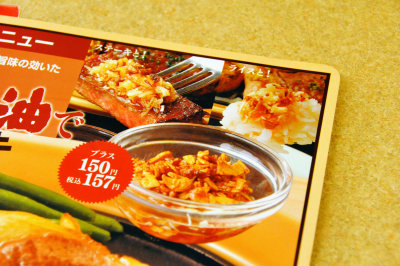 First of all it was brought from the barley to the seat.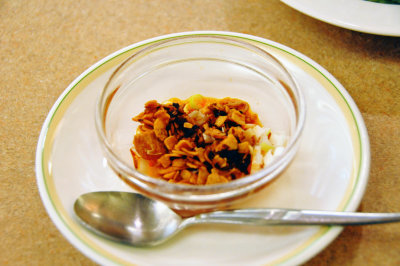 Fried garlic and fried onions are indispensable ingredients for eating lucian oil, but it is also characteristic that there are other white leeks carved. I saw the oil containing raw white onions for the first time. By the way, this oil can be set in any menu.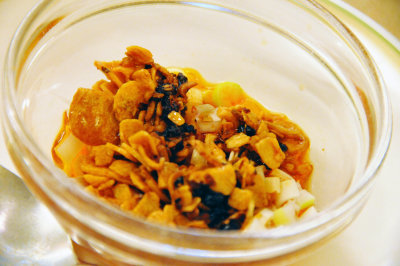 I tried rice oil on the rice that was being carried over. The taste is quite similar, as I recall Momoya 's rice oil to the flavor spreading by eating a bite. Fried garlic and fried onion are also crisp and crisp, and for those who are seeking Momoya's linseed, this is a level that can say "This is the taste!" Perhaps it is thought that chewing remains because it mixes ingredients and oil every time it is provided, but this ingenuity is amazing. The sweetness and bitterness of white onion plus plus a fresh flavor there, and I felt it was becoming one step rice oil for adults.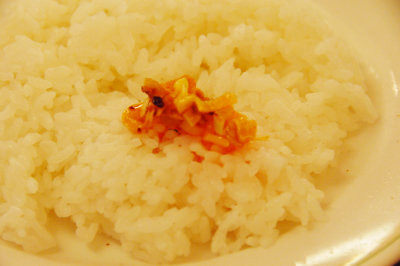 While doing so, the main dish was brought. This is "domestic beef roast steak" (1921 yen including tax). Because this price in a state not including rice etc., I personally ordered while somewhat biked out.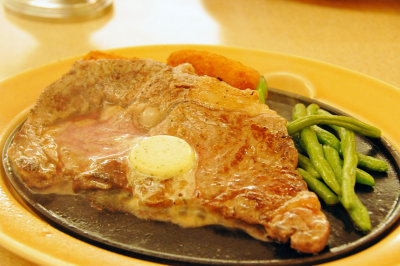 The meat juice and garlic butter are making a sound with the iron plate. Quite impressive.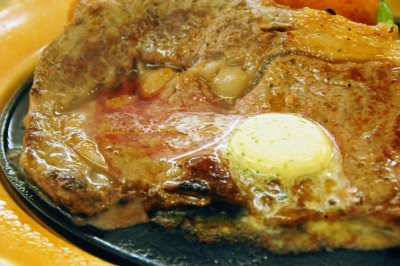 You can choose from three types of garnishing "potato fly" "onion rings" "potato croquette from Hokkaido", this time "Hokkaido potato croquette" choice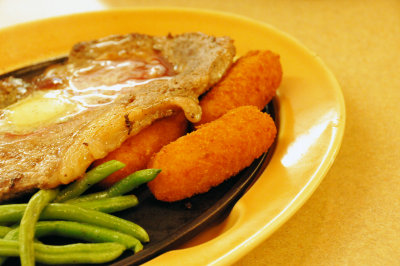 Meat is quite thick and eat and respond adequately. First I tried eating with steak alone, but the next moment I felt moderate crunch, the juice and the meat juice overflowed and it is very delicious. This is the feeling that rice goes on with this alone.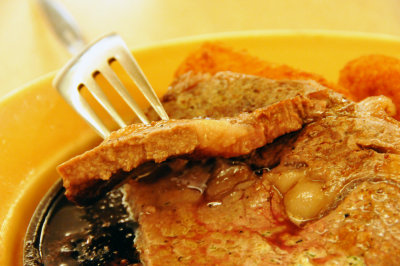 I tried loading the rice oil, there was no extraordinary discomfort, and it seemed like this kind of menu from the beginning. When eating, the fragrance and rich flavor of the rice oil combine with the fat of the meat without disagreeation and play a wonderful harmony. The steak is originally seasoned with butter sauce, but it is a feeling that volume is further added by rice oil because it is not the taste which it has gone through. This taste seems to be lacking rice.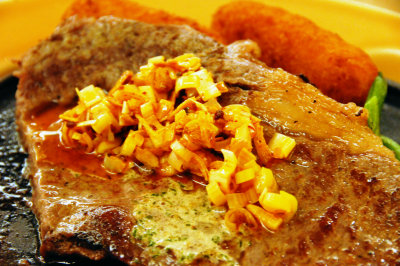 Next, we will eat "Triple Grill" (1764 yen including tax) with Steak, Hamburg, Frank on one dish.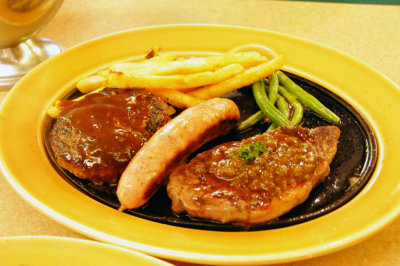 Please add sauce as you like to hamburger steak. When the store clerk puts the sauce in front of you, the sauce jumps around with a hot steel plate. Worcester sauce based sauce and soft hamburger are compatible.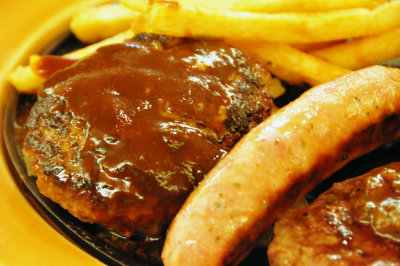 The steak has a source different from hamburger in advance. Japanese sauce flavored sauce and tightened meat fits well. Frank has a nice aroma of herbs, it is juicy with plenty of meat juice while being refreshed.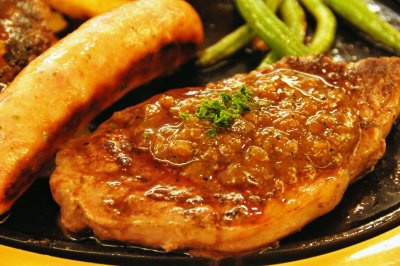 First I will add some oil to the steak. Because the flavor of the original sauce is fairly strong, I received the impression that the power of the oil slightly diluted compared to "domestic beef roast steak".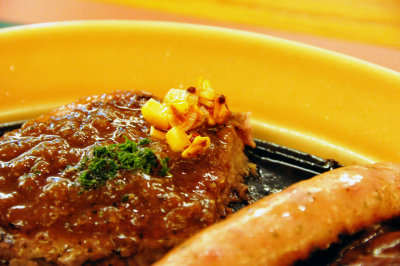 Also turn on the oil for hamburg cut. Although I was expecting somehow, I feel that when Western-style sauce and flavor of sesame oil of rice oil coalesce, they are killing each other's goodness. When trying to eat it over the part not hanging with the sauce, the crunchy crunch of the ingredients of the rice oil was a good accent to the hamburger steak softly unraveled in the mouth. If you enjoy it with rice oil, it may be good to challenge without hamburger sauce.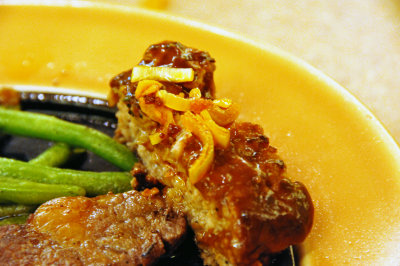 I will try it on Frank. When rice oil is applied, the flavor of the herbs attached to Frank is completely cleaned and it felt just the flavor of the gravy and the rice oil firmly. Although it is not bad, since I liked the original Frank taste, I thought that I do not have to dare to rinse oil.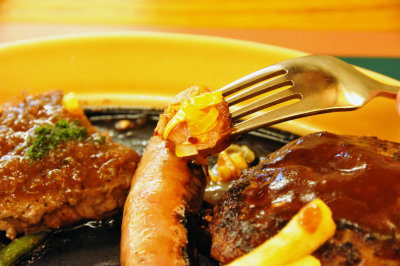 When comparing the two menus, if you say compatibility with rice oil, you can get a match to "domestic beef roast steak", but I think both are quite complete as a standalone menu. The oil itself was also very built and delicious,Roiho TanIt is convincing that it is enough confidence to say that even if it says "even if it matches rice just", it can be convinced that people in the limited menu offering area may try once.