Start of Awa Odori Poster spreading plan of Toho Project & Sky Boundary Illustration, Free distribution on Mountain of Mount Bizan on August 1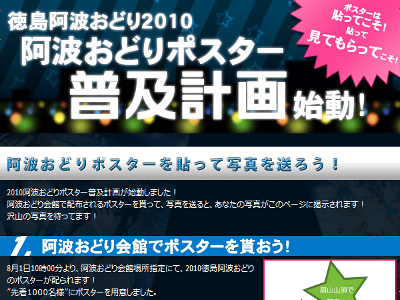 The 2010 Awa Odori PosterTwo types of "Toho Project" and "sky boundary"So, I think that there are not many people who seem to see "I want it!" At shops in Tokushima city and animate nationwide.

Although there was no schedule to be sold from the beginning, I made a poster productionEuphor tableKondo Producer said "A poster sticking and seeing it"This time, it seems that we decided to implement a distribution event to have everyone paste it.

Details are as below.
Machi ★ Asobi vol.4 is announced on August 1!
http://www.machiasobi.com/



Awa Dance 2010 Awaodori Poster Spreading Plan

This time I started "Welcome posters! Just paste and have a look!"Awa dance poster poster spreading plan that raised in catch phrase. this is,"Toho Project"When"Sky boundary"Posted by Awa Dance Poster, pasted in various places including my room, and sent as a photograph of the pasted state.

Distribution of postersImplemented at a forest parking lot at the summit of Meishan from 10 o'clock on Sunday, August 1. There are 1000 sets of posters in one set of two, and distribution will be on first come, first served basis.

People who received the posters can apply anywhere in their own rooms, so paste the posters and take a picture of the pastingSend to Machi ★ Asobi. Then, the picture is posted in the Machi ★ Asobi official website and Picasa Web Album.

Although some posters have already been auctioned and high prices have already been posted, as already stated in this catch phrase "Because posters are pasted!", The people who got it is also the window that faces the outside even in my room However, please do so by all means because it can be anywhere in the school or workplace.

The same information as the distribution of this poster on August 1 seems to start to be lifted as information of Asobi vol.4 vol. It seems to be more amazing than ever, so please look forward to it.
in Note, Posted by logc_nt