I will have awamori! "Moyashimon Awamori" has appeared, starting reservation acceptance with limited quantity from July 8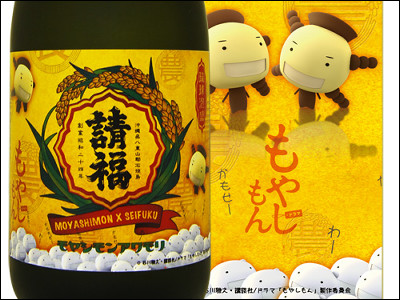 Ishikawa Masayuki's manga "Moyashimon" was animated in 2007, and from July 2010, live-action drama broadcasting has also been decided.

This drama "Moyashi monon"As a tie-up product, various sake will be served, but the only Awamori" Akuhaku Yoshimon Awamori "will be accepted from the tomorrow as soon as possible with reservations accepted.

Details are as below.
【Rakuten Ichiba】 Initial reservation 200 bottles of our shop Limited Burial Friend Yashimon Awamori 【Reserved Items】 ※ It is scheduled to ship from 8/1 sequentially: Bakufu Brewery

Drama "Moyashimon" official website

"Moyashimon" is a popular manga with a cumulative total of 4,500,000 copies, and in 2007NoitaminaIt will be an animation in this time, it will be a live-action dramaization this time. In the drama,Laughter meal, Koji NishidaNishida really is supposed to act as a senior role of the hero who was said to resemble.

Since the work is set in the agricultural scale and there are also episodes of sake making, the collaboration of the drama and the brewery manufacturer is decided. As Awamori Manufacturers, Baekje Brewery made the only collaboration and decided to release a collaboration limited version of the most popular Awamori "Direct Fire Buddhist Fun" at Ishigakijima.

Alcohol content is 25 degrees, it is a mild and easy to drink taste, drinking method is water splitting, rocking, anything is fine bowl ball which is not a high ball. It is ant to lay down and make old sake.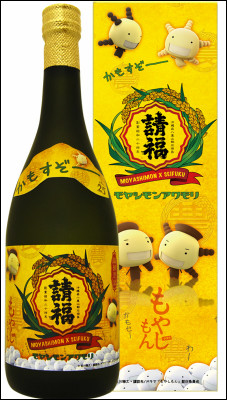 A. Awamori, A. Orizee, A. niger, S. cerevisiae appear in the label. Mr. Ishikawa who supervised it seems to have acclaimed that it is "wonderful". By the way, when I wrote the story of Awamori published in Volume 3 of the Monograph, Ishikawa sometimes came in for interview with a single person.

For the collaboration products, Ishikawa, the original author, said "It is not a design that will make customers buy the sake itself though it is becoming a promotional liquor of "Drama is also Yashimon" (not) It can not be said that such a collaborationI have reviewed the way of collaboration once, and it seems that it has become a solid product.

The selling number is limited to 1500 only (200 in the Rakuten shop at Buddhist ruff), it is sequentially shipped from August 1st at the reservation acceptance starting from noon on 8th July. The price is 1500 yen.