Finally, "Seaga Pain" Blu-ray BOX reservation acceptance start, when the reservation payment number reaches 2000 pieces, it is confirmed production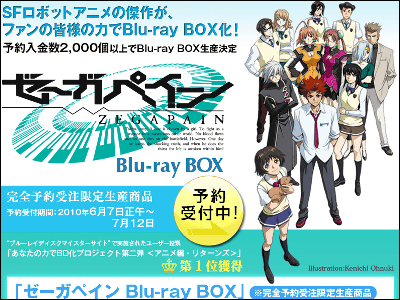 "BD conversion project ranking second in your power "SF robot animation that won first place with superb"Zegapain"Although it is a Blu-ray BOX, it is decided that reservation acceptance of complete reservation order limited production will be started from today.

Somehow, finally came here! It is a feeling.

Reception period details etc. are as follows.
Seega Pain Blu-ray BOX
http://dbeat.bandaivisual.co.jp/zegapain/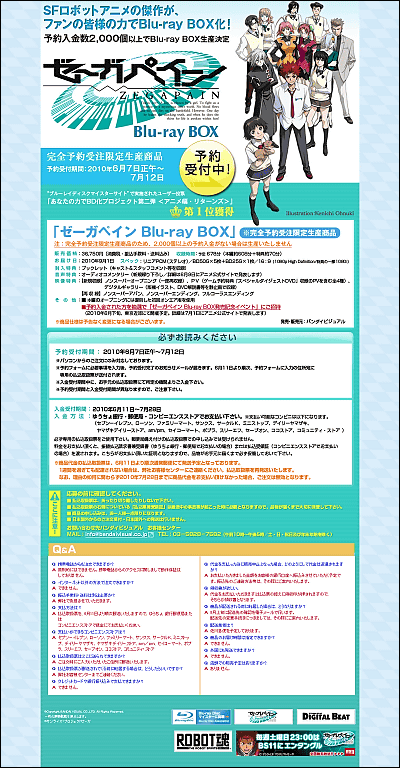 The selling price is 37,750 yen, the acceptance period is from noon to 7th July 2010 on June 7. In the meantime, Bandai Visual / Digital beat special page is "http://dbeat.bandaivisual.co.jp/zegapain", Reservation is possible, and production is confirmed when the deposit number within the reservation acceptance period of June 11 to July 28 reaches 2000 pieces or more, September 1, 2010 Blu - ray BOX arrives on the day.

The specification of Zegapain Blu-ray BOX is as follows.

Selling price: 30,750 yen (consumption tax · transfer fee · shipping included)
Duration: (Pre) 678 minutes (608 minutes of main volume + 70 minutes of video privilege)
spec: Linear PCM (stereo) / BD 50 G × 5 sheets + BD 25 G × 1 sheet /
AVC / 16: 9 (1080p High Definition / part of privilege 1080i)
Enclosure benefits: Booklet (Including Cast & Staff Comment etc)
Audio benefits: Audio commentary (new recording down / details announced on the animation official website on June 9)
Image benefits: 【New recordings】 Non super opening (partially re-recorded),
PV (4 types including PV including the game reservation privilege 'Special Digest DVD'),
Digital gallery (copyright illustration, DVD commentary etc recorded as still picture)
【Recapture】 Non super supervenue, non super ending,
Full chorus ending
Other
■ Using the first on-air version that was reprinted for the opening of this volume
■ Invited to "Sega Pain Blu-ray BOX release commemoration event" by lottery from people who booked money
(It will be held in the suburbs of Tokyo in late August 2010. Details will be announced on the official website on July 1)

By the way, it seems that it will not produce if there are not more than 2,000 booking deposits ... what will happen? Although Sega Pain actually was watching on live broadcast when it was being broadcast on the terrestrial TV from the evening, at first it was "What is this fucking CG Robo?", But gradually "this animation in the evening Whether it's okay to broadcast to the late night night, it is obviously late night night animation ... ... but this is amazing, interesting! "In the vicinity of the last round" Well, as Zega Pain starts soon, today's work is already odd It was in the state of! Especially in the final round of the year, "Hey hey! Certainly Zega Pain is an area of ​​masterpiece, so I definitely want you to reach the Blu - ray BOX launch.
in Anime, Posted by darkhorse