'Touch and see' 3D nude photo book for the visually impaired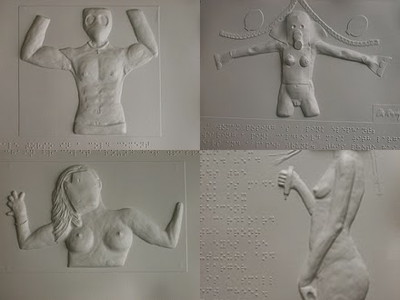 ' Tactile Mind ' by Toronto-based artist Lisa J. Murphy contains 17 nude photos that are three-dimensionally raised for the visually impaired to touch and enjoy, as well as braille text that explains those photos. It was published at its own expense about two years ago as 'pornography for the visually impaired', but recently it was reported in the Telegraph newspaper in the United Kingdom as 'the launch of a pornographic magazine for the visually impaired' and attracted attention. Is collecting.

There are quite explicit motifs in the photos, and if they are printed normally, they will definitely be regarded as pornography, but the page of heat-shaped white plastic is a sculpture by Murphy. It can be said that it is a reproduction, and it seems that many healthy people buy it as art.

Details are as below. 3-D porn for the blind | Thane Burnett | Columnists | News | Toronto Sun

tactile mind

Lisa J. Murphy is a 35-year-old photographer with a Tactile Graphics qualification from the Canadian National Institute for the Blind (CNIB) , and is a sighted person . Modeled after friends, this photobook is handmade by Mr. Murrphy, from shooting, engraving to printing (thermomolding). It contains 17 photographs and 225 Canadian dollars (about 20,800 yen). It is sold by shipping fee not included). Click here for the cover image (please note that this is an image that some people find blatant).

The size is about 28 x 29 cm and the thickness is about 15 cm, which is quite thick, but each page can be removed from the book and placed on a desk etc. so that you can enjoy it with both hands.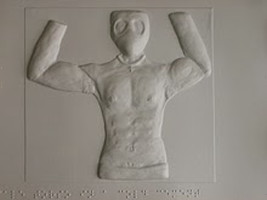 A work entitled 'Woman in a Disco Pose'. It seems that all the photos have their faces hidden with masks.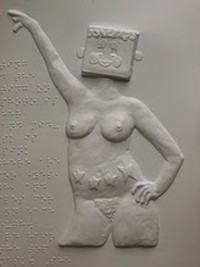 A work called 'Naked Pink Elephant'. 'I'm wearing a cardboard mask,' 'I'm wearing a breastplate with a hole in the breast,' and 'I'm pregnant, but the swelling of my stomach is small.' It helps to inflate your imagination.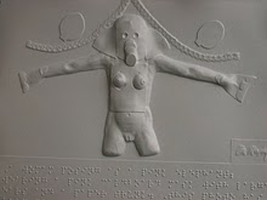 'Bad Bunny' is a man wearing a paper bag mask, a menstrual napkin on his chest, and a toilet paper core on his genitals.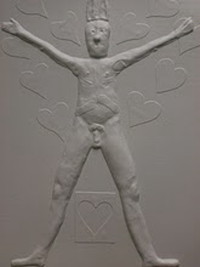 'Woman with Strap-On' is a woman wearing a toilet paper core.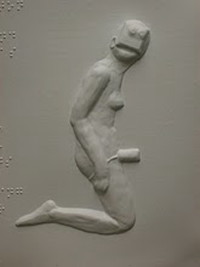 'Woman with Syringe' is a woman holding a syringe.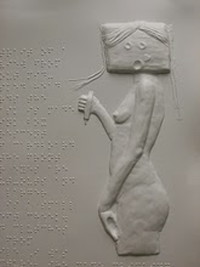 'Posing in Snakeskin Shoes' is a woman wearing snake leather high heels and posing.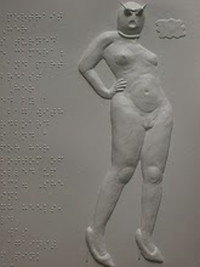 In addition to being sold as a book containing 17 photographs, each page is also sold for C $ 25 (about 2300 yen) per work.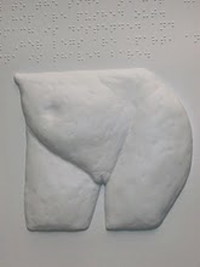 'Pornography or art depends on the'viewer',' said Murphy, who is planning the next project for the visually impaired. 'Couple will be more erotic.' The following photobook shows that the subject is a couple.

At present, most of the purchasers are healthy people who purchase as art works, and it is not clear whether visually impaired people actually purchase it for practical use, but this triggered 'visual'. There may be publishers focusing on a new market that has been ignored until now, called 'pornography for the disabled.'

By the way, from 1970 to 1985, PLAYBOY magazine had published a Braille version, but at that time only the text was converted into Braille, and the photographs were also three-dimensionalized so that visually impaired people could enjoy it. Probably this is the world's first attempt.


in Art, Posted by darkhorse_log