What is a shivering event "Tiger Splash" where a tiger and a human being who are supposed to be beasts fascinate with Cacchia Uhuf?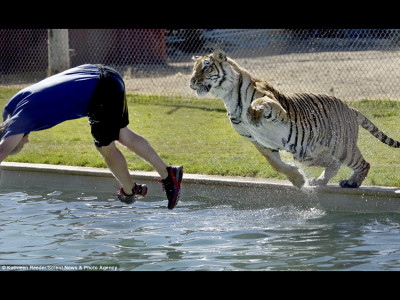 Tigers that are often considered representative of terrible animals, such as "Mutsumi Ryuu Tiger", "Tiger at the front gate, Wolf at the rear gate". Even in the television program scenes that jump to the prey are flowing well, so the image of the ferocious creatures is strong only, but the movie playing alongside the breeders and tigers is somewhat fun.

Details are below.
No bombing! Playful Bengal and Siberian tigers leap into swimming pool in games of chase with zoo keepers | Mail Online

Tiger Splash at Out of Africa Wildlife Park, Arizona's Wildlife Theme Park, A Sedona Area Attraction

America · Arizona StateOut of Africa wildlife parkIn the 30 minutes, the event "Tiger / Splash" where six Bengal tigers and Siberian tigers play with their keeper in the pool has been well received.

This event was originally invented from exercising in the pool as a rehab training drill for a tiger that can not walk originally, so it seems that the appearance that a weigher with a weight of 270 kg is playing with keeper "from a cute little cat "It is acclaimed. Of course, safety measures are being done properly, and there are no rear-raising members who have done a serious injury.

It is not fighting with a tiger underwater, but a place stroking a knot.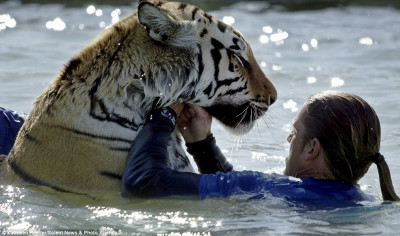 In the Tiger splash, it is the eyebrowing that keepers jump tigers using toys like this.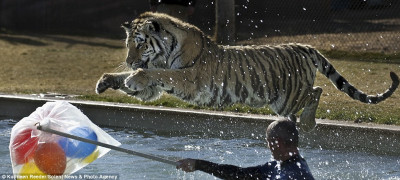 A tiger striking a ball of a balloon.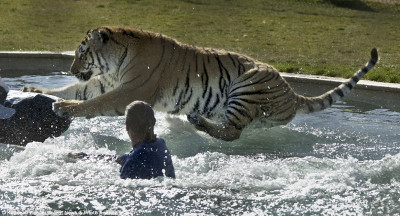 The flying figure is exactly a cat, but the size is too big.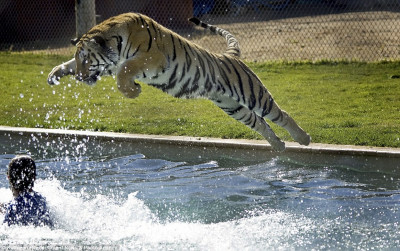 The movie is here.

YouTube - Tiger Splash at Out of Africa Wildlife Park near Sedona, Arizona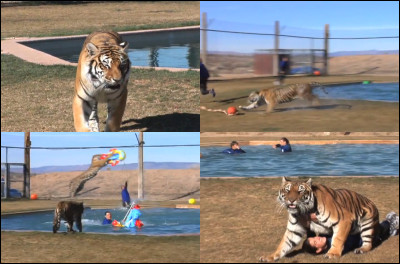 A tiger that shows wet seems to be irritated by water being put on.



I feel wild in running figure to follow the keepers and the ball.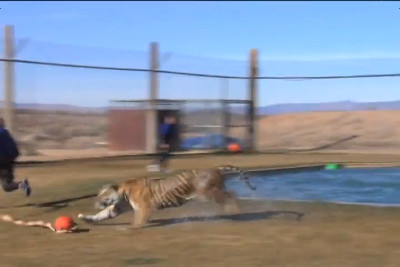 A tiger that captures the ball and shows the expression of satisfaction.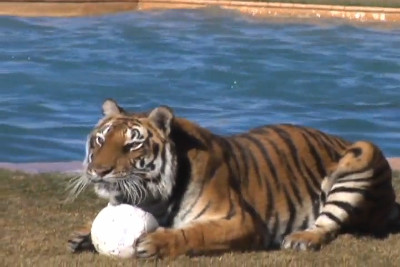 A big jump aiming at a toy keeper.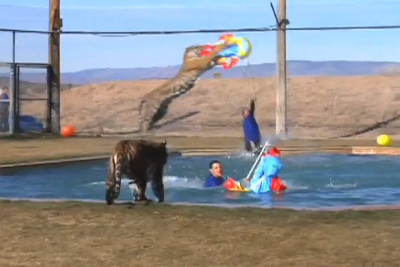 Catch catches pretty in the air.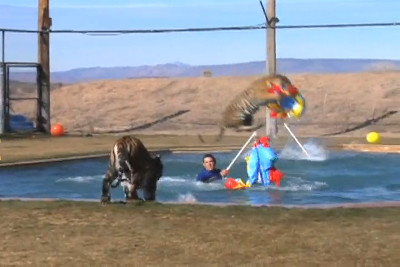 There is also an unexpected aspect that I am amazed with as a keeper.