Toshiba announces "K01" sliding smartphone equipped with QWERTY keyboard and large screen organic EL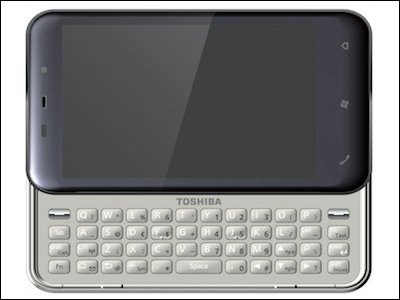 Toshiba announced the large screen smartphone "K01" equipped with QWERTY keyboard as the latest model of smartphone.

Although it carried the QWERTY keyboard, it has become a sliding model reminiscent of the domestically produced smartphone "W - ZERO 3" series which turned to the numerical keypad with the latest model, and it is a high performance processor and organic EL display Has become a high-end terminal adopted.

Details are as below.
DigiNews Digest - MWC '10: Toshiba shows off two new smartphones on Windows Mobile

Toshiba TG 02 and K 01 are powerful smartphones based on Windows Mobile 6.5 (Phone Arena News)

According to these articles, Toshiba has announced a sliding smartphone "K01" which adopted the QWERTY keyboard.

"K01" is the company's high-end smartphone "TG 01 (T-01 A, X 02 T)"It adopts 1 GHz SnapDragon processor and Windows Mobile 6.5, and supports up to 32 GB microSDHC memory card as a recording medium.

In addition, the display is 4.1 inches which corresponds to the touch operation as well as "TG 01", but in addition to adopting the organic EL which is not a liquid crystal but has a reputation for good coloring and low power consumption, in addition to press From the "pressure-sensitive type" which senses the pressure at the time when it is used, iPhone etc. adopted "Capacitive type"The touch panel has been switched.

While it seems that there is a trend to discontinue the physical keyboard in the recent smartphone market and try to finish all with the touch panel, to dare to release the model equipped with the QWERTY keyboard is still a certain amount of demand Although it is thought that it is the result that it is anticipated, even for users who are craving for the input with the QWERTY keyboard, we are only hoping for input in the Japanese market.
in Mobile, Posted by darkhorse_log