70% of Female Runners Don't Wear Sports Bra, Risking Sagging Breast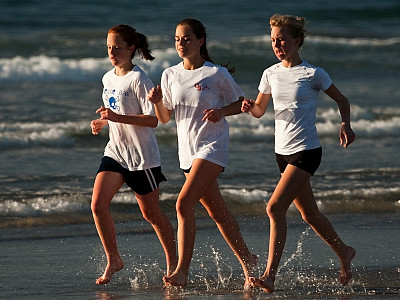 by Mr Groove

Running is all the rage now in Japan. Tokyo Marathon undoubtedly boosted the number of runners since 2007 and more and more young women are starting to run, encouraged by cute running wear.

But while many women splurge on running shoes and clothes, they might be ignoring the most important thing. According to a survey by Japanese lingerie manufacturer Wacoal, only 30% of female runners wear sports bra during exercise. Alarming 50% of female runners don't own one to begin with and 80% of them wear their usual bra while running, which might seriously damage their figure.

Read on for details and pics.
(Japanese)WACOAL::News Release::Result of our survey regarding Sports Bra (Feb. 16, 2010)

According to a survey by Wacoal taken during October through December, 2009 which was answered by 1,003 female runners, only 50% of female runners own a sports bra, 30% wear one while running, and 80% of the runners who don't own a sports bra(40% of the whole respondent) run wearing their usual bra with wire.

But the ownership increases the more experienced the runner become. By the time they've been running for a year, 75% of women will own at least one sports bra.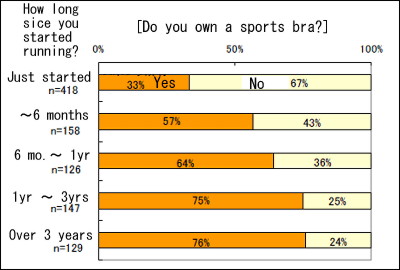 81% of sports bra wearer prefer them for the unrestrained motion they allow: easier to swing arm, able to breathe freely, while 27% wear them to prevent sagging of breasts.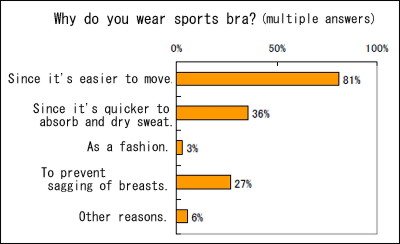 During exercise, unrestrained breasts move about freely with the movement of the body. Some women, particularly those with large breasts, find such excessive movement painful and embarrassing. If breasts were unrestrained, the weight of the breasts may cause damage to the ligaments of the chest during high-impact exercises, such as jogging.

This is what women's breast look like while running, at the topmost and bottommost of the bobbing movement.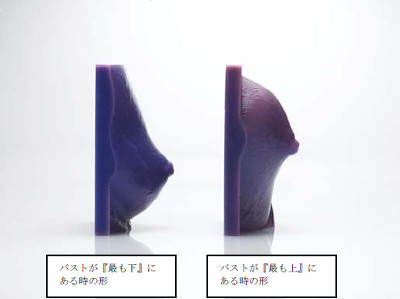 "Unlike muscles, Cooper's ligaments in the breast can't be trained and developed. It is important to take care and avoid high impact in order to prevent damage to Cooper's ligament", professor Mitsuo Kawata of Kyoto Prefectural University of Medicine commented.

According to professor Taeko Narumi of Tokyo Gakugei University, the main reason that many athletic young women don't wear sports bras is that they're considered "unfeminine and childish".

A survey conducted by professor Narumi on 268 female students who exercise regularly proved that 80% of them wear their usual bra during exercise. In Narumi's study, 22 female students whom never worn a sports bra before were asked to try them, and 80% of the participants reported that sports bra felt more comfortable during exercise than their usual bra.


in Note, Posted by logc_nt