NVIDIA to consider offering "external graphic board" for laptop computers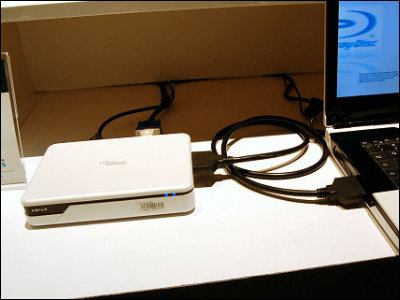 It became clear that NVIDIA, which is known for graphic boards such as "GeForce" series, is studying as a part of its strategy to offer graphic boards that can be attached externally for notebook PCs.

It is a laptop that can not be said to have high graphic performance compared to a desktop computer, but will it be possible to reproduce lightly with high quality full HD video and play 3D games without stress?

By the way, the photo above was released in 2008 but was not popularized ATI's external graphics board standard for notebook PC "XGP (external graphics port)" adopted, Fujitsu Siemens'AMILO GraphicBooster"is.

Details are as below.
Nvidia: External Graphics Accelerators for Notebooks Is a Big Opportunity - X-bit labs

According to this article, although Rene Haas, general manager of graphics board division for NVIDIA's notebook computer, has no plan to commercialize it at the moment, it is a great opportunity to provide an external graphic board for the notebook computer It seems to think that.

NVIDIA employs an approach to install graphic boards on desktop personal computers and notebook PCs as a sales strategy for their products, but there is a possibility of thinking about an approach of external attachment.

In recent years, many notebook PCs have high-performance CPUs, but with regard to graphic boards, notebook PCs that are not equipped for reasons such as limitation of body size, weight problem, and graphics performance may not be required Mr. Haas says that he watches the needs of the market after saying "It must be provided at a reasonable price" with respect to the external graphic board.

NVIDIA already offers high graphic performance for netbooks "ION platform"And dramatically improve the performance of mobile devices"Tegra processor"Given that we are working on products focused on fields that have not been focused on graphic performance so far, such as the appearance of external graphic boards may not be an unbelievable story.