"BD development project by your power" second result announcement, the top title will be in the Blu-ray negotiations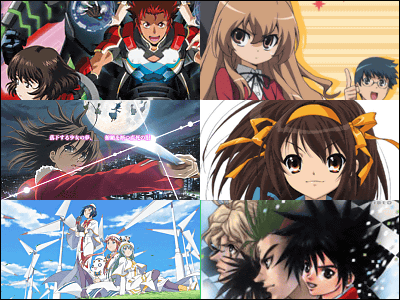 I was inviting voters from the three media of Net, Animage, Tolo Station, anime works I want you to put on Blu-ray,BD conversion project with your powerThe comprehensive result of the second bulletin was announced. It seems that not only the work which became the first place, but also the top title will tell manufacturers the desire to BD.

The animation which became the first place last time "True tears"Was splendidly BD converted,It soared in the auction before the launchBecause of that, it was enough to make additional reservations and receipt of deposits in a hurry, but which works until the creation of BD this time?

Details are as below.
BD PJ 2nd grade results announcement by your power! Blu-ray Meister Quiz Intermission - Blu-log

The comprehensive record of 3 media below. Zega Pain who was second in the break with "true tears" in the previous vote was to take the 1st place this time. The second largest "Tora Dora!" Is almost TOP class on all media and is said to be "total popularity No. 1", but it did not reach "Zega Pain" which had been making a big difference at the time of the net voting It seems to be.

First place:Zegapain
Second place:Tora-dora!
3rd place:The Melancholy of Haruhi Suzumiya
4th:Sky boundary
5th place:ARIA
6th place:New century GPX cyber formula
7th place:Hayate the combat butler! (Phase 1)
8th place:Kamichu!
9th place:Medarot
10th place:Suspended
11th place:Noein To another one of you
12th place:Sola
13th place:I got it! Powerpuff Girls Z
14th place:Simone
15th place:Muve love
16th place:Kissdom R - ENGAGE planet -

In this vote, the number of votes per vote is different depending on the media, net voting is 1 vote 1 point (2 points if there is a comment), Toro · Station 1 to 2 points, 1 point vote 30 points It was getting. for that reason,Net result of only votingIn the 16th among the 14th "The Melancholy of Haruhi Suzumiya" ranked third in the overall score, 15th place "Hayate the Combat Butler! (1st Period)" seventh place, such as high-profile work such as large The ranking fluctuation is occurring.

As for "Zega Pain" alreadyMake a presentation to the manufacturerAlthough it is,It was useless in negotiations at the previous voteSo it is still unknown whether it will be converted to BD. In addition to the 1st place, as for the title which was the top in the vote, it seems that the request for BD conversion will be conveyed, but what kind of title can be made BD indeed?
in Anime, Posted by darkhorse_log