Microsoft, following Apple and Google, will release Microsoft's smartphone, analysts announcing reports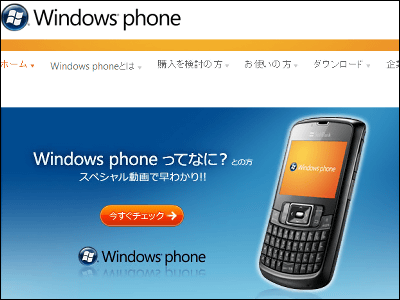 Apple's iPhone and GoogleNexus OneManufacturers themselves that provide services including the OS themselves are beginning to manufacture their own terminals, but finally there is a possibility that Microsoft will release its first-made smartphone by changing its policy so far Was revealed by the analyst 's report.

"PinkAlthough it is said to be developed under the project called "Microsoft smartphone", what kind of specs will it become?

Details are as below.
Analyst: Microsoft "Pink" Phone Back on Track | John Paczkowski | Digital Daily | AllThingsD

According to this article, Katherine Egbert, an analyst at Jefferies & Company affiliated with major international securities and investment bank Jefferies, said that Microsoft will reintroduce its own smartphone by revising its strategy of providing only conventional platforms It is said that he announced a report saying.

Mr. Egbert says that the company will announce its own smartphone developed under the project called "Pink" in the next 2 months and will be held in Barcelona, ​​Spain from 15th to 18th February, Mobile World Congress Conference "and the mobile equipment comprehensive exhibition" CTIA WIRELESS 2010 "to be held in Las Vegas in March.

In addition, although it is an anxious spec, it is supposed to be a model equipped with 720p HD movie playback function and 5 million pixel camera based on Microsoft's portable music player "Zune", and it is said that it is similar to Google's Nexus One Egbert anticipates that it will be something, and also suggests the possibility that the adopted OS will be Windows Mobile 7.
in Mobile, Posted by darkhorse_log