When a bicycle with Grandma comes from the left side of the intersection, what should the fire truck do?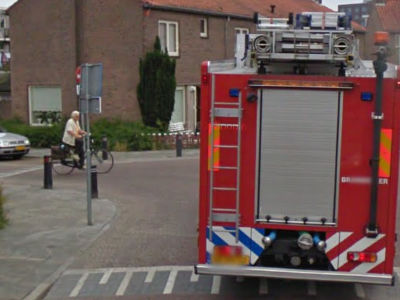 "When running by a bus near a bus that is stopping, passengers who may have come off from the bus may possibly emerge from the blind spot, so they run a bit apart," or "I would like to overtake a large bike running in front, Before the bike there is a moped that runs slowly so the motorcycle may come out in the center of the road, let's see the situation a bit moreDanger prediction (risk prediction). Because he does not encounter a traffic accident while driving, he is a guy who is thoroughly beaten at the driving school.

The problem of this time is "You are driving a big fire truck ... When you came to an intersection without a signal, you saw a grandmother who caught a bicycle from the left approaching, how do you deal with it?" something like. In Japan, when an emergency vehicle (such as a fire engine or an ambulance) is sounding a siren and running with the red light flickering (emergency driving), it is necessary to prevent a general vehicle from hindering its travel, and in the vicinity of the intersection We are obliged to temporarily stop avoiding intersections. However, except for emergency driving, it will be treated as a general vehicle.

Well, what actually happened to the driver of the fire truck?
The location is in the Netherlands, southeast of AmsterdamAmersfoortIt is a town called.

View Larger Map

The running fire engine, Google Street View Car keeps on behind it.

View Larger Map

At the intersection without a signal, a grandmother who got on the bike from the left appeared. What about a fire truck ... ....

View Larger Map

The correct answer was "to go straight without mind".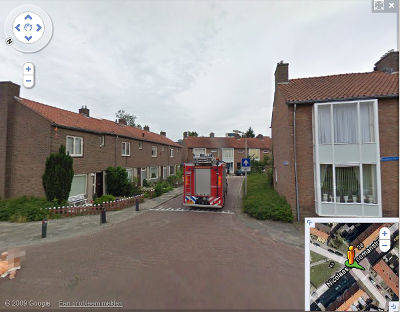 View Larger Map

Grandma seems to have overturned every bicycle.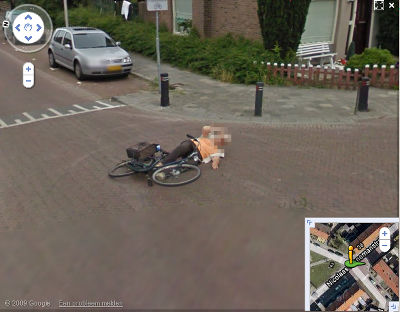 View Larger Map

Looking back, the grandmother who pushed the bicycle is standing at the intersection, but it seems like a different person.

View Larger Map

Was that grandmother alright?
in Ride, Posted by logc_nt