"Char-Custom Cup Noodle Red Curry" came out Three Times Hotter than Normal Curry Noodles!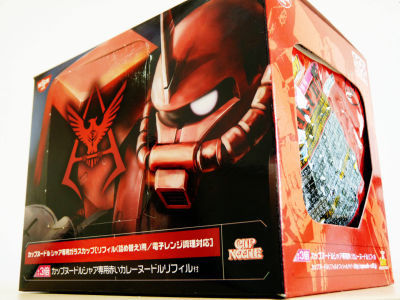 We all know Char Aznable's custom Zaku is "three times faster than a normal Zaku". So does the Char-custom Cup Noodles cook three times faster than normal Cup Noodles? Regrettably, not. But as it was, Nissin's new product "Cup Noodle Char Custom Red Curry Noodle with Refill" came out three times spicier than their usual "Cup Noodle Curry".

They come in gorgeous red packages with original Char-custom glass mug for microwaving. Here's our review!

Pics after the cut!
CUP NOODLE x GUNDAM PROJECT
http://www.cupnoodle.jp/gundam/

"Cup Noodle Char Custom Red Curry Noodle" and refills. The box contains a cup and a noodle pack, priced around 1,000 yen (about $11) at convenience stores. If you liked the taste you can buy some refills for 128 yen ($1.40) each which is a bit cheaper (and greener) than normal cup noodles in disposable foam cups.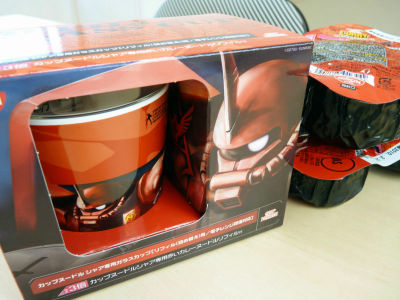 Char's custom MS-06C Zaku II.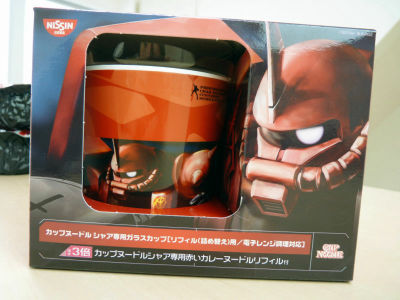 The background of the lid is Char's face.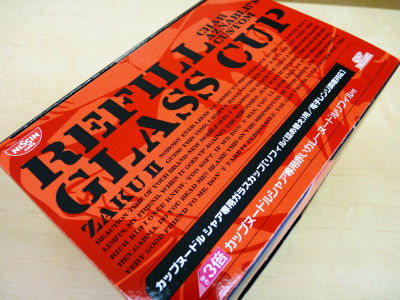 It says "3 times hotter".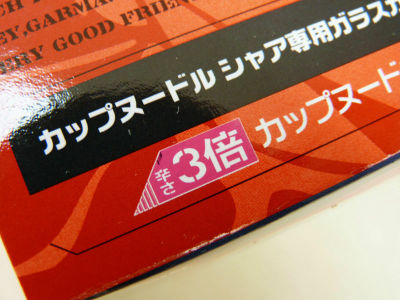 Side of the box.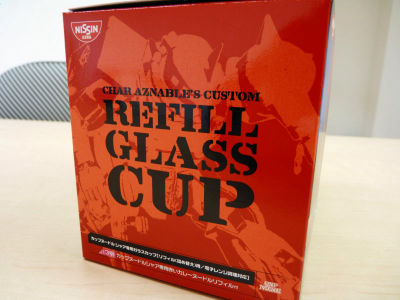 The noodle pack is visible from the window.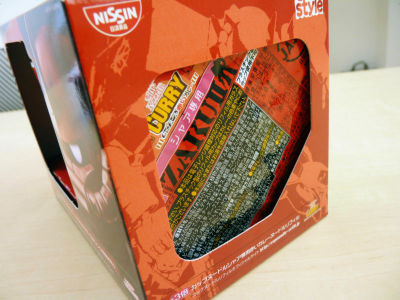 379kcal per serving.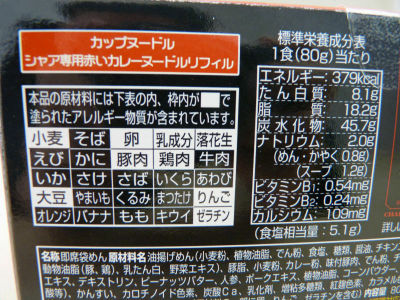 Instructions.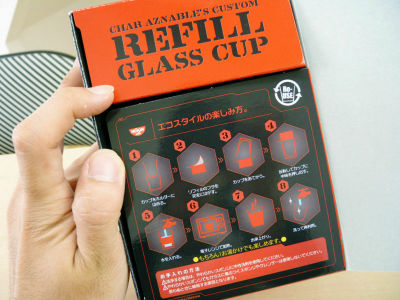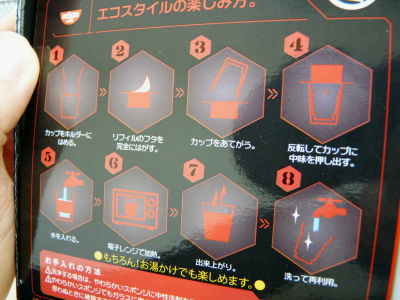 Opening the lid.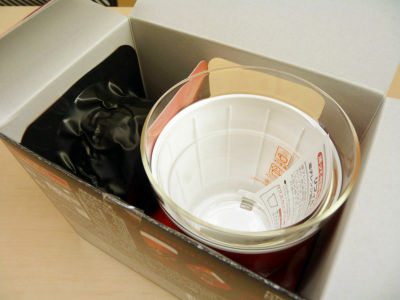 Contains a cup, a noodle pack and a leaflet.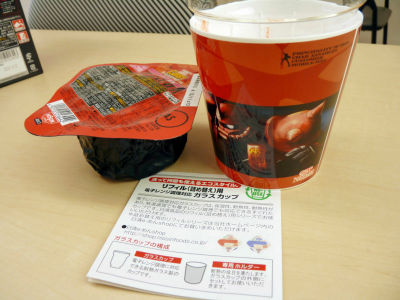 The plastic holder comes off the glass so it's easier to clean.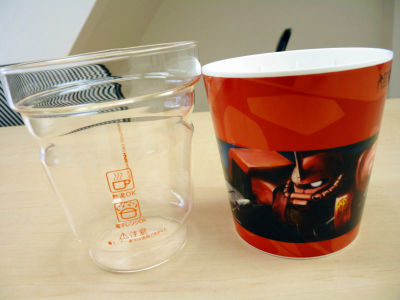 Water-level sign.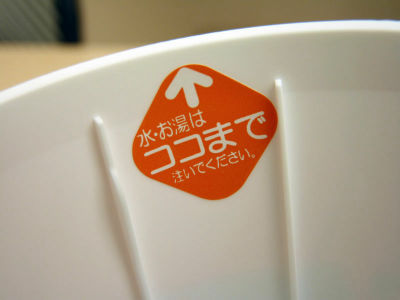 You can see it through the glass.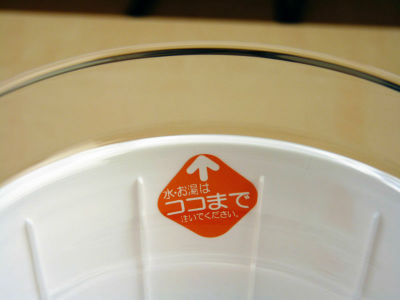 Let's start cooking.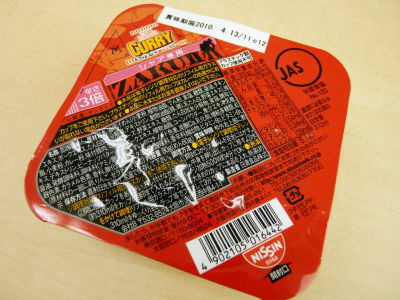 First you open the pack.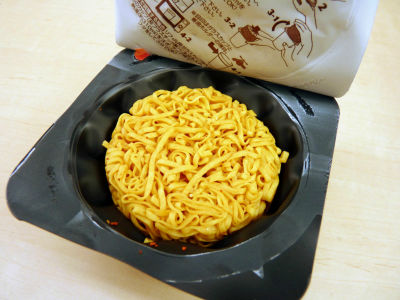 The instructions are also printed on the lid of each refill, so you don't have to keep the leaflet and stuff.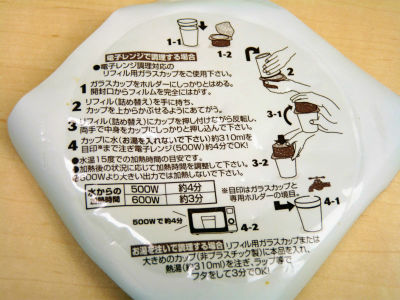 Put it in the glass.


The refills are packed up-side-down so that the toppings will come on top.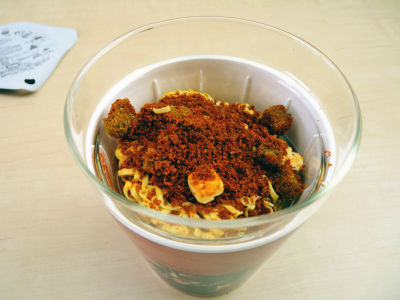 Pour water. Usual Cup Noodles in Japan require boiling water, but this one can be cooked from cold water just like the ones in the US and other countries.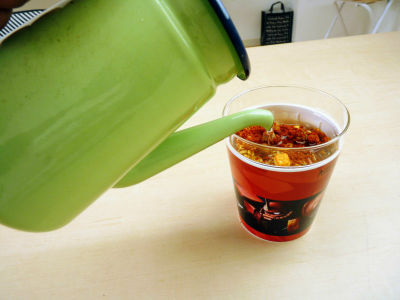 Microwaving.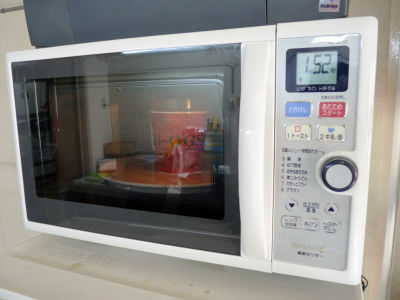 Smells nice.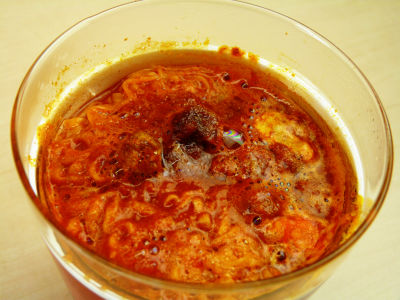 Make sure you stir it or the soup will taste uneven.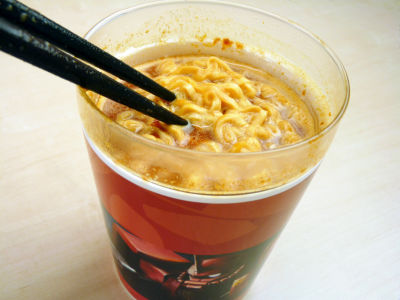 Ready to eat!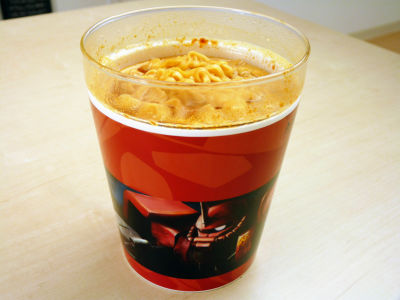 Since there were no description on the taste other than the "three times hotter" part, we were anxious it might be just furiously hot with no subtle flavour, but it was actually rather easy on your taste bud with rich broth of meat and vegetable. The soup looks tomatoey but it's not. The colour must come from spices. It is quite spicy but it tastes kind of sweet at first, probably from vegetable, and the hotness won't last in your mouth, a glass of water will wipe it away just fine. It must be endurable unless you're particularly sensitive to spices.

By the way, there's a nice little jigsaw puzzle game on the official website to win this special wallpaper.