Another Bizarre Flavour? "PEPSI AZUKI" Coming Out this Autumn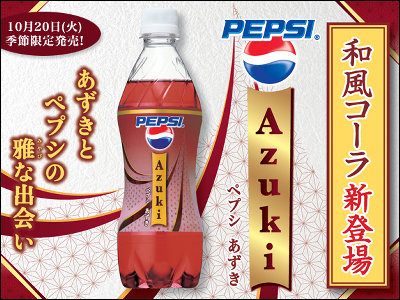 All Japanophile must be aware of Pepsi Japan's history of wacky seasonal flavours including Pepsi Ice Cucumber of 2007, Pepsi Blue Hawaii of 2008 and Pepsi Shiso of June, 2009.

Seems like Pepsi took a Japanesque turn since "Shiso", this autumn they're releasing "Pepsi Azuki" themed on traditional Japanese aesthetic ideal "Miyabi".

Read on for details.
(Japanese)New Seasonal Flavour "Pepsi Azuki" to be on sale -SUNTORY

According to the press release, Suntory(manufacturere and distributer of PEPSI brand sodas in Japan) is to release the new seasonal flavour "Pepsi Azuki" on Tuesday, October 20 at the price of 140 yen (about $1.5) per bottle.

With azuki bean flavour which has been familiar to Japanese through the ages, they're aiming to reach customers unaccustomed to cola. They describe the product as "Azuki-flavoured cola with soft and subtle sweetness and the characteristic refreshing stimulation of cola".

Themed on "Miyabi", an aesthetic ideal which can be translated as elegant, noble or refined, the package features "Azuki" logo written vertically on kimono-like patterned label, accentuated with golden strips.