Cucumber, Blue Hawaii followed by the limited-edition version "Pepsi Shiso" released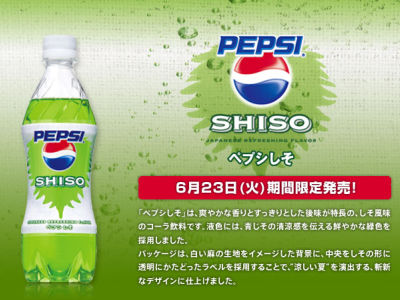 In June 2007Ice cuisine, In June 2008Blue HawaiiSuntory who sent out colorful Pepsi which is hard to imagine taste for a limited time. It seems that we plan to sell Pepsi which is fresh and shabby this year.

What kind of taste is it finished this year?

Details are as below.
"Pepsi Shiso" Limited release for limited time 2009.5.26 News release Suntory

"It is said that they are making themselves the theme of deep" shiso "familiar to Japanese for a long time, and the liquid color tells Aoshima's cool feelinggreen. There is a refreshing scent and a refreshing aftertaste, and it is said that it is a cola with a sharp flavor.

Vivid green is a landmark.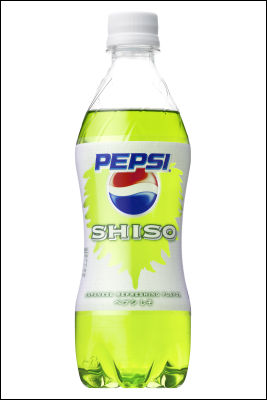 It is released from Tuesday, June 23, 2009, and the price is 490 ml PET bottle 140 yen. Whether or not Soso and Cola will fit is a doubtful question, but both are refreshing systems, so it might be possible to draw out an unexpected taste if it matches well.