About the W-8 BEN fraud which gives fax by name of IRS.gov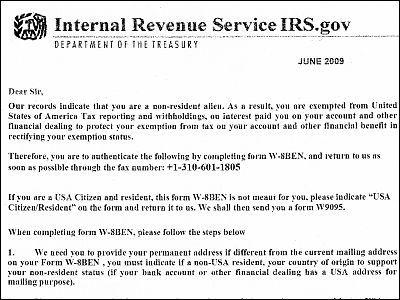 On July 17, 2009, IRS.gov (United States Internal Revenue Service), I received a fax with an unknown address. I am deceiving the registration form "W-8 BEN" which carries out a tax exemption procedure for non-residents, and asks anyone to fill out unnecessarily detailed detailed personal information and send it. Naturally it is a phishing scam by FAX aimed at stealing personal information, so even if you search on the net, various information is rolling.

So, the contents of FAX sent actually and recommendation of attention from IRS to them are as follows.
First of all, this is the first piece of actual fraud fax that has been sent. It is written like "W - 8 BEN", but it is completely different from the actual "W - 8 BEN" form.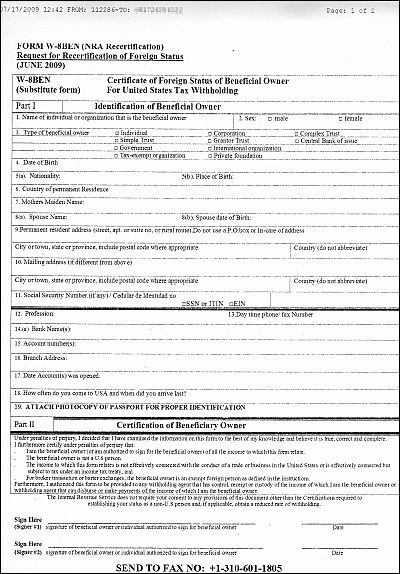 The actual 'W - 8 BEN' form has the following feeling and can be seen on IRS official website.

http://www.irs.gov/pub/irs-pdf/fw8ben.pdf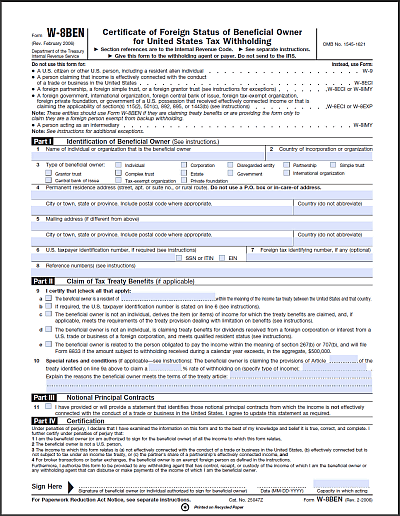 And this is the second piece of fraud FAX. At the bottom is written "David Smith" "Director of Information", and it has been signed so much like that.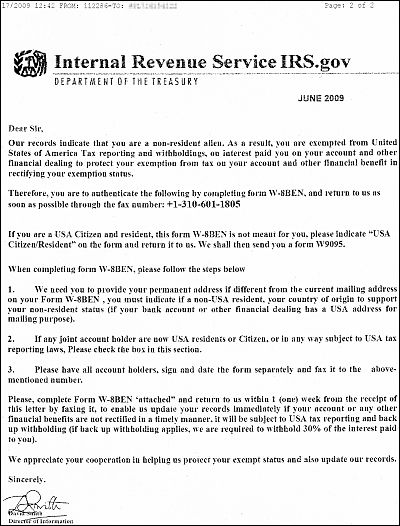 Looking at IRS 's official website, it seems that this fax fraud has occurred since 2004, and attention advisories are issued on the following pages.

IRS Reissues Consumer Warning on Identity Theft Scheme; Scheme Now Targeting Caribbean
http://www.irs.gov/newsroom/article/0,,id=127914,00.html

IRS Warns of Scheme to Steal Identity and Financial Data
http://www.irs.gov/newsroom/article/0,,id=123621,00.html

Scammers Use e-Mail, Fax to Pose as IRS
http://www.irs.gov/newsroom/article/0,,id=184628,00.html

Identity Theft
http://www.eitc.irs.gov/rptoolkit/abouteitcforpreparers/identitytheft/

Initially, this fax fraud was discovered in the Caribbean areas such as Barbados, Puerto Rico, Tobago, Trinidad, Turks and Caicos Islands, and then appeared in South America and Europe. This fax fraud is using a fictitious IRS form to fool foreigners who live outside the United States to show personal information and financial materials, fill out this fake form and reply by fax It seems that such information will be used to steal financial assets if they do.

In the first place IRS never sends such faxes to taxpayers, the formal "W - 8 BEN" form contains detailed personal information (date of birth, social security number, passport number, bank name, account number, account opening date · Email address · Occupation · Telephone number that can be contacted during the day · How often will you visit the United States · Information on the recipient's spouse, children and parents etc) is not requested. Moreover, it is clear that this fax is not addressed everywhere, and it sends it to the appropriate fax number. So, even if it is sent, you can ignore it without doing anything.

Perhaps it is a Japanese who is using Japan based services such as Apple's iTunes Connect, Google's AdSense · AdWords, or Amazon and has a source of revenue in Japan Because it can be enough, it seems that it is transmitted to the fax number here and there in Japan.

Therefore, when you search on the net, you can find many similar cases as follows.

Such a fax came. - Yahoo! Chiebukuro

Attention to imitation W - 8 BEN! It is! American Money Recipe by US Tax Accountant

About W - 8 BEN / EIN - 24/7 twenty - four seven

_ Fraud (attempted) - - Matz disaster (2008-01-18)

W-8 BEN fraud? - Windows Live

Fax from IRS! Is it? - - Cafe de El Saito

It seems that fraud telling IRS is rampant - to sell photos? 20081017

Private information exploitation fraud under the US · National Tax Agency Fax - Masan Yan diary

Bad business business busters: Internal Revenue Service IRS.gov

Junglecity.com Portland & amp; Oregon Japanese Community: Fake Documents Behind the Federal Revenue Service Application Form

Fax from US Treasury Department | Ogaki Equipment President is here

If you really want to report or even doubt, according to the IRS "TIGTAIt is OK if you contact the Treasury Inspector General Administrator (Treasury Inspector General for Tax. Administration: TIGTA) established as an independent body within the Treasury Department.