The television to deliver "sense of touch " in NHK Tech Lab Public viewing 2009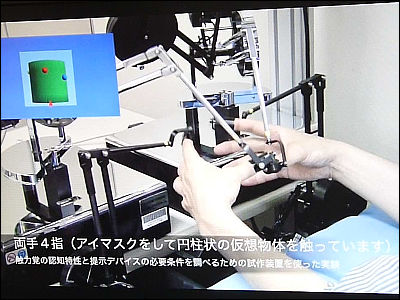 Under the theme of "TV evolution never stops", NHK Tech Lab is showing many kinds of futuristic gadgets related to television. While their research covers the entire field of eyesight, they are also developing the system like "tactile perception transferring technology", the technology to transfer the sense of touch.

Here's the video of experiment.

NHK Tech Lab | Public Viewing 2009 Poster Exhibition
http://www.nhk.or.jp/strl/open2009/poster/index.html

"Research of Haptic Technologies for Representing 3D Virtual Objects"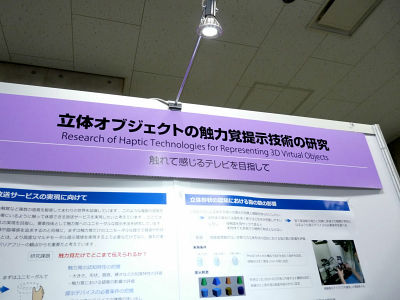 "We are developing the technology that helps you feel the true touch of the image, while you sit in your room".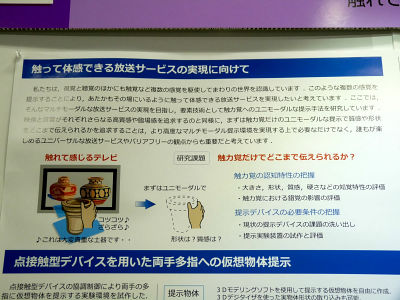 Using PHAMToM(Personal Haptic iNTerface Mechanism) developed by MIT, the system reproduces the touch on your fingers.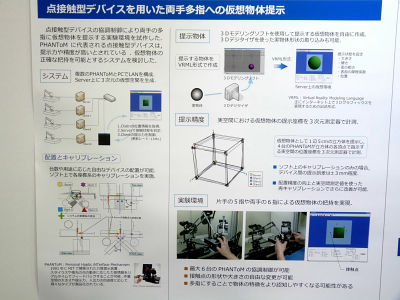 The experiment says that finger tips are too small for sensing the whole figure of the object. When we feel the shape of an object, we usually use our palms too.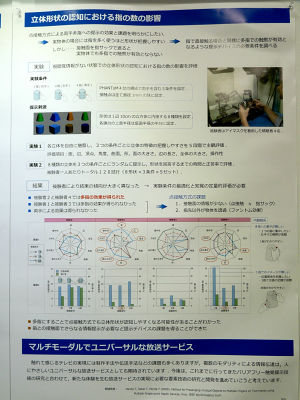 The actual video. Experiment on four fingers.


Two fingers at first, adding one by one.


Among the five senses, the technology covers only two. Hope this will be a breakthrough.

Related Post:
Toys and Games you can touch and play at Japan Media Arts Festival - GIGAZINE

Photo Imaging Expo 2009: Photo review of the long awaited "Intuos4" tablet for professional - GIGAZINE