Google Reshooting Street View in Japan from lower angle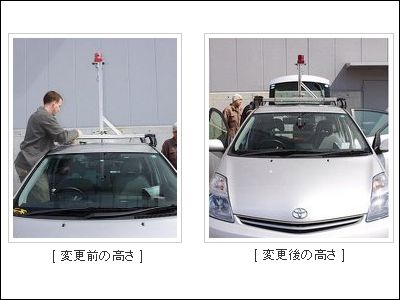 Major cities in Japan came on Google Street View in August, 2008. Due to the increasing complaints for invaded privacy as the available area gradually expand, the company announced their decision to reshoot all the footage in Japan, lowering the camera by 40 cm (about 16 inches) to be less intrusive.

They will also blur all the images of license plates, and provide new services such as "Nameplate Blurring by Request" and "Street View Hotline".

Read on for details.
(Japanese)Google Japan Blog: To the users of Google Street View

Following complaints that Street View cars were filming images over fences in private homes, Google said it would lower the cameras by 16 inches.

The footages now available will be gradually replaced, but images already removed by requests from the residents will not reappear online, lower angle or not. Since they've already filmed some footages of previously unavailable area before the camera-lowering decision, these new areas will be added first in high-angle and sequentially replaced after reshooting.

License plates were'nt blurred until recently since the footages were filmed in low-resolution in Japan where Street View launched relatively early. They've now finished blurring licence plates on all the images, but since this was done by automatic recognition, left-outs reported by users will be blurred manually.

And people without Internet access will be able to request the removal of their images by a hotline.
NAVI DIAL 0570-01-0041 ( 03-6415-5900 for cellphones and overseas)

Hour: 9:00 - 12:00 / 13:00 - 18:00 (Mon. to Fri.)
-The call will be charged at your local call rate.
-Service unavailable on weekend, holidays and during the year-end and New Year.
-Feel free to try the quick and precise online service.
Since most single-family house in Japan have name on the gate or door, there's a "Blur Nameplate" request form. This request can be made by resident of the house.